Everyone Wants to be Happy!
But that elusive element of happiness is often missing, especially as a constant in life.
True happiness is within you always—you just need to know how to find it. During this Retreat weekend, you will learn how you can experience happiness within, and learn to find it amidst the challenges of life.
During this weekend retreat to discover happiness, you will:
Outwit the happiness "thieves"
Learn how to strengthen your mind to make better choices
Learn how to feel connected to higher awareness
Receive instruction on meditation, how to practice it and make it be part of your life. Discover meditation's role in true happiness

There's more. You'll gain strategies and tools for handling difficult situations with other people.
How to:
Develop successful and harmonious relationships
Experience more harmony in yourself
Protect yourself from negative energies
Develop moment-to-moment habits that promote happiness
In addition to all of the above, your retreat will include:
Breathing exercises, yoga, and Energization for raising your energy level and focus
How to take what you have learned home with you and keep it going

You will receive a free book as part of the weekend, How to Be Happy All the Time by Paramhansa Yogananda. A weekend resource and for you to take home and refer back to the wisdom of this great yoga master.
"The most important condition for happiness is even-mindedness, and here the author of Autobiography of a Yogi brings some of this sense to a treatise on how to be happy under virtually any condition. From identifying habits, thoughts, and practices which steal from happiness to understanding simplicity is the key and sharing happiness with others, How to Be Happy All The Time: The Wisdom of Yogananda, Volume 1 is a fine starting point for reaching contentment." —Bookwatch
Enjoy a nurturing retreat, with gentle yoga and meditation daily, in a restful environment with delicious vegetarian fare.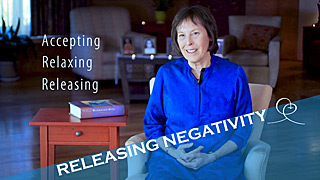 Enjoy this guided meditation to release negativity
Meditation will be an important key. Meditation changes the structure of your brain, and directs you to the pre-frontal lobes, where happiness lives within you. You will learn a specific technique that makes meditation much easier. And you will learn how to use meditation to transform your life.
Take a retreat, and return home happier, healthier, and stronger!
"If you have given up hope of ever being happy, cheer up. Never lose hope. Your soul, being the reflection of the ever-joyous Spirit, is happiness itself. If you keep the eyes of your concentration closed, you cannot see the sun of happiness burning within your bosom. Open the portals of calmness and you will find the bright sun of joy within yourself.
"If you have made up your mind to find joy within yourself, sooner or later you will find it. Seek it daily, by continuously deeper meditation within, and you will surely find everlasting happiness. Make a steady effort to go within, and you will find your greatest happiness there."
—Paramhansa Yogananda
What Our Guests Say:
"Since coming home, I've been doing great! I'm meditating every day in the morning for around 20 minutes, I've been exercising 5 days a week and keeping up my positive energy. I just can't believe all the baggage that I left behind at the retreat! It's just incredible how I relate to and handle situations now that before would have me back in my slippers and isolating myself in the house. My kids are loving "happy mom" and my husband is saying, "happy wife, happy life"! He's on cloud 9 with me!
"The only thing I'm having difficulties with is everyone's compliments about how I've changed and I've got my smile and energy back. And how proud of me they are. Things could be worse right?!! Lol! —C.O., Auburn, CA
"This program helped give me tools to cultivate more happiness in my life. A lot of thought was put into the exercises we did. I loved being in a place that so nurtures spirituality, and being around loving, like-minded people. Ananda is a safe haven for me and feels like home. I enjoyed being able to express myself in the group with ease." —M.M., Sparks, NV
"I feel more confident with meditation practice." —Jill
"This program met and exceeded my needs. Most helpful. Thoughtful, good pacing and variety of experience. Good ideas that helped inspired confidence that i will truly retain and practice." —Dennis, Davis, CA
"I learned a lot about my body, soul, thoughts, and energy through the classes, private consultations, and talks with other people in our group." —F.F., San Francisco, CA
"After many years on the spiritual path, I was mired in the many faces of inertia, experienced variously as skepticism, fatigue, boredom, and/or disillusionment. My Light was dimming. Through your enlightened guidance, wise spiritual modelling and heart-centred sharing, I am transformed." — Kristina, B.C.
"What can I say? Your 'Happiness' class spoke perfectly to me, and I received the understanding and tools to take back my life! How can the words 'Thank you' be enough? — Diana, Seattle, WA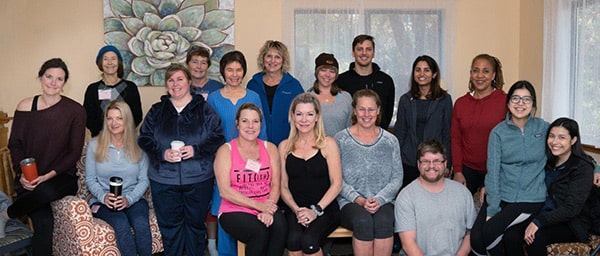 For more information, please send us a Question or Comment:

Receive monthly news and inspiration.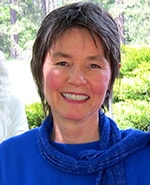 Personal Transformation Retreat Teacher, Spiritual Pilgrimage Leader, Ananda Minister and Counselor, Raja and Ananda Yoga® Teacher.
Nayaswami Mantradevi teaches with insight, clarity and joy, gained from over 35 years of meditating and sharing yoga philosophy. Her concern for others is one of her key qualities, and she has the innate ability to communicate and apply spiritual principles to real life situations. Her classes are creative and experiential, with humor and discussions keeping them lively and interactive.
See all programs, articles, and full bio of Nayaswami Mantradevi.

or e-mail or call us at 1-800-346-5350
Costs (CYOH)
Costs are on a per person basis.
Tent
RV
Standard
Shared
Standard
Private
Deluxe
Shared
Deluxe
Private
$320
$406
$540
$504
$688
Prices are all-inclusive and cover accommodations, meals, classes or activities, and course materials.
Discover Your Own Happiness Retreat starts the afternoon of the first date listed and ends with lunch on the last date listed. Check-in is anytime between 1:30 p.m. and 4:30 p.m. at our Front Desk. Your room will be available by 3:00 p.m. Dinner is at 6:30. The first gathering of your group is after dinner.
Please see:
You can add extra personal retreat days before and/or after your program. Check availability and costs for the days and accommodations that you require.
Discover Your Own Happiness Retreat starts the afternoon of the first date listed. It's ideal to arrive before 4 pm, if you are able to. That way, you can join in the afternoon session of yoga and meditation, which begins at 4:45 pm. Dinner is at 6:30. The first real gathering of your group is at 7:30 pm. If you need to arrive here after 5 pm, that's fine, but it helps us if you let us know at 800-346-5350. We can also put aside a dinner for you if you need to arrive after 7 pm. The program ends with lunch on the last date. Please see our Daily Schedule.
See Transportation and Directions whether you are coming by plane, car, bus or train. Our Frequent Questions page answers many of the questions you might have about How to Go on Retreat.