You Are What You Think

Choose Thoughts That Work for You
Not scheduled at this time.
Don't be a victim of circumstances. Our thoughts have more power than we realize—both to heal us or to harm us. During this weekend you will:
Examine the thoughts currently hypnotizing you
Learn how to use brain science for your highest goals
Experience redirecting your mind for the best results
Choose a positive direction for your thoughts
Learn to practice affirmations most effectively
Decide to make the "affirmation walk" part of your daily life
Learn Yogananda's effective meditation technique to empower your efforts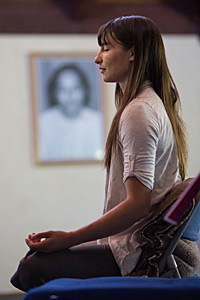 This weekend is an ideal opportunity to turn your life in the positive direction of your choice.
"Words that are saturated with sincerity, conviction, faith, and intuition are like vibration bombs, which can explode the rocks of difficulties and create the change desired…. Sincere words or affirmations repeated understandingly, feelingly, and willingly are sure to move the omnipresent Cosmic Vibratory Force to render aid in your difficulty." —Paramhansa Yogananda
3 Tips for Freedom from Negative Thoughts
1. Pay attention to what you habitually think, especially any negative thoughts that repeat themselves automatically.
2. Connect with the power of Spirit within you, which can be accessed for greater success and happiness.
3. Pick a positive thought and take it on a walk: walk briskly, breathe gratefully, and repeat the positive thought continuously with the rhythm of your steps.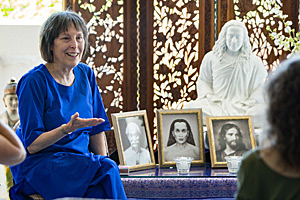 No dates scheduled for You Are What You Think at this time.
Prices are all-inclusive and cover accommodations, meals, classes or activities, and course materials.
You Are What You Think starts the afternoon of the first date listed and ends with lunch on the last date listed. Check-in is anytime between 1:30 p.m. and 4:30 p.m. at our Front Desk. Your room will be available by 3:00 p.m. Dinner is at 6:30. The first gathering of your group is after dinner.
Please see:
You can add extra personal retreat days before and/or after your program. Check availability and costs for the days and accommodations that you require.
You Are What You Think starts the afternoon of the first date listed. It's ideal to arrive before 4 pm, if you are able to. That way, you can join in the afternoon session of yoga and meditation, which begins at 4:45 pm. Dinner is at 6:30. The first real gathering of your group is at 7:30 pm. If you need to arrive here after 5 pm, that's fine, but it helps us if you let us know at 800-346-5350. We can also put aside a dinner for you if you need to arrive after 7 pm. The program ends with lunch on the last date. Please see our Daily Schedule.
See Transportation and Directions whether you are coming by plane, car, bus or train. Our Frequent Questions page answers many of the questions you might have about How to Go on Retreat.