You Are What You Think

Choose Thoughts That Work for You
There are no dates currently scheduled.
Don't be a victim of circumstances. Our thoughts have more power than we realize—both to heal us or to harm us. During this weekend you will:
Examine the thoughts currently hypnotizing you
Learn how to use brain science for your highest goals
Experience redirecting your mind for the best results
Choose a positive direction for your thoughts
Learn to practice affirmations most effectively
Decide to make the "affirmation walk" part of your daily life
Learn Yogananda's effective meditation technique to empower your efforts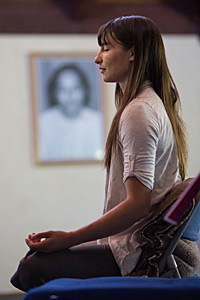 This weekend is an ideal opportunity to turn your life in the positive direction of your choice.
"Words that are saturated with sincerity, conviction, faith, and intuition are like vibration bombs, which can explode the rocks of difficulties and create the change desired…. Sincere words or affirmations repeated understandingly, feelingly, and willingly are sure to move the omnipresent Cosmic Vibratory Force to render aid in your difficulty." —Paramhansa Yogananda
3 Tips for Freedom from Negative Thoughts
1. Pay attention to what you habitually think, especially any negative thoughts that repeat themselves automatically.
2. Connect with the power of Spirit within you, which can be accessed for greater success and happiness.
3. Pick a positive thought and take it on a walk: walk briskly, breathe gratefully, and repeat the positive thought continuously with the rhythm of your steps.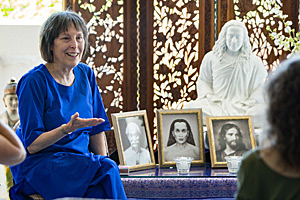 More details about your reservation for You Are What You Think