October 2016 Newsletter
Get monthly news, tips for yoga and meditation, and stay up-to-date on our upcoming programs. Click here to subscribe.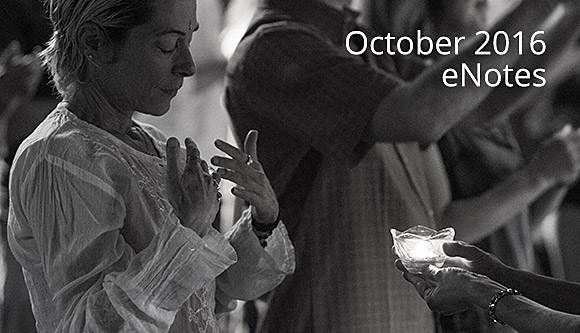 Dear friend,

Universal Spirit will not enter our lives unless we invite it in. We can open ourselves to cooperating with that flow of grace.

Every moment can be our time to hear from the Divine. Every action can be our chance to express Divinity. Each word we speak can carry the blessings of Spirit.

Concentrate, raise your energy, feel receptive, receive energy, add devotion. In this way we move closer to our own souls and the Creator. In moving closer to Spirit, our happiness increases.

Joy to you,
Nityananda
Inspiring daily emails with new short videos from Gyandev –
Get inspired! Get trained! Yogananda's Energization Exercises. This is your chance to supercharge your meditations and your life.

The free '30–day Challenge' sign-up email is coming soon.
Here is a link to a few basics about the Energization Exercises to give you a head start.
INSPIRATION

FROM SWAMI KRIYANANDA
The instant that the desire to know God is planted in our heart,
we are virtually free.
Attention yoga teachers, If you're looking for something deeper in your own practice and would like to offer more than just a physical experience to your students, transferring to Ananda Yoga may be the right step for you.
Pre-requisite to Ananda Yoga Therapy Training
Program
Accredited by the IAYT
Ananda Yoga® Teacher Training
CEU
October 23 – November 20, 2016
Dynamic, Spiritual, Residential, Professional Training
Ananda's is the only yoga teacher certification in the highly regarded yoga tradition of Paramhansa Yogananda. We've spent more than 30 years making it into a first-rate expression of that tradition – a dynamic blend of professional training and personal growth.
Ananda Yoga Teacher Training Grads taking photos of their beloved teachers.
Copyright © *|CURRENT_YEAR|* *|LIST:COMPANY|*, All rights reserved.
*|IFNOT:ARCHIVE_PAGE|* *|LIST:DESCRIPTION|*

Our mailing address is:
*|HTML:LIST_ADDRESS_HTML|* *|END:IF|*

Want to change how you receive these emails?
You can update your preferences or unsubscribe from this list

*|IF:REWARDS|* *|HTML:REWARDS|* *|END:IF|*