International Association of Yoga Therapists Accreditation
Ananda Yoga Therapy Training among the first ever accredited programs by IAYT.
Since 2014, Ananda YogaTM Therapy Training, a program of the Ananda School of Yoga & Meditation, has been accredited by the International Association of Yoga Therapists (IAYT). We were one of the first 12 schools to be accredited by IAYT.
IAYT is helping to bring yoga therapy into the Integrative Health model and the prevalent medical model, empowering health care providers to refer patients directly to professionally trained and certified yoga therapists. IAYT champions yoga as a healing art and science. IAYT supports research and education in yoga, and also serves as a professional organization for yoga therapists worldwide.
Ananda Yoga Therapists become IAYT Certified Yoga Therapists
When someone has completed the minimum of 800 hours of training in an IAYT accredited Yoga Therapy program, they can then apply to become a C-IAYT, which means that they are an IAYT Certified Yoga Therapist.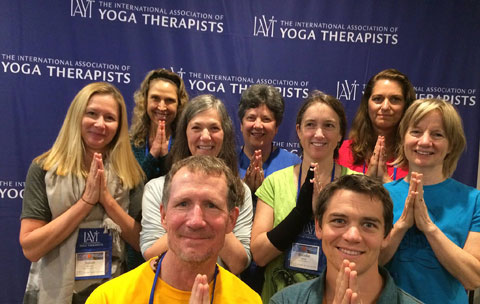 Minimum Admission Requirements
To be eligible to enroll in the Ananda Yoga Therapy Training program, the following Pre-Requisites are required:

Be a graduate of a 200 hour Yoga Teacher Training
Have one year of personal practice of yoga
Have one year of experience teaching yoga
Contact Information
If you have any calling or interest in pursuing Ananda Yoga Therapy Training, please click here to contact our Program Director. We'd love to have you join us in learning how to take the powerful therapeutic teachings of Ananda Yoga out to serving the world–helping people to improve their health and well-being through the application of yoga philosophy and practice.
530-478-7518
Ananda Yoga Therapy Training
Upcoming Courses in date order