Dates
Tent
RV
Standard
Shared
Standard
Private
Deluxe
Shared
Deluxe
Private
$272
$350
$478
$440
$612
Through discussion and guided introspection, participants will explore:
The meaning and purpose of karma—good and bad
How to handle challenging karmic tests
How to work out your karma consciously
Instruction in a simple, practical, and powerful technique of meditation that can work for you
Drawing on divine grace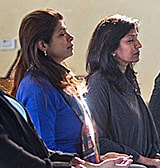 When you understand what karma truly is and can see your karmic patterns and lessons, you become more at ease with yourself and with your own journey. You are more able to calmly navigate the roads that lie ahead, and to find peace with your past.
During this supportive and transformative retreat, you will explore your own karmic patterns and lessons. You will also learn effective ways to free yourself from karma.
Your retreat is led by Nayaswami Mukti, who will draw from the book Karma and Reincarnation by Paramhansa Yogananda. You will receive a copy of this valuable resource to take home with you.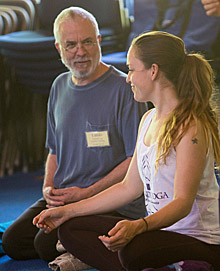 From Recent Guests:
"I'd like to let you know that the value of the Rise Above Your Karma retreat really has stayed with me. Since the weekend I've felt quite noticeably more resilient in dealing with life's downdrafts, and have an easier time remembering that the benefit of these spiritual lessons is so often only clear later." — A.B., Marin, CA
" With sensitivity and kindness Mukti related how we may all rise above our karma and be born anew in each moment. Mukti's meditation instruction gave us the opportunity to go deeply into stillness and connect with the insights and reflections that surfaced during the course. The Expanding Light Retreat Center at Ananda Village provided a beautful and supportive environment where our personal relationship with God was renewed and strengthened. This is a life-changing experience that brings peace to the soul." — J.N., Prescott, AZ
"Who would not like a reprieve from the consequences of his own wrong deeds? Few people, however, are willing to do what is necessary to win such a reprieve. For it is not pleading that can free us from the grinding wheel of justice....Freedom comes not by uttering wheedling prayers, but by attuning oneself deeply with the all-loving Inner Silence."
—from Karma and Reincarnation, by Paramhansa Yogananda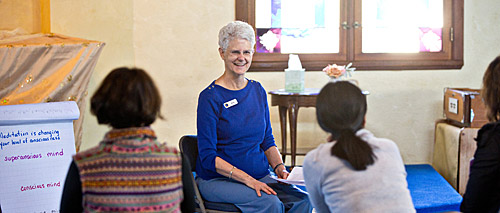 For more information, please send us a Question or Comment:

Receive monthly news and inspiration.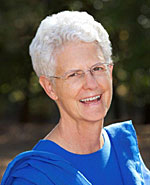 Inspirational teacher and retreat leader
Ananda Meditation Teacher, Ananda Minister and Spiritual Counselor
Nayaswami Mukti has been creating and leading a variety of inspirational retreats at The Expanding Light Retreat for the past many years. The themes and facets of her retreat programs reflect her own long-term and deep exploration to let every aspect of her life flow from a deep Kriya Yoga meditation practice. Her life has been one of uplifting service ranging from her full-time career as a speech therapist, to being a key member of the Ananda Music Ministry and to her out-reach to Ananda Meditation groups.

or e-mail or call us at 1-800-346-5350
Costs (KDR)
Costs are on a per person basis.
Tent
RV
Standard
Shared
Standard
Private
Deluxe
Shared
Deluxe
Private
$272
$350
$478
$440
$612
Prices are all-inclusive and cover accommodations, meals, classes or activities, and course materials.
How to Rise Above Your Karma starts the afternoon of the first date listed and ends with lunch on the last date. Please see:
You can add extra personal retreat days before and/or after your program. Check availability and costs for the days and accommodations that you require.
How to Rise Above Your Karma starts the afternoon of the first date listed. It's ideal to arrive before 4 pm, if you are able to. That way, you can join in the afternoon session of yoga and meditation, which begins at 4:45 pm. Dinner is at 6:30. The first real gathering of your group is at 7:30 pm. If you need to arrive here after 5 pm, that's fine, but it helps us if you let us know at 800-346-5350. We can also put aside a dinner for you if you need to arrive after 7 pm. The program ends with lunch on the last date. Please see our Daily Schedule.
See Transportation and Directions whether you are coming by plane, car, bus or train. Our Frequent Questions page answers many of the questions you might have about How to Go on Retreat.
RELATED PROGRAMS