First-Timers' Weekend

Mar 17 – 19, 2017
May 26 – 28, 2017
Sep 1 – 3, 2017
This is a perfect getaway—with a blend of relaxation, inspiration, self-discovery, yoga postures, meditation instruction, and delicious vegetarian food—in a beautiful and uplifting atmosphere.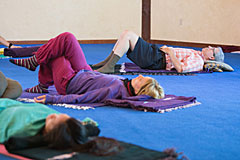 You'll be amazed at the variety of things you can learn and experience in just one weekend—or in a 5-day program.
In addition to in-depth instruction in meditation and guided yoga postures for higher awareness, you'll explore spiritual principles that will make your life work better, and gain tips for greater health and harmony in your life.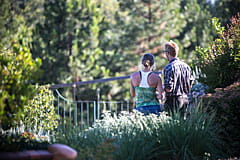 You'll enjoy a tour of the dynamic Ananda Village, one of the world's most respected intentional communities, and get to know longtime residents.
Those able to take the 5-day program will have more time for personal healing and rejuvenation in this peaceful atmosphere. You'll be able to gain more from your yoga instruction and practice (optional), as well as have more time to experience the benefits of meditation, andhow to make meditation part of your life. For more details on the week or the weekend, phone 800-346-5350, and ask to speak to your instructor. (below)
First-Timers' Weekends are led by Mantradevi, and First-Timers' Weeks are led by Mukti.
"The structure of the program was excellent for me. I came knowing very little about this strand of spiritual philosophy and practice, so the many introductory sessions provided a good first scaffolding for me, especially the stages of realization." J.M., Olympia, WA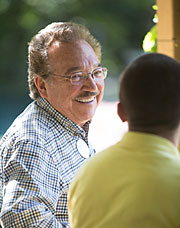 "All teachers and staff were inspiring. Everyone has joy and love in their hearts, and it radiates." Tara, Middletown, CA
"This program is beyond anything I imagined. I did learn how to do yoga and meditation, but beyond that, I learned that i am capable of self-love and devotion to God. Everything was so well done. Loved the accommodations, meals, cleanliness, and the organized approach." Sri, Milpitas, CA
"I wanted to thank you again for a wonderful and insightful week at The Expanding Light. I really enjoyed being in your presence, and I'm grateful for the tools you've shared with me. I feel like I've finally caught a glimpse of the light inside of me—a light I've been chasing all of my life. As long as I can remember, I've sensed there was something very special and powerful inside of me, but I didn't know how to reach it. You have all truly blessed me with a deep and spiritual awakening. Ananda is a very special place, and I hope I can hold onto as much of it as possible." —Shauna, Oakland, CA —5-day program

"I was surprisedby how the whole philosophy and practice made so much sense. Being skeptical of religion, I am also surpresed that I am leaving with a spiritual practice/belief. The information I learned and the practical methods gave me confidence in taking Yoga home with me. A great 5 days—I am very thankful I found Ananda." —Elizabeth H.
"I had needs met I didn't even know I had! Every day was a new adventure, with something interestng and transforming. It almost felt like little miracles. The food was nutritious (begone cheeseburgers!) and very good." —P.T.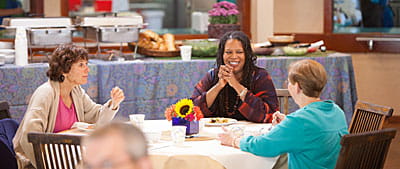 "When people ask me about the retreat, I say 'They are living it.' Meaning you all are truly living a spiritual life and creating spiritual community in every way."
—Teresa, Kentucky - 5 day program
"My friend said that her time in Ananda/Expanding Light was the best present she has ever had in her life! I guess that says it all.... me too! We love you all and truly miss you! At 10 am I wanted to head over to our classroom for another fascinating, laughter-filled, and inspiring class."
—Pam, Redding, Ca - 5 day program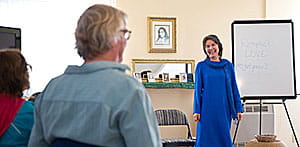 More details about your reservation for First-Timers' Weekend

or e-mail or call us at 1-800-346-5350
Costs (FTW)
Costs are on a per person basis.
Tent /
RV
Standard
Shared
Standard
Private
Deluxe
Shared
Deluxe
Private
$150
$210
$340
$300
$470
May 26 – 28, 2017
Sep 1 – 3, 2017
Tent /
RV
Standard
Shared
Standard
Private
Deluxe
Shared
Deluxe
Private
$154
$220
$352
$312
$494
Prices are all-inclusive and cover accommodations, meals, classes or activities, and course materials.
First-Timers' Weekend starts the afternoon of the first date listed and ends with lunch on the last date. Please see: