January 2016 Newsletter
Get monthly news, tips for yoga and meditation, and stay up-to-date on our upcoming programs. Click here to subscribe.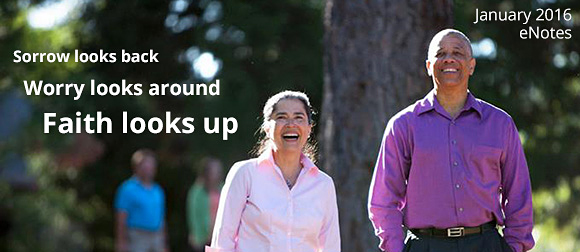 Dear *|FNAME|*
A friend sent me this quotation from Ralph Waldo Emerson:
Sorrow looks back
Worry looks around
Faith looks up
With 2016 before us, regrets of the past, or worry about the world or our own lives, can certainly vie for our attention. But let's take the above quotation to heart, and lift our gaze and our minds. The Divine lives within us always and can be found at the spiritual eye, the point between the eyebrows.
Lifting our gaze, lifting our attention, calling on the Presence at the spiritual eye is tremendously powerful. Looking around gives ample cause for worry, looking behind brings even more emotion. But lifting our gaze and our concentration brings calmness, courage, and confidence.
More than that, lifting our gaze, and directing our love and attention to the Divine at the spiritual eye, can actually bring solutions to our problems, safety in times of uncertainty, and joy in times of trouble.
Nayaswami Jyotish once said, "Every test that comes is a test of our ability to keep our minds on God." Keeping our minds on God is much more than a sweet sentiment or wishful thinking; it is an activity that requires mental strength and devotion.
Daily meditation helps to strengthen our minds. Trying to focus at the spiritual eye during routine activities, like housekeeping or walking, helps us develop the habit of bringing the mind there.
Yogananda advised one of his disciples that no matter what came to him, to remember to see the Divine in everything and refuse to acknowledge the power of the troubles around him; if he did so, all would be turned to the good.
May your coming New Year be filled with the power of goodness and uplifted consciousness

In divine friendship.
Nayaswami Anandi
Inner Renewal Week


Going Deeper into God
January 31 – February 7



Give your spiritual life a real boost. Take your meditation practice to a new level.


YOU are invited!
Please join us for this inspirational week with
Jyotish & Devi. Learn More

Inspiration from
Paramhansa Yogananda

"Go on worry fasts. Three times a day, shake off all worries...

"When you are on a worry fast, drink copiously of the fresh waters of peace flowing from the spring of every circumstance, vitalized by your determination to be cheerful. If you have made up your mind to be cheerful, nothing can make you unhappy. If you choose not to destroy your peace of mind by worrying about unhappy circumstances, none can make you dejected.

"Concern yourself only with the untiring performance of right actions, and not with their results. Leave the results to God, saying, 'I have done my best under the circumstances; therefore, I am happy.&rsdquo;""

From

How to Have Courage, Calmness, and Confidence

by Paramhansa Yogananda

Inspiration from
Swami Kriyananda

An affirmation for Self-control: "I am strong in myself. I am complete in my Self. The joy and perfection of the universe await discovery within my inner being!"

From

Affirmations for Self-Healing

by Swami Kriyananda
Our 2016 online Calendar is filled with new and treasured programs...
click here
Serve, learn and grow through our wonderful
Karma Yoga Program
Ananda is a worldwide movement to help you realize the joy of your own higher Self. It is based on the teachings of Paramhansa Yogananda and was founded by his direct disciple Swami Kriyananda in 1968.
Learn More...

CONNECT
14618 Tyler Foote Rd
Nevada City, California 95959
Toll free 800-346-5350
Outside US 530-478-7518
SUBSCRIBE
Receive uplifting emails with inspirational content and news about our retreat programs, travels, and trainings.