"This body has been given to enable you to accomplish certain works on the material plane; you should take care of it, as your most precious possession." —Paramhansa Yoganananda
Be Inspired - Be Healthy!
Guests rave about the meals at The Expanding Light Retreat! We offer the healthiest, most delicious and creative vegetarian meals possible. Each one is nutritionally balanced and naturally low in fat and sugar.
Learn from Professional Chef Julie
and Experienced Cooks
Certified Chef Julie is your ideal cooking teacher: She knows how to make simple food taste delicious, without having to sacrifice your health. Her meals consistently provide delightful sensory experiences in taste, texture, variety and color.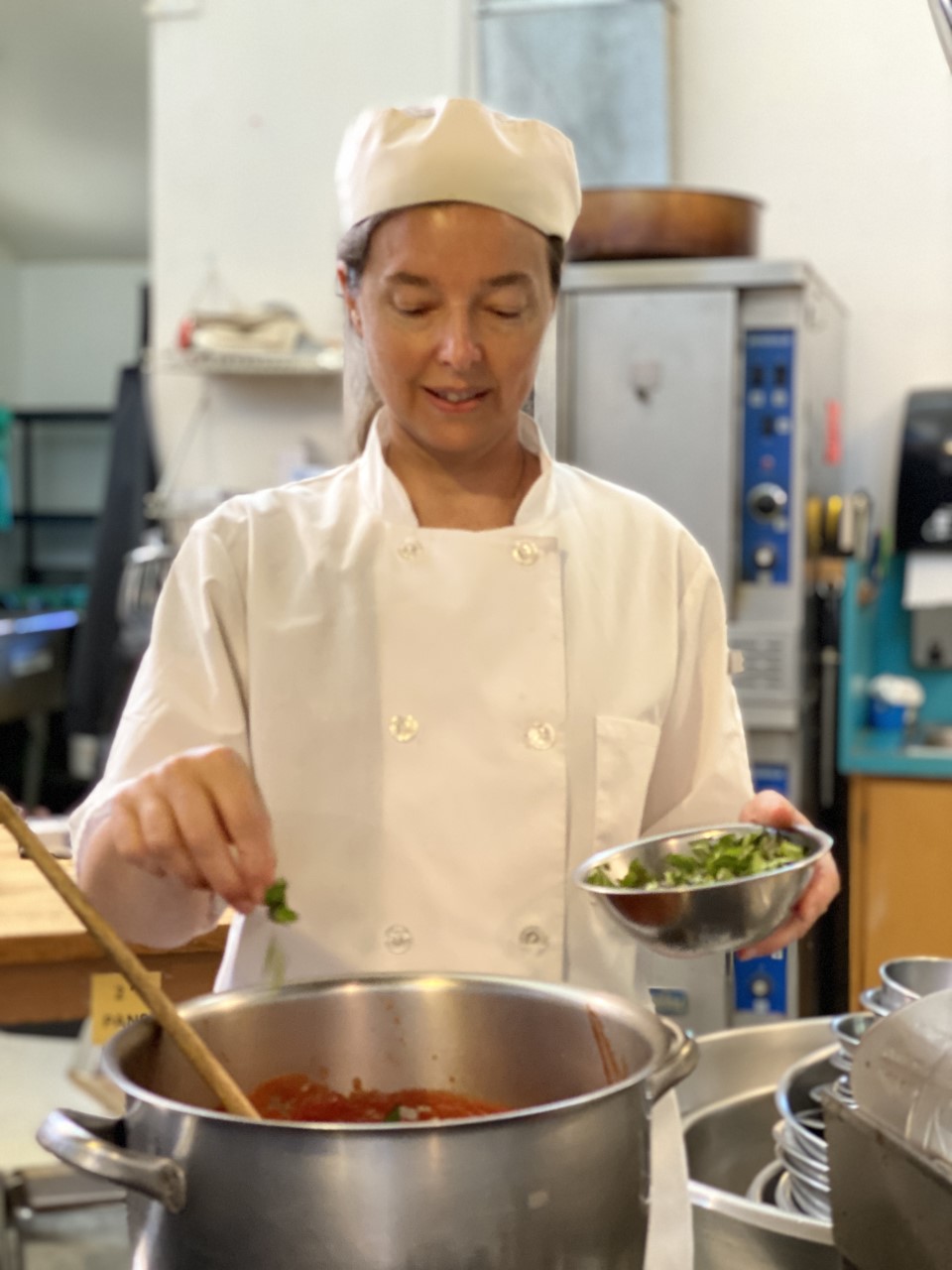 New Cooking Skills
Whether you already cook vegetarian style, or are new to the concept, add innovative and tried-and-true cooking skills to your culinary abilities. This weekend retreat is full of ideas for creating festive holiday meals that nurture a healthy body and mind. You will take part in cooking, serving and eating a wonderful vegan "meat and potatoes" dinner alternative that will please vegetarians, lacto-ovo or vegan, and omnivores alike.
During This Retreat You Will:
Learn the best foods to eat and prepare for this season
Discover basic principles of healthy food preparation
Gain knowledge of fool-proof ingredient combinations to create tasty meals
Enjoy cooking demos and hands-on meal preparation
Julie will take you step-by-step through cooking a complete holiday dinner
Co-create this Special Gourmet Vegan Dinner:
Cremini mushroom patties, cauliflower mashed "potatoes," ginger gravy, roasted asparagus, served with organic salad and a vegan pumpkin or sweet potato pie with cashew whipped cream.
Special Setting: Saturday morning class, afternoon cooking and evening dinner experience will take place in the exquisite yet homey Gaia Retreat House. Have fun with other like-minded souls and go home having made some new friends.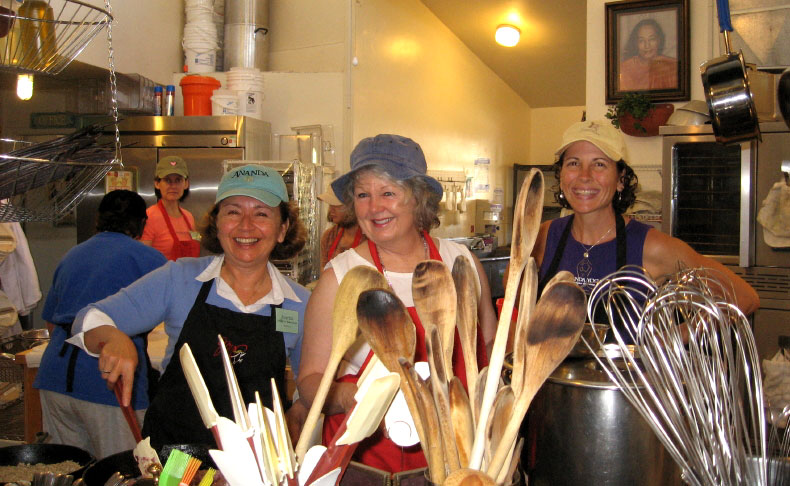 Whether you are a vegan, vegetarian, or omnivore you will love this cooking weekend!
"Julie's meals are amazing. She has such a gift for creating delicious and interesting foods. Every meal is different, often with surprising ingredients that pleasingly meld together. I can feel the love and joy that she pours into her cooking." K.B., Nevada City, CA
From Chef Julie: "It gives me so much joy to feed people nutritious, nurturing food!"

Recipes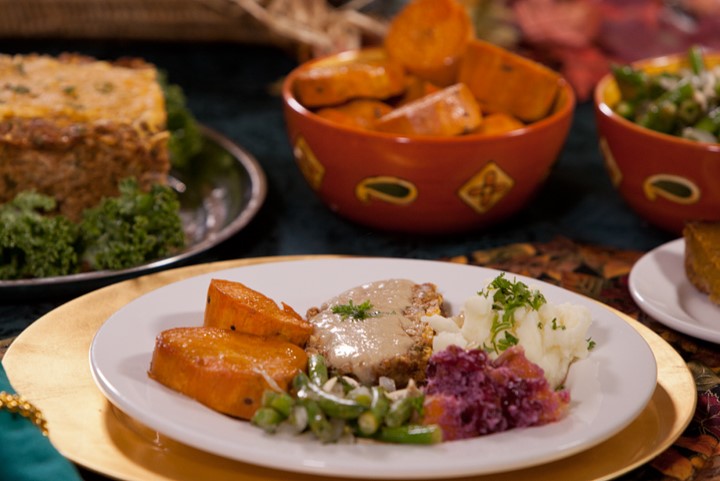 Vegetarian Walnut Cheddar Loaf
Perfect for a holiday meal and delicious cold on sandwiches
Serves: 6 - 8
Preparation time: 40 minutes
Preheat oven to: 350 degrees
Baking time:1 hour
Combine the following ingredients in a large bowl and set aside:
3 cups fresh whole wheat bread crumbs
1 cup ground walnuts
1 cup finely chopped walnuts
½ cup nutritional yeast
2 tablespoons tamari
½ cup tomato juice
Saute in a large skillet over medium heat until translucent:
4 tablespoons butter
2 ½ large onions, finely chopped
3-4 cloves of garlic
Combine all of the above with:
2 well-beaten eggs
1 cup grated cheddar cheese
¼-½ teaspoon salt
½ teaspoon black pepper
2 tablespoons dried parsley or ¾ cup minced fresh parsley
Press into well-oiled loaf pan and bake at 350 degrees for approximately 1 hour. Cover top of loaf with:
½ cup grated cheddar cheese
Bake for additional 10 minutes or until cheese is bubbly. Serve as is, or with gravy.
................................
Sunburgers
A great hamburger alternative, made from sunflower seeds. Light yet satisfying. Great for snacking or lunch.
Prep time: 15 minutes
Makes: 7 patties
Cooking time: 35 minutes
Preheat oven: 375°F.
Grind raw sunflower seeds in food processor to a fine meal to measure 1 ½ cups
Mix in:
½ cup finely grated carrots
½ cup fine chopped celery
6 tbs. Minced onions
2 tbs. Minced fresh parsley
2 eggs
1 tsp. Basil
2 tbs. tamari
2 tbs. melted butter
1 tsp. garlic powder
Mix well then form seven patties and place on well oiled baking sheet
Bake at 375 for 20 min. on one side then 10-15 on the other side. They should be golden brown. Serve like hamburgers or they're great on a bed of lettuce with avocado and tomatoes.
Vegetarian Cooking Online Course:
Learning in person is a fabulous experience, but you can also learn vegetarian cooking at home. Click here to see our online "Vegetarian Cooking with Diksha" course.
For more information, please send us a Question or Comment:

Receive monthly news and inspiration.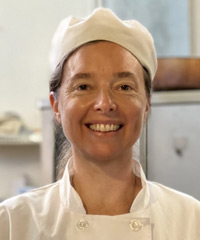 Warm hearted, engagingly humorous, and highly creative, Julie is a long-time Ananda member, wife to Craig Roberts and mother of three beautiful girls. Julie has been cooking in and around Ananda's kitchens since 1997. She has created several food businesses using nutritiously healthy and locally grown organic ingredients. Her businesses are all thriving and feeding many discerning folks.
See all programs, articles, and full bio of Chef Julie Roberts.
No dates scheduled for Vegetarian Cooking for the Holidays at this time.
Prices are all-inclusive and cover accommodations, meals, classes or activities, and course materials.
Vegetarian Cooking for the Holidays starts the afternoon of the first date listed and ends with lunch on the last date listed. Check-in is anytime between 1:30 p.m. and 4:30 p.m. at our Front Desk. Your room will be available by 3:00 p.m. Dinner is at 6:30. The first gathering of your group is after dinner.
Please see:
You can add extra personal retreat days before and/or after your program. Check availability and costs for the days and accommodations that you require.
Vegetarian Cooking for the Holidays starts the afternoon of the first date listed. It's ideal to arrive before 4 pm, if you are able to. That way, you can join in the afternoon session of yoga and meditation, which begins at 4:45 pm. Dinner is at 6:30. The first real gathering of your group is at 7:30 pm. If you need to arrive here after 5 pm, that's fine, but it helps us if you let us know at 800-346-5350. We can also put aside a dinner for you if you need to arrive after 7 pm. The program ends with lunch on the last date. Please see our Daily Schedule.
See Transportation and Directions whether you are coming by plane, car, bus or train. Our Frequent Questions page answers many of the questions you might have about How to Go on Retreat.