Take this opportunity to learn how to become "the best yet" version of yourself. Discover how to reinvent yourself, maximize on your inner creative potential, and open the door to happiness and deeper fulfillment.
Sometimes even a small change in self-perception can transform your entire life. Virtually everyone who has taken this course has had illuminating new insights into themselves. Theyve been energized with a fresh perspective, creative solutions, and new ideas. To reinvent yourself, your whole life doesn't need to change, although sometimes it does!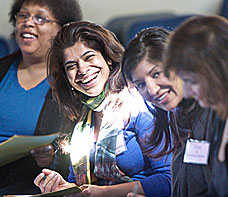 This is a weekend to explore your highest potential. The goal is to become more in tune with your inner self-expression, to learn new ideas, and to tap into that deep, creative spirit within.
You will learn how to:
Open yourself to new potentials within
Get clarity on your life's highest purpose
Let go of self-definitions that hold you back
Harness your mental and creative energy
Access inspiration at will

Discover Solutions to Blocks in Your Life
We'll explore how to:
Develop techniques for tuning into soul intuition
Expand your mind and open your heart
Find happiness and fulfillment on a day-to-day basis
Create your own personal "self expression" program
The class will be led by Nayaswami Mantradevi.
From previous guests:
These classes brought a key to a door that has been shut. I feel open to using the key and opening the door to new experiences, new thoughts and a new me. K.C., Alameda, Ca
What a great class to open up your heart and soul and discover the endless possibilities of recreating your thoughts, yourself and using your energy in tune with your soul and the individuals that you have shared with. C.J., Rohnert Park CA
I felt welcomed and inspired. I was able to be still and feel my inner energy. I've always felt pressure to constantly be moving towards my next goal and next achievement. After doing the life energy exercise, I believe I just need to be still more often. I now have the tools and feel at peace with that. L. L., San Ramon, CA
This weekend helped me refocus on my spiritual goals and purpose of life, and to make choices, right ones, aligned in this direction. Mantradevi was very insightful, creative, and resourceful in bringing out the subtle, core issues we need to pay attention to for achieving our highest potential. Thank you so much! C. D., Palo Alto, CA
I am teetering on the brink of change due to health issues. This class allowed me to see possibilities where only fear loomed before. I am looking forward with hope to growth and opportunity for God's work in my life. C.T., Nevada City, CA
This was an excellent opportunity to enhance my creative juices. It challenged me to think about my limiting views and the steps I need to take to achieve my goals. Mantradevi was a wonderful teacher who used her knowledge to help me pin-point my limiting beliefs. D.N., Oakand
This was a weekend of self-exploration and exposure to new ideas about myself and the world. K.L. Sacramento
"Mind is the creator of everything. You should therefore guide it to create only good. If you cling to a certain thought with dynamic will power, it finally assumes a tangible outward form. When you are able to employ your will always for constructive purposes, you become the controller of your destiny." —Paramhansa Yogananda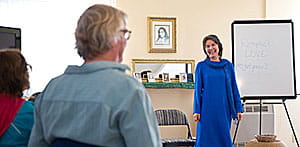 For more information, please send us a Question or Comment:

Receive monthly news and inspiration.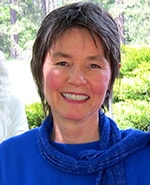 Personal Transformation Retreat Teacher, Spiritual Pilgrimage Leader, Ananda Minister and Counselor, Raja and Ananda Yoga® Teacher.
Nayaswami Mantradevi teaches with insight, clarity and joy, gained from over 35 years of meditating and sharing yoga philosophy. Her concern for others is one of her key qualities, and she has the innate ability to communicate and apply spiritual principles to real life situations. Her classes are creative and experiential, with humor and discussions keeping them lively and interactive.
See all programs, articles, and full bio of Nayaswami Mantradevi.
No dates scheduled for Recreate Yourself at this time.
Prices are all-inclusive and cover accommodations, meals, classes or activities, and course materials.
Recreate Yourself starts the afternoon of the first date listed and ends with lunch on the last date listed. Check-in is anytime between 1:30 p.m. and 4:30 p.m. at our Front Desk. Your room will be available by 3:00 p.m. Dinner is at 6:30. The first gathering of your group is after dinner.
Please see:
You can add extra personal retreat days before and/or after your program. Check availability and costs for the days and accommodations that you require.
Recreate Yourself starts the afternoon of the first date listed. It's ideal to arrive before 4 pm, if you are able to. That way, you can join in the afternoon session of yoga and meditation, which begins at 4:45 pm. Dinner is at 6:30. The first real gathering of your group is at 7:30 pm. If you need to arrive here after 5 pm, that's fine, but it helps us if you let us know at 800-346-5350. We can also put aside a dinner for you if you need to arrive after 7 pm. The program ends with lunch on the last date. Please see our Daily Schedule.
See Transportation and Directions whether you are coming by plane, car, bus or train. Our Frequent Questions page answers many of the questions you might have about How to Go on Retreat.