Dates
Nov 21 – 25, 2018
Nov 27 – Dec 1, 2019
Tent
RV
Standard
Shared
Standard
Private
Deluxe
Shared
Deluxe
Private
$420
$576
$832
$756
$1100
Sometimes we get lost in the routines of life, the endless to-do's, and we forget to stop, open our eyes, and be grateful for life itself.
During this weekend, you will learn about meditation: how to meditate, and how those few minutes a day can reconnect you with your own inner peace and joy. You'll have experiences both alone and in our group to better prepare you to find the blessings in each moment.
In addition, you'll enjoy:
A scrumptious Thanksgiving vegetarian banquet - with all the traditional favorites, and delicious nut loaf
Guided experiences in nature
Gentle yoga postures combined with affirmations for higher awareness
Classes and discussions to inspire gratitude and tools to refresh your spiritual life
Informal discussion in an Ananda home
Serene walks through the beautiful hills of Ananda Village
Kirtan (devotional chanting)
Time to be alone or to share with new friends
The Ananda Village Sunday Service and Purification Service
And more...
Nayaswami Anandi will be your host for the retreat. Anandi says: "Holidays can be a special time to renew our spirits deeply, to feel refreshed for a new beginning. That is my hope for you in this special time of year."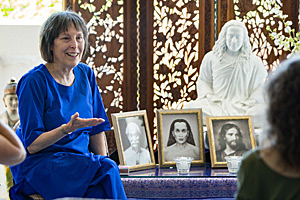 From previous guests:
"I was drawn to the intention of the retreat: I was feeling really down and knew that my daily routine was not helping me uplift my spirit. Since the retreat I've been meditating every morning and evening, doing yoga, spending less time on the Internet, and desiring to connect more deeply with myself and those around me. I went with an open mind and heart, and left feeling more radiant, present, and accepting of my process."
Victoria, Oakland, CA

"Thanks so much for such a lovely, special experience and everything you shared and exposed us to. I feel 'reset' and really grateful for the perspective shifts that happened over this weekend. I feel closer to myself and to spirit."
Tameron, San Francisco, CA
3 Tips for Enjoying a Thanksgiving Holiday
1. Nature "has no ego." Take time to be in nature and fill yourself with inner happiness.
2. Before you spend time with people, prepare yourself to feel a connection with them. Look beneath the outward personalities for the soul who is seeking love, just as you are.
3. Practice gratitude for the Life flowing within you.

For more information, please send us a Question or Comment:

Receive monthly news and inspiration.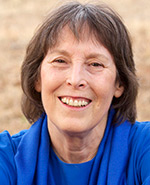 Kriyacharya, Ananda Minister, Counselor, Level 2 Meditation Teacher, Raja Yoga Teacher
What is a nayaswami?
Nayaswami Anandi is known for her natural warmth, humor, wisdom, and kindness. Almost since her arrival at Ananda in 1971 as a founding member of Ananda, she has been sharing the teachings of Paramhansa Yogananda.

or e-mail or call us at 1-800-346-5350
Costs (THAN)
Costs are on a per person basis.
Nov 21 – 25, 2018
Nov 27 – Dec 1, 2019
Tent
RV
Standard
Shared
Standard
Private
Deluxe
Shared
Deluxe
Private
$420
$576
$832
$756
$1100
Prices are all-inclusive and cover accommodations, meals, classes or activities, and course materials.
A Thanksgiving Retreat: Opening to the Blessings of Life starts the afternoon of the first date listed and ends with lunch on the last date. Please see:
Pick up & drop off at Sacramento Airport. Click links for details.
You can add extra personal retreat days before and/or after your program. Check availability and costs for the days and accommodations that you require.
A Thanksgiving Retreat: Opening to the Blessings of Life starts the afternoon of the first date listed. It's ideal to arrive before 4 pm, if you are able to. That way, you can join in the afternoon session of yoga and meditation, which begins at 4:45 pm. Dinner is at 6:30. The first real gathering of your group is at 7:30 pm. If you need to arrive here after 5 pm, that's fine, but it helps us if you let us know at 800-346-5350. We can also put aside a dinner for you if you need to arrive after 7 pm. The program ends with lunch on the last date. Please see our Daily Schedule.
See Transportation and Directions whether you are coming by plane, car, bus or train. Our Frequent Questions page answers many of the questions you might have about How to Go on Retreat.
RELATED PROGRAMS