Ananda Yoga® for Bone Strength
Not scheduled at this time.
with Maitri Jones
Over 40 million people in the U.S. have osteoporosis or low bone mass. Many people don't realize they have fragile bones until they suffer a fracture. Learn how to strengthen your bones and muscles and feel empowered.
April 2019 course is for Nurses only. During this weekend program, you will:
Practice Ananda Yoga® postures tailored to prevent, halt, or reverse the process of bone loss
Learn what movements to avoid or modify if you have osteoporosis or osteopenia
Use the power of focused awareness and affirmation in the poses to stimulate bone growth
Feel empowered physically, and learn a meditation technique to uplift your spirit and decrease stress and anxiety
Learn an Ananda Yoga® routine you can practice at home to keep moving toward dynamic health and inspiration.
This program will be lead by Maitri Jones. You can read Maitri's blog about Ananda Yoga for Tall Posture and Bone Strength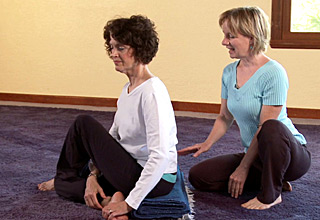 Watch this video on The Healing Power of Therapeutic Yoga
Nursing CEU Eligible: 5 hours


What our guests say:
The scope and content of Yoga for Stronger Bones was excellent. The instruction was clear, concise and easy to assimilate. The pacing was great with a nice blend of lecture, discussion and practice
. I came away feeling empowered to keep my bones healthy and confident in assisting my students to do the same throughout their practice. - K.R., Gold River, CA
I'm so grateful that you are able to intuitively and wisely help all of us who attended Yoga for Stronger Bones. Your kindness, compassionate heart, and especially your exceptional expertise makes you an excellent channel to help us with our particular needs. I got so much information and tools that I can incorporate right away, which will help me to diminish joint pain, improve my posture, improve bone health, and so much more. I'm amazed with the amount of information you're able to provide in just a weekend. Your excellent organization skills make it fun, interesting, and digestible to the brain without feeling overwhelmed.
This is the second class I've taken with you, and you have surpassed my expectations again--I'll keep watching the Expanding Light calendar for any other classes you offer. Lastly, Thanks so much for the yoga routine in the flash drive and hard copy you provided us with. I'll be practicing it daily. - B.S., Winnemucca, NV
I found the workshop to be so beneficial for myself and for my profession. I got so much more than learning about osteoporosis and bone health. The weekend turned into a healing experience for me. Maitri, you spoke with such a gentle and loving spirit. I slept the best I have in a long time and felt so relaxed as I entered back into my life. -L.C., Rancho Cordova, CA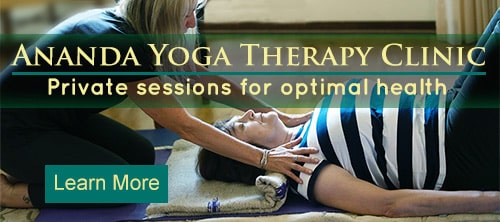 For more information, please send us a Question or Comment:

Receive monthly news and inspiration.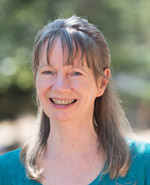 AnandaYoga®Therapist,Certified with International Association of Yoga Therapy, C-IAYT. Level 2 Ananda Yoga®Teacher, E-RYT-500, Ananda Minister, Counselor
Maitri's name means "Friend" in Sanskrit and well describes her extraordinarily kind and supportive nature. She directs our Ananda Yoga® Teacher Training Assistantship program, where she helps YTT grads take their teaching to the next level. She also helped pioneer our Ananda Yoga Therapy Training and is one of the primary instructors in that program. Maitri, brings great wisdom and experience to her many programs. Maitri is a certified Ananda Meditation and Yoga Teacher, as well as a registered nurse.
No dates scheduled for Ananda Yoga® for Bone Strength at this time.
Prices are all-inclusive and cover accommodations, meals, classes or activities, and course materials.
Ananda Yoga® for Bone Strength starts the afternoon of the first date listed and ends with lunch on the last date listed. Check-in is anytime between 1:30 p.m. and 4:30 p.m. at our Front Desk. Your room will be available by 3:00 p.m. Dinner is at 6:30. The first gathering of your group is after dinner.
Please see:
You can add extra personal retreat days before and/or after your program. Check availability and costs for the days and accommodations that you require.
Ananda Yoga® for Bone Strength starts the afternoon of the first date listed. It's ideal to arrive before 4 pm, if you are able to. That way, you can join in the afternoon session of yoga and meditation, which begins at 4:45 pm. Dinner is at 6:30. The first real gathering of your group is at 7:30 pm. If you need to arrive here after 5 pm, that's fine, but it helps us if you let us know at 800-346-5350. We can also put aside a dinner for you if you need to arrive after 7 pm. The program ends with lunch on the last date. Please see our Daily Schedule.
See Transportation and Directions whether you are coming by plane, car, bus or train. Our Frequent Questions page answers many of the questions you might have about How to Go on Retreat.