The Essence of the Yoga Sutras According to Paramhansa Yogananda

Wisdom of Patanjali for Spiritual Success
Not scheduled at this time.
Patanjali, (the author of the Yoga Sutras) was an enlightened master, writing from a state of realization as well as practical knowledge. Far more than mere philosophical speculation, the Sutras come from revealed knowledge and serve as a road map for those who would explore the realm of Self-realization. — from How to Meditate, by Jyotish Novak
During this course, you will explore these important subjects:
Ashtanga Yoga – How to use the Eightfold Path to enhance your spiritual practices.
Obstacles to Yoga – What holds you back spiritually, and how to overcome it.
Samadhi – What is this state of Oneness, and how can you move toward an actual experience of it.
Attitude – How to develop the attitudes essential for success in your spiritual life.
Making Patanjali practical – How to integrate the essence of yoga into your daily life.
This course is open to all and is also part of Ananda's Yoga Therapy Training. In this Course Syllabus, certain parts apply only to those seeking certification as an Ananda Yoga Therapist..
Yoga Alliance RYT's and E-RYT's: This course offers up to 35 hours of continuing education credit. Ask your instructor for documentation.
Special Workshops for Ananda Yoga
®

Teachers

There will be several extra workshops that are only for Ananda's Level 1 YTT graduates and those who have completed Bridge to Ananda Yoga: You'll have several additional workshops in which you'll explore the practice and teaching of Ananda Yoga Level 2 asanas.

You will receive your own copy of our course textbook, Demystifying Patanjali: The Yoga Sutras (Aphorisms) by Swami Kriyananda. Patanjali has often been translated with great intellectual complexity and dryness. In this newly completed, highly readable book, Kriyananda reveals Patanjali's vision of the single, practical path that underlies all spiritual traditions—that of moving from ego-identification to soul-identification—and how to walk that path using the nonsectarian tools of yoga.

Instructors Pranaba and Parvati Hansen are two of Ananda's most widely-traveled teachers, having helped start Ananda communities in Italy, Seattle, San Francisco, Palo Alto, Portland, and Dallas. Their deep joy and calmness are excellent examples of yoga in action.

For more information, please send us a Question or Comment:

Receive monthly news and inspiration.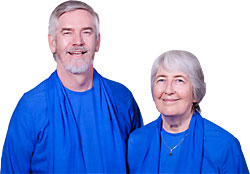 Kriyacharyas, Ananda Ministers, Hatha and Raja Yoga Teachers, Director of Ananda Sangha and the Janaka Foundation
What is a nayaswami?
Nayaswamis Pranaba and Parvati are two of Ananda's most widely traveled and experienced ministers. They helped to create and direct Ananda centers in Palo Alto, Portland, Seattle, Dallas, and Assisi, Italy. Together they have been sharing Yogananda's teachings for almost 60 years. Pranaba has been Director of the Yoga Teacher Training program and Manager of The Expanding Light as well as Ananda's Retreat in Assisi, Italy. Pranaba has directed the membership training program at Ananda Village and has coordinated Ananda's Meditation Centers and Groups. He now manages Ananda Sangha Worldwide, Ananda's outreach ministry. An excellent teacher, he is known for his unfailing kindness and gentle approach.
See all programs, articles, and full bio of Nayaswami Pranaba and Nayaswami Parvati .
No dates scheduled for The Essence of the Yoga Sutras According to Paramhansa Yogananda at this time.
Prices are all-inclusive and cover accommodations, meals, classes or activities, and course materials.
The Essence of the Yoga Sutras According to Paramhansa Yogananda starts the afternoon of the first date listed and ends with lunch on the last date listed. Check-in is anytime between 1:30 p.m. and 4:30 p.m. at our Front Desk. Your room will be available by 3:00 p.m. Dinner is at 6:30. The first gathering of your group is after dinner.
Please see:
You can add extra personal retreat days before and/or after your program. Check availability and costs for the days and accommodations that you require.
The Essence of the Yoga Sutras According to Paramhansa Yogananda starts the afternoon of the first date listed. It's ideal to arrive before 4 pm, if you are able to. That way, you can join in the afternoon session of yoga and meditation, which begins at 4:45 pm. Dinner is at 6:30. The first real gathering of your group is at 7:30 pm. If you need to arrive here after 5 pm, that's fine, but it helps us if you let us know at 800-346-5350. We can also put aside a dinner for you if you need to arrive after 7 pm. The program ends with lunch on the last date. Please see our Daily Schedule.
See Transportation and Directions whether you are coming by plane, car, bus or train. Our Frequent Questions page answers many of the questions you might have about How to Go on Retreat.