August 2016 Newsletter
Get monthly news, tips for yoga and meditation, and stay up-to-date on our upcoming programs. Click here to subscribe.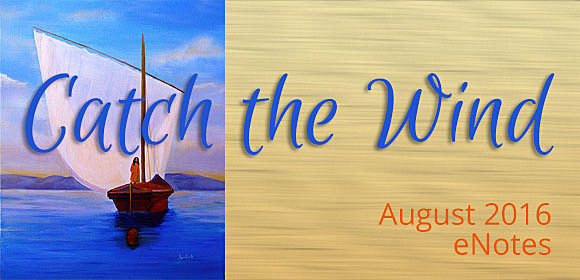 Dear friends

On a recent Sunday Nayaswami Parvati introduced the Purification Ceremony by using a little story that I found very inspiring.

Parvati shared this example: Our situation is similar to being a sailboat sitting on still water. We aren't going anywhere. The sea can be considered the Sea of Delusion. If we want to move forward on our spiritual path, our job is to raise the sail. Once we have done the work to pull up that sail and secure it in place, then the wind of God's grace can move us forward. That wind is always blowing.

What a lovely analogy. Giving up whatever is holding us back is one wonderful way in which we can raise our sail. Another is to participate in Expanding Light's Karma Yoga Program. Contemplating other actions we can take to raise our sail in order to catch the wind of God's grace strikes me as an exceptionally valuable exercise. What is the best way for you?




Happy sailing,

Nityananda

INSPIRATION
FROM PARAMHANSA YOGANANDA
"All the great karmis - those who served God according to the principles of Karma Yoga (the path of selfless service) - have reached the point where they realized that the supreme service is to direct all one's energy inwardly, in silence, to God."

From Conversations with Yogananda Crystal Clarity Publishers
The best Karma Yoga Program on the Planet

The Expanding Light is blessed to have the best karma yogis on the planet. Combining them with the best Karma Yoga Program on the planet results in great joy and great blessings for all involved. Okay, it's our opinion that it's the best in the world. But we've had people tell us that for decades.

This is a deeply spiritual program with daily classes covering a wide range of topics including 'The Wisdom Series,' Sharing Nature, Healing Prayers, Chanting, Raja Yoga. Karma Yogis also work on caring for the Retreat with service like cleaning the Dining Room after meals and doing dishes. Participants serve with others while bringing the practices they are studying into everyday life. For those who can stay longer than a month, the possibility exists to spend time within another ministry or department of Ananda Village, including Radio Ananda, one of dairies, Crystal Hermitage gardens and grounds, Permaculture, Healing Prayers and more.

'
'

We welcome anyone to apply. Please contact us to learn about the requirements. But here are the main guidelines: You must be genuinely interested in growing spiritually. You must be able to work on the physical plane and support the others in this program.





Testimonial:



"The Karma Yoga program has been a profound blessing on my life, imprints of which will nurture my soul till the time of my departure from this world. Feelings of compassion, thoughtfulness, devotion, kindness, and love that were masked by worldly delusions have suddenly resurfaced." Aditya

Can't be with us for Spiritual Renewal Week?

Then join the Ananda virtual community online and watch the daily talks from the week.

Copyright © *|CURRENT_YEAR|* *|LIST:COMPANY|*, All rights reserved.
*|IFNOT:ARCHIVE_PAGE|* *|LIST:DESCRIPTION|*

Our mailing address is:
*|HTML:LIST_ADDRESS_HTML|* *|END:IF|*

Want to change how you receive these emails?
You can update your preferences or unsubscribe from this list

*|IF:REWARDS|* *|HTML:REWARDS|* *|END:IF|*