February 2016 Newsletter
Get monthly news, tips for yoga and meditation, and stay up-to-date on our upcoming programs. Click here to subscribe.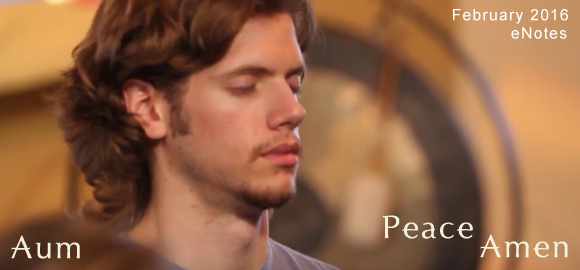 Dear *|FNAME|*

According to research reports on violence in the world, the trend is actually toward less, not more. There have been drops in recent years, and some cases decades, of violent crimes in US cities. There are fewer wars and fewer casualties from wars than their used to be.

However, I think most of us have the sense that these are particularly dangerous times. As considered from our understanding of the Yugas, we are early on in Ascending Dwapara Yuga - the age of energy. It seems pretty clear that at this stage many Kali Yuga (Dark Age) attitudes are still alive - and being energized by Dwapara energy.

Our Spiritual Directors, Jyotish & Devi have launched an initiative for us to use Paramhansa Yogananda's "Peace and Harmony Prayer" to spread that energy through the world in 2016. Please join us! Let's actively impact the world for the better! See the prayer below.





Peace and Harmony,
Nityananda
Online Learning


Ananda Meditation Teacher Training Online
10 week Certification Course
February 22 - May 2

This great online program delivered in partnership with Online with Ananda was created using the best-practice current distance learning approaches. From personalized training to post-training support, we help you in every way to become the teacher you truly want to be. Learn More

Spiritualize Your Marriage
10 week Certification Course
February 22 – May 2

Celebrate Valentine's Day by renewing the spiritual bond in your marriage and exploring your divine purpose for being together. Learn More

Pilgrimage to Spain & Italy
Experience Historical and Holy Sites
May 21 – June 11, 2016
If you can't take three weeks, there is the option to visit only Spain or only Italy.
You must act fast to secure the early–bird discount. Official shutoff date is February 1, but given the timing of this email, we will extend the deadline to February 5th – this Friday – at 5:00. Call or email Krishna Das in Guest Services asap.

Peace & Harmony Prayer


The more focused your attention, the more effective your prayer will be.
Visualize the world bathed in Divine Light, and then pray from your heart: "Lord, fill the world with peace and harmony, peace and harmony." Repeat this for about a minute &10 repetitions]. Then visualize yourself in Divine Light, and say, "Lord, fill me with peace and harmony, peace and harmony" for fifteen seconds [3 reps].
Yogananda said: "Do this five times a day. Three or four times might work, but five practically never fails."

by Paramhansa Yogananda
ANANDA YOGA TEACHER TRAININGS
Ananda's is the only
yoga teacher certification
in the tradition of Paramhansa Yogananda. We've spent more than 30 years making it into a dynamic blend of professional training and personal growth. Ananda helped found Yoga Alliance, the non-profit group that established national standards for yoga teacher training.
200hr - One Month Intensive dates:
Mar 20 – Apr 17, 2016
Jul 10 – Aug 7, 2016
Oct 23 – Nov 20, 2016
Can be split into two week sessions and scholarships are available for those who qualify.
Our 2016 online Calendar is filled with new and treasured programs...
click here
Serve, learn and grow through our wonderful
Karma Yoga Program
Ananda is a worldwide movement to help you realize the joy of your own higher Self. It is based on the teachings of Paramhansa Yogananda and was founded by his direct disciple Swami Kriyananda in 1968.
Learn More...

CONNECT
14618 Tyler Foote Rd
Nevada City, California 95959
Toll free 800-346-5350
Outside US 530-478-7518
SUBSCRIBE
Receive uplifting emails with inspirational content and news about our retreat programs, travels, and trainings.