Free Yourself From Stress Retreat
Not scheduled at this time.
with Nayaswami Mukti
Change your experience of life's challenges from stressful and negative to energizing and filled with opportunity and growth.
In this weekend you will learn what causes 'stress' from a spiritual perspective and how to transform stress into positive energy and growth. Techniques include a powerful and simple technique of meditation that can be practiced anywhere, techniques to reprogram our dysfunctional responses to events, and techniques to not only maintain our inner peace but to strengthen and expand it in the midst of life's challenges.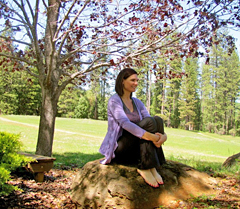 Life is a school and our lessons are to help us increase our ability to be steadfast in our peace, resilient regardless of the challenges, and to use every experience as an opportunity to grow toward Self-realization.
We encourage you to live from this place of higher awareness throughout your life starting right here and now. Say 'yes' to life!
You'll receive a practical toolbox to help you manage stress in daily life, including:
An extremely effective technique of meditation, which Yogananda called "one of India's greatest gifts to the world"
Practical stress reduction tips
How to use breathing techniques and stretching
How to make affirmations and visualizations work for you in daily life
Attitudes to help you bring fresh energy to your experience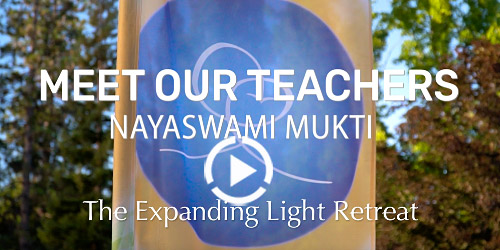 Your instructor for this course, Nayaswami Mukti, has been practicing these techniques of meditative calmness for over 30 years. In addition, she brings qualifications from earlier in her life, when she studied with one of the pioneers in using biofeedback to treat stress-related disorders. She headed the department that used biofeedback for cancer patients, who came from all over the world. She taught stress management in the medical environment for ten years and was able to relieve people of severe and life-threatening stress-related disease. Yet, she says, she's found the techniques she'll be sharing this weekend offer a much greater potential - to take people beyond freedom from stress, to a life filled with enthusiasm and fulfillment.
"Health does not mean mere existence. Keeping out of the hospital is not health. To be able to resist disease, to bear strain, to stimulate mental vitality, and to feel the body as a luxury—as a bird feels when shooting through the air, and as a child does always—is health."
—Paramhansa Yogananda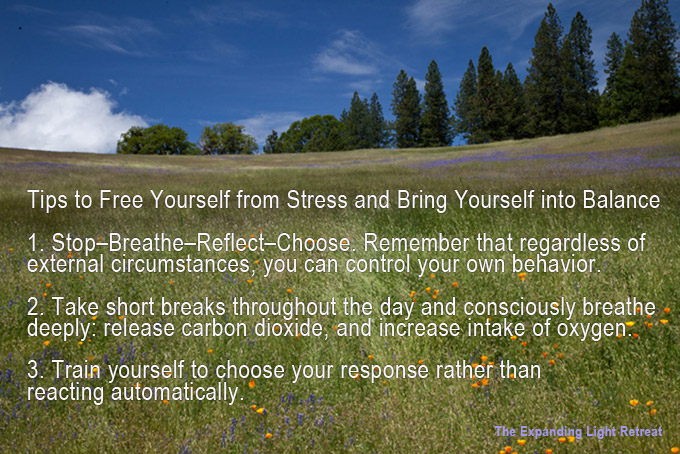 Comments from participants:
"Just wanted to drop a friendly hello. Since we last met, my meditation has become a daily part of my existence. I often think of your smiling face. The ENERGY, which I draw from my daily meditations, has become transformative. Mukti, thank you for giving me some new tools, and guidance in my journey!" --Patrick
"My first visit to Expanding Light was in August. I was so moved by my experience, I returned this past weekend. It was another amazing experience. Transformative!
"Your guidance, knowledge, energy and joy, was so refreshing. Your ability to explain concepts and ideas, made my experience all the more enjoyable. The peace I felt there was nothing I can explain. I returned home with new tools to use on my journey. My daily meditations are now, and will forever be part of my inner peace. Thank you." -- Patrick, Chicago, IL
"A wonderful weekend of spiritual reflection and joy. The techniques of yoga and meditation are now helping me with stress approached in everyday life from relationships to job. I would recommend this retreat to anyone searching for greater spiritual connection with the unirverse, resulting in greater inner peace." -- S., Lodi, CA
"This Freedom from Stress retreat delivered so much more than the title of the retreat indicates. Yoga and meditation experiences amazingly relaxed and energized the body at the same time. The awareness of the thoughts and energy associated with the different levels of consciousness is helping me realign my daily approaches with people and situations. I definitely invite others to make time for this retreat; it will be life-changing." -- J., California
"I truly thought our time together was special, and the tools you gave us are important to keep and to work with. I commend you on your guided meditation technique - I found it easy to shift as you lead us through it. I have returned to caregiving with a new perspective." --B.D., Sacramento, CA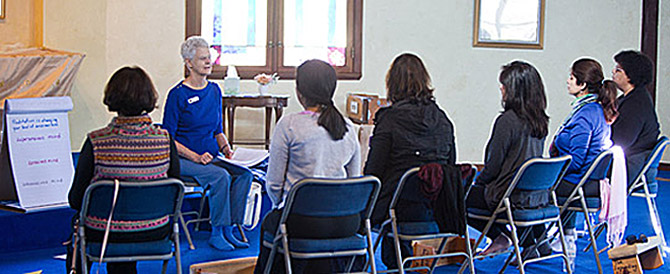 For more information, please send us a Question or Comment:

Receive monthly news and inspiration.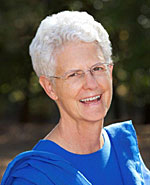 Inspirational teacher and retreat leader, Ananda Meditation Teacher, Ananda Minister and Spiritual Counselor
Nayaswami Mukti has been creating and leading a variety of inspirational retreats at The Expanding Light Retreat for the past many years. The themes and facets of her retreat programs reflect her own long-term and deep exploration to let every aspect of her life flow from a deep Kriya Yoga meditation practice. Her life has been one of uplifting service ranging from her full-time career as a speech therapist, to being a key member of the Ananda Music Ministry and to her out-reach to Ananda Meditation groups.
See all programs, articles, and full bio of Nayaswami Mukti.
No dates scheduled for Free Yourself From Stress Retreat at this time.
Prices are all-inclusive and cover accommodations, meals, classes or activities, and course materials.
Free Yourself From Stress Retreat starts the afternoon of the first date listed and ends with lunch on the last date listed. Check-in is anytime between 1:30 p.m. and 4:30 p.m. at our Front Desk. Your room will be available by 3:00 p.m. Dinner is at 6:30. The first gathering of your group is after dinner.
Please see:
You can add extra personal retreat days before and/or after your program. Check availability and costs for the days and accommodations that you require.
Free Yourself From Stress Retreat starts the afternoon of the first date listed. It's ideal to arrive before 4 pm, if you are able to. That way, you can join in the afternoon session of yoga and meditation, which begins at 4:45 pm. Dinner is at 6:30. The first real gathering of your group is at 7:30 pm. If you need to arrive here after 5 pm, that's fine, but it helps us if you let us know at 800-346-5350. We can also put aside a dinner for you if you need to arrive after 7 pm. The program ends with lunch on the last date. Please see our Daily Schedule.
See Transportation and Directions whether you are coming by plane, car, bus or train. Our Frequent Questions page answers many of the questions you might have about How to Go on Retreat.