Free Yourself From Stress Retreat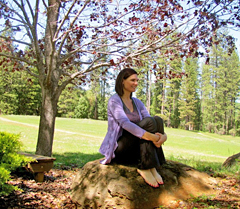 During this weekend retreat, you'll practice the techniques of Paramhansa Yogananda to help you to relax physically and mentally. You'll learn how to develop mental strength through concentration and meditation, to help you maintain your calmness throughout the day.
You'll receive a practical toolbox to help you manage stress in daily life. Your toolbox will include:
An extremely effective technique of meditation, which Yogananda called "one of India's greatest gifts to the world"
Practical stress reduction tips
How to use breathing techniques and stretching
How to make affirmations and visualizations work for you in daily life
Attitudes to help you bring fresh energy to your experiences
"Health does not mean mere existence. Keeping out of the hospital is not health. To be able to resist disease, to bear strain, to stimulate mental vitality, and to feel the body as a luxury—as a bird feels when shooting through the air, and as a child does always—is health."
—Paramhansa Yogananda
Tips to Free Yourself from Stress, & Bring Yourself into Balance
1. Stop–Breathe–Reflect–Choose. Remember that regardless of external circumstances, you can control your own behavior.
2. Take short breaks throughout the day and consciously breathe deeply: release carbon dioxide, and increase intake of oxygen.
3. Train yourself to choose your response rather than reacting automatically.

More details about your reservation for Free Yourself From Stress Retreat

or e-mail or call us at 1-800-346-5350
Costs (FFS)
Costs are on a per person basis.
Tent /
RV
Standard
Shared
Standard
Private
Deluxe
Shared
Deluxe
Private
$254
$320
$452
$412
$594
Prices are all-inclusive and cover accommodations, meals, classes or activities, and course materials.
Free Yourself From Stress Retreat starts the afternoon of the first date listed and ends with lunch on the last date. Please see: