Springtime at Ananda – Tulip Garden Open House
Dates Scheduled:
Apr 6 – 7, 2019
Apr 13 – 14, 2019
Apr 20 – 21, 2019
Apr 27 – 28, 2019
Springtime at Ananda – a heavenly time to take some days for personal rejuvenation. Enjoy a Personal Retreat at The Expanding Light during one of the most glorious times of the year.
Every year we plant 17,000 tulips in the Crystal Hermitage gardens. This extraordinary display—tiers of tulips inter-planted with alyssum and pansies—overlooks the Yuba River canyon. Flowering cherry trees, dogwoods, and peonies in bloom (depending on when you arrive) add to the gala natural beauty.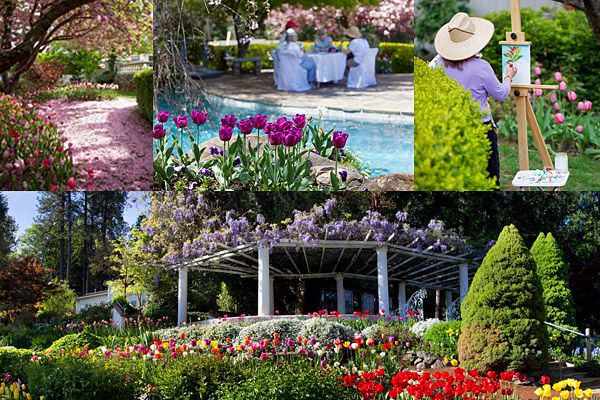 You can also enjoy deep spiritual blessings in Shrine of the Masters, with its relics from the Masters in our lineage; the Chapel, filled with divine love; and the Moksha Mandir, final resting place of Ananda's founder, Swami Kriyananda, blessed with a profound peace and expansive joy.
The tulips begin blooming early in April and usually last into early May. For updates on the tulips, visit the Crystal Hermitage website at www.crystalhermitage.org or call 530-478-7574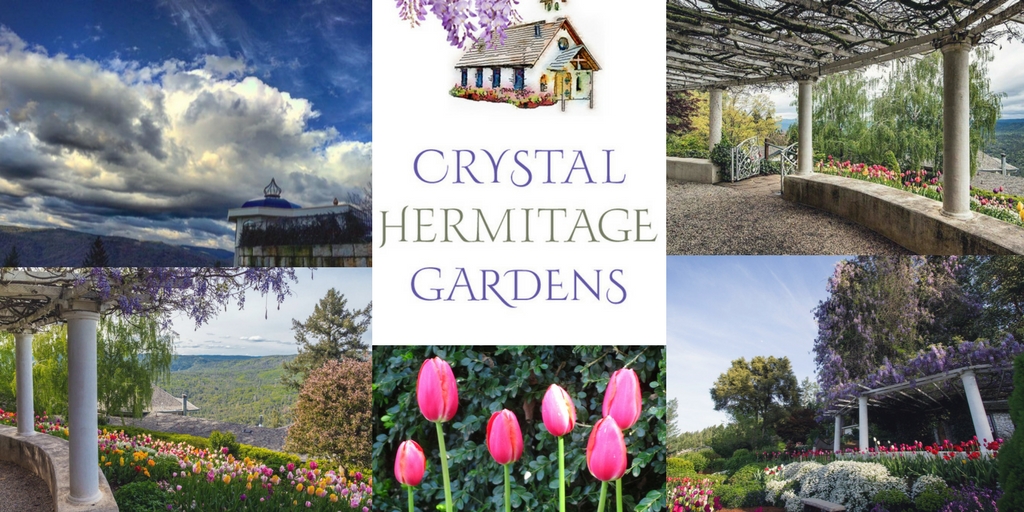 The gardens are open every day in April from 10am – 5pm (except Monday, April 22, when the gardens are closed until 1pm). Admission is $8 per adult during the week, $10 per adult on Saturday and Sunday. "Scone Weekends," when we offer a table of coffee, tea, and goodies to enhance your visit, are April 13 & 14, and April 20 & 21.
NEW CRYSTAL HERMITAGE VIP and DELUX Packages:
Saturday, April 13th and Sunday, April 14th are special events weekend days at the Crystal Hermitage! April 13th is our VIP package day, and both 13th and 14th have Deluxe packages available.
Skip the line at the Tulip Garden, and enjoy any or all of the activities, including live music, lakeside picnic with hot lunch, tours, a meditation class, and an afternoon Tea! (The Tea is only included in the VIP package.) Experience the peaceful atmosphere of a longstanding spiritual community on 700 acres in the Sierra foothills. Tickets are limited and we expect to sell out, so reserve your ticket early. These packages are separate from your Expanding Light Retreat stay. Please learn more and purchase Special Events packages here.

When you are not at the gardens, you can enjoy:
Activities at The Expanding Light: guided yoga postures and meditation; a meditation class; a tour of Ananda Village; the Ananda Village Sunday Service and more
Meeting spiritual seekers of all backgrounds from around the world
Delicious vegetarian meals from our own Expanding Light cookbooks and recipes. Our meals include fresh organic produce from Ananda Farms, as well as other organically grown ingredients, homemade breads, gluten and dairy-free options.
Personal services at The Expanding Light Retreat (offered for $75 per hour), including: spiritual counseling; private yoga sessions; private/group yoga therapy sessions.
Ananda Village's 700 acres of beautiful rolling meadows and forestland in the Sierra Nevada foothills
Here's a short and inspirational video of the garden and tulips.
Crystal Hermitage is a non-profit organization which relies on donations.