Ananda Yoga Intensive

Challenge your strength, balance, and awareness of subtle energy
Not scheduled at this time.
with Vahini
This weekend program is suitable for yoga practitioners of all levels—beginners, intermediate, and advanced Hatha Yogis. Everyone will receive a challenge!
Challenge your strength, balance, and awareness of subtle energy during this Ananda Yoga Intensive. Explore more challenging yoga postures in stages to suit your body's needs, and take your asana practice to the next level.
During this retreat we'll:
Approach more difficult poses safely
Improve alignment and energy flow
Increase vitality, strength, and flexibility
Connect more deeply with Prana or "life-force"
Experience the subtler, deeper purposes of Hatha Yoga practice
Use asanas, affirmations, and visualizations to raise your consciousness
Use pranayama techniques to harness energy
Practice ancient meditation techniques to improve concentration and unite with the Source of happiness within you
Discover what you've been missing in callisthenic practices: a spiritual experience!
What is Ananda Yoga?
Based on the teachings of the great Yogi/Master, Paramhansa Yogananda, who brought to the West practical tools for increasing one's spiritual awareness and achieving Self-realization
Classical Hatha Yoga, which recognizes that physical postures do much more than aid our physical health. They connect the body, mind, breath, and consciousness into one harmonious flow
A practice that uses the knowledge of subtle energy to experience the truth that we are beings of energy
For more information, please send us a Question or Comment:

Receive monthly news and inspiration.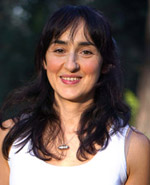 Vahini has been practicing yoga and meditation for over 10 years, and has lived in Ananda centers since 2009, mostly in Assisi, Italy. She is a contributing teacher in the Ananda Yoga Teacher Training, trained prenatal instructor, and in the past 7 years she has been teaching yoga with the emphasis on the subjects of deep relaxation and creating a deeper connection with nature. She is eternally thankful to be able to share these teachings, which have powerfully transformed her life.
No dates scheduled for Ananda Yoga Intensive at this time.
Prices are all-inclusive and cover accommodations, meals, classes or activities, and course materials.
Ananda Yoga Intensive starts the afternoon of the first date listed and ends with lunch on the last date listed. Check-in is anytime between 1:30 p.m. and 4:30 p.m. at our Front Desk. Your room will be available by 3:00 p.m. Dinner is at 6:30. The first gathering of your group is after dinner.
Please see:
You can add extra personal retreat days before and/or after your program. Check availability and costs for the days and accommodations that you require.
Ananda Yoga Intensive starts the afternoon of the first date listed. It's ideal to arrive before 4 pm, if you are able to. That way, you can join in the afternoon session of yoga and meditation, which begins at 4:45 pm. Dinner is at 6:30. The first real gathering of your group is at 7:30 pm. If you need to arrive here after 5 pm, that's fine, but it helps us if you let us know at 800-346-5350. We can also put aside a dinner for you if you need to arrive after 7 pm. The program ends with lunch on the last date. Please see our Daily Schedule.
See Transportation and Directions whether you are coming by plane, car, bus or train. Our Frequent Questions page answers many of the questions you might have about How to Go on Retreat.