Israel Pilgrimage

In the Footsteps of Jesus
Here is the trip of a lifetime—deeply inspiring and at a relaxed pace. These sacred sites are so alive with the presence of Jesus and his disciples that you will meditate on the experience for the rest of your life.
Not scheduled at this time.
Groups of 4 or more receive a $200/person discount.
Retreat Leaders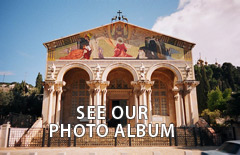 Join Ananda Spiritual Travels for an unforgettable spiritual experience: a 2-week pilgrimage in the Holy Land, following in the footsteps of Jesus. Many of these sacred spots are so alive with his presence that you'll continue to draw blessings from them for the rest of your life. You'll also visit a variety of sites sacred to Judaism.
Pilgrimage Highlights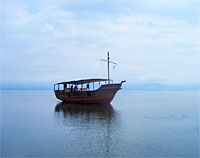 Imagine how you'll feel as you:
Enter the Church of the Nativity in Bethlehem, birthplace of Jesus.
Float peacefully on a boat in the middle of the Sea of Galilee during two special sunrise meditations.
Visit Nazareth, scene of Jesus' boyhood.
Enjoy the serenity of the Mount of Beatitudes, site of Jesus' Sermon on the Mount.
Go to the ancient synagogue at Capernaum, the center of Jesus' Galilean ministry.
Feel the power and beauty of Mount Tabor, site of the Transfiguration
Visit Jewish holy sites, such as King David's Tomb and the Western (Wailing) Wall.
Walk down the Mount of Olives, stop to meditate in the Garden of Gethsemane, then proceed into Jerusalem—Jesus' route on Palm Sunday.
Meditate in the Church of the Holy Sepulchre, which houses the traditional sites of Jesus' crucifixion and tomb.
Visit dramatic Qumran, an ancient spiritual community where the Dead Sea Scrolls were discovered.
Swim in the Dead Sea, and hike amidst the profound stillness and serenity of the nearby canyons.
Experience a Sabbath dinner in the home of a Jewish family in Jerusalem.
Watch our video overview of this deeply inspiring pilgrimage to Israel
Availability
As of September 1, we have double occupancy spaces for a single woman and a single man. Contact us if you need a room of your own, and we will check availability with our tour agency.
Enjoy a Relaxed Pace
Unlike typical tourist fare, the pace of this pilgrimage will be relaxed. You'll have time not only to learn about the holy shrines, but also to meditate there and tune in to the joy-filled vibrations of Jesus and his disciples—and of many centuries of devoted pilgrims. And when you don't feel to meditate, you can enjoy the upliftment of a stroll through the grounds of these shrines. Whether meditating, strolling, or simply soaking it all in, your spiritual efforts will get a boost from your fellow pilgrims, many of whom have dedicated their lives to the divine quest. We'll be one spiritual family.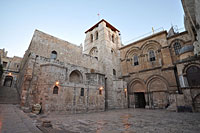 And yes, you'll have free time to roam the streets of Jerusalem or the shrines of Galilee, enjoy the dramatic beauty and stillness of the Dead Sea area, relax in the comfort of your hotel—and of course, shop for souvenirs.
Top-Quality Accommodations & Meals
To help you relax deeply and be fully receptive during this experience, you'll stay in beautiful 4- and 5-star hotels; some have pools, spas, and other amenities. Your Jerusalem hotel will be only a few minutes' walk from the Old City.
Your trip includes breakfast and dinner buffets each day (vegetarian or non-vegetarian). Some lunches will be included in the cost of the trip, while others will be on your own, sometimes at falafel stands, a classic—and not-to-be-missed—highlight of any trip to Israel.

Prepare for Your Pilgrimage Experience
On a personal pilgrimage in 1983, Swami Kriyananda felt deep inspiration from the living presence of Jesus Christ in the Holy Land. He was inspired to write an oratorio, "Christ Lives"— a musical encapsulation of the life of Jesus. It has inspired thousands of people. Here is a link to a video of this oratorio. It has greatly deepened many people's inner experience of the life and teachings of Jesus.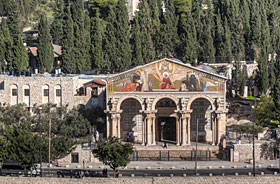 Pilgrimage Leaders
Nayaswami Gyandev is an experienced leader of retreats and pilgrimages—including Ananda's previous pilgrimage to Israel and the annual Kerala India healing retreat. Gyandev directs Ananda Yoga® and the Ananda Yoga Teacher Training, and co-directs the Ananda Meditation® Teacher Training. He is a long-time teacher and minister at Ananda Village.
For more information, please send us a Question or Comment:

Receive monthly news and inspiration.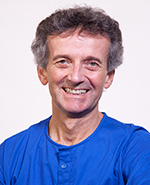 Co-Director of the Ananda Meditation Teacher Training ®, Director of Ananda Yoga®, Level 2 Ananda Yoga teacher, E-RYT 500, Raja Yoga Teacher, Spiritual Travel Host, Writer and Lecturer, Ananda Minister
What is a nayaswami?
Combining a fun-loving spirit, keen insight into the spiritual life, and genuine warmth, Nayaswami Gyandev makes the inner quest seem both natural and doable. Since 1983 he has taught Ananda Yoga to thousands of students and trained hundreds of teachers around the world, often forging deep and lasting bonds of friendship and inspiration.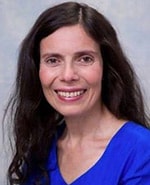 Director of Ananda Meditation Teacher Training
Level 2 Ananda Yoga(R) teacher,
Yoga Alliance E-RYT-500
Ananda Spiritual Travels host
Ananda Minister and Spiritual Counselor
A popular Expanding Light teacher since 1997, Diksha McCord is the Director of the Ananda Meditation Teacher Training program. Nayaswami Diksha, a native Israeli who came to the U.S. in 1990, is a powerful and dynamic woman who has shared yoga postures and yogic teachings across the United States, in Canada and Europe. What is a Nayaswami?
$4190 U.S. per person, double occupancy.
Single supplement: If you have a room to yourself, there will be an additional cost of $1195. If you prefer double occupancy but are not coming with a roommate, we will try to match you with someone. If you end up without a roommate, the additional $1195 cost will apply.
Groups of 4 or more receive a $200/person discount.
Included in Tour Cost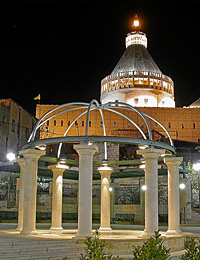 Deluxe hotel accommodations (4- and 5-star)
Breakfast and dinner every day; lunch on some days.
Group bus travel within Israel
Transportation from Tel Aviv airport to Jerusalem on October 9
English-speaking guides
Entrance fees for cultural attractions
Tips for guides and porters
Not Included in Tour Cost
International airfare to and from Israel
Overweight baggage fees
Fees for passport and Israel entry visa (if needed)
Personal hotel amenities and expenditures
Travel insurance
Some lunches (it will be easy to buy a lunch of your choosing).
Transportation from Jerusalem to Tel Aviv on October 22 (You can easily get a taxi at a time that works for your departure flight.)

To Register
Reserve Online and make your $1,000 U.S. deposit. You will then receive a confirmation letter with information on planning your flights and other details. Please note: the registration form requires your passport and emergency contact information, so have them handy when you begin the registration process.
We strongly recommend that all participants obtain travel insurance . Your confirmation letter will include tips for finding travel insurance.
Full payment is due July 1, 2018. The number of tour participants is limited, so early registration is advised.
Travel documents
You must hold a valid passport with an expiration date at least six months after the end of your stay in Israel. No Israel visa is needed for travelers from the U.S., Canada, Mexico, Australia, and most other countries in the Americas and Europe. If you are not from North America or Australia, you will need to find out whether you need a visa.

Cancellation Policy
If you cancel by July 1, 2018, your payment will be refunded, less a $500 cancellation fee. If you cancel after July 1, 2018, any refunds will be subject to the terms and conditions of any travel/hotel fees, our tour company, and other providers in Israel, plus any other charges incurred on your behalf by Ananda Sangha.
Most of your evenings will be free time. Click on any image for a larger view.
Day 1 (October 9)—Arrival in Jerusalem
You can arrive at Ben Gurion International Airport in Tel Aviv on October 9, or fly to Israel a few days early to enjoy Tel Aviv and/or Jerusalem before the pilgrimage begins. Either way, we'll take you to Jerusalem on October 9, where you'll check into the beautiful Mount Zion Hotel, a short walk from the Old City. We'll get a first look at Jerusalem, then dinner and a first get-together with our guide.

Day 2—Mount of Olives, Garden of Gethsemane, Via Dolorosa, Old City
We begin atop the Mount of Olives, with its panoramic view of New and Old Jerusalem. We'll visit the Chapel of the Ascension, said to be the site of Jesus' final ascent to heaven after the resurrection. Then we'll walk down the route taken by Jesus on Palm Sunday, stopping at Dominus Flevit, the chapel at the site where Jesus is said to have wept. Then on to the Garden of Gethsemane, where we'll have a private meditation among the ancient olive trees. From there, we'll walk uphill into the Old City via the Damascus Gate, then through the Old City along the Via Dolorosa, the route along which Jesus is said to have carried his cross. After our lunch in the Christian Quarter, we'll visit the Church of the Holy Sepulchre, on the site of Jesus' crucifixion and a tomb that many authorities claim was that of Jesus. Afterward, we'll go to the Garden Tomb, a more–recently discovered site that some authorities claim to be that of Jesus. Then we'll return to our hotel for dinner. It's a big first day in the Holy Land!
Day 3—Bethlehem, Ein Karem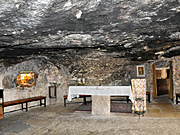 Shepherd's Grotto
After a short drive to Bethlehem, we'll visit the grotto at the Shepherds' Fields, where the angel announced Jesus' birth. Then we'll go to the Church of the Nativity, built on the site of Jesus birth. After a traditional Middle Eastern lunch, we'll return to greater Jerusalem to visit the picturesque village of Ein Karem, where John the Baptist was born and raised, and where his mother Elizabeth "felt life" when she met Mary. In Ein Karem we'll visit the Church of the Visitation, which commemorates Mary's visit to Elizabeth. Then we'll return to the hotel for some afternoon relaxation and dinner.
Day 4—Ein Gedi, Wadi Qelt, Dead Sea
We'll drive from Jerusalem into the Judean Desert and take a gorgeous late-morning hike along WadiQelt, a narrow, dramatically scenic canyon that cuts deep into the desert landscape. (Non-hikers can go to a nearby museum, with mosaics and other artifacts from ancient churches and synagogues in the region.) We'll also get a close up look at one of Wadi Qelt's famed landmarks: the 6th century, cliff-hanging St. George Monastery, where dwelt some of the Desert Fathers. After a picnic lunch, we'll continue down to the Dead Sea (lowest point on earth) and check in at the beautiful Ein Gedi Kibbutz Hotel.
Day 5—Masada, Ein Gedi
The highlight of this day is Masada, the plateau that was both King Herod's retreat and, later, the focal point of the dramatic last days of the Jewish Revolution against the Romans. Those who want some early-morning exercise will hike to the top of Masada for the stunning Dead Sea sunrise and storytelling of Masada's drama. This highly recommended hike is a bit challenging, and some people may wish ride the cable car to the top later. The afternoon is free time: You can visit the beautiful desert oasis of Ein Gedi (David's hideout from King Saul), where another beautiful hike is available. Or you can swim in the Dead Sea (well, sort of swim–the high mineral content of the water makes you bob like a cork), and pamper your body with the mineral–rich Dead Sea water and mud. Or you can simply enjoy the powerful stillness of the desert, and relax in the hotel spa.
Day 6—Qumran, hiking, relaxation
After a short drive to Qumran, we'll tour this ancient spiritual community where archaeologists found the Dead Sea Scrolls. With its desert beauty and solitude, along with its ancient spiritual heritage, it's a very magnetic place for meditation. After we return to the hotel, you can be free to explore beautiful hiking areas in the nearby canyons, or enjoy a relaxing massage or salt-water pool at the hotel spa.
Day 7—Jordan River Baptism Site, Jericho
As we leave the Dead Sea area, our first stop is Qasr el Yahud, the traditional site on the Jordan River where John baptized Jesus. (Yes, you can get baptized in the river!) Then on to Jericho, with its ancient ruins and a visit to the house where Jesus stayed with Zaccheus. After lunch in Jericho, we'll take the tram up to the top of the Mount of Temptation, where Jesus was tempted by the devil. Then we'll drive through the Jordan Valley to the Sea of Galilee, where you'll check into our beautiful hotel, perched above the eastern shore of the Sea of Galilee.
Day 8—Sea of Galilee, Mount of Beatitudes, Tabgha, Capernaum

Morning meditation on Sea of Galilee
We'll start the day with a memorable early morning boat ride and sunrise meditation on the Sea of Galilee. After breakfast back the hotel, we're off to the beautiful shrine on the Mount of Beatitudes, traditional site of Jesus' Sermon on the Mount. Next comes Tabgha, site of the miracle of the loaves and fishes, as well as the fourth resurrection appearance of Jesus, where Jesus asked Peter 3 times, "Do you love me?" After a traditional Middle Eastern lunch at a beautiful restaurant on the shore of the Sea of Galilee, we'll visit the ancient site of Capernaum, where Jesus first taught; it's also the hometown of Peter, Andrew, James, John, and the tax collector, Matthew. It's a day full of blessings, but it won't be hectic or exhausting, because these sites are quite close together.
Day 9—Mount Tabor, Nazareth, Cana
The day begins with a visit to the shrine atop Mount Tabor, site of Jesus' transfiguration. This dramatic location, with its breathtaking church/shrine, offers a beautiful overlook of the Galilee region. Then we'll go to Nazareth, birthplace of Mary and childhood home of Jesus, where we'll visit the Church of the Annunciation. Finally, we'll visit Cana, the famed site where, at a wedding, Jesus turned water into wine.
Day 10—Sea of Galilee, Free Time
We'll start the day with another unforgettable early morning boat ride and sunrise meditation on the Sea of Galilee. The rest of the day will be yours to enjoy: You can stay at the hotel and take advantage of the amenities, or our tour bus will be available to take you back to any of the special sites you enjoyed on Day 10: Mount of Beatitudes, Tabgha, and Capernaum.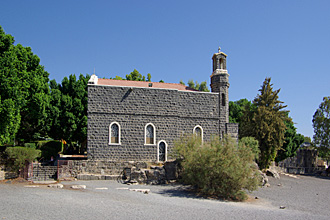 Tabgha on the shore of Galilee
Day 11—Safed, Jerusalem
We'll first drive to Safed, a picturesque city of artists that has been the spiritual center of Judaism since 1600. It's the highest city in Israel, offering breathtaking views of the Galilee region. Galilee region. You'll visit the gallery of a local artist, then be free to enjoy the many shops with a wide variety of artistry. After lunch in Safed, we'll drive back to Jerusalem in time for a Sabbath dinner in a Jewish home, which is sure to be a memorable experience.
Day 12—Room of the Last Supper,Dormitian Abbey, Tomb of King David,
From our hotel, we'll walk up to the Coenaculum atop Mount Zion, reputed to be the room of the Last Supper. We'll also visit the Dormition Abbey, which marks the site where the Virgin Mary died. Another nearby stop is the tomb of King David. You'll then have a free afternoon to spend in the Old City of Jerusalem.
Day 13—Israel Museum, Western Wall, Jewish Quarter
We'll begin the day with a return visit to the Old City, where we'll go to the Western Wall (aka Wailing Wall), followed by a tour of the Jewish Quarter of the Old City. After lunch, we'll go to the Israel Museum, where we'll enjoy an overview of Biblical Jerusalem–including a huge scale model of the Old City in those times–plus an opportunity to see the Dead Sea scrolls and stroll through this huge museum.
Day 14—Ein Karem, Western Wall, Shabbat
Your activities on this final day will depend on the time of your departure flight. In any case, the day is free time.
NOTE: The above itinerary is subject to change based on the discretion of the tour leaders.

RELATED PROGRAMS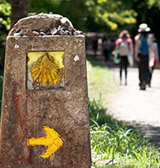 Sep 14–Oct 4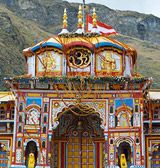 Sep 29–Oct 20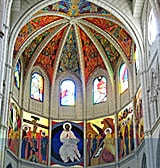 Pilgrimage to Spain & Portugal: Sacred Sites in Southern Europe
May 23–Jun 13, 2020