Israel Pilgrimage

In the Footsteps of Jesus
Join Ananda Spiritual Travels for an unforgettable spiritual experience: a 2-week pilgrimage in the Holy Land, following in the footsteps of Jesus. Many of these sacred spots are so alive with his presence that you'll continue to draw blessings from them for the rest of your life. You'll also visit a variety of sites sacred to Judaism.
Pilgrimage Highlights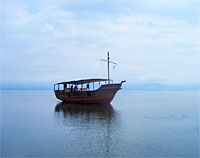 Imagine how you'll feel as you:
Enter the Church of the Nativity in Bethlehem, birthplace of Jesus.
Float peacefully on a boat in the middle of the Sea of Galilee during two special sunrise meditations.
Visit Nazareth, scene of Jesus' boyhood.
Enjoy the serenity of the Mount of Beatitudes, site of Jesus' Sermon on the Mount.
Go to the ancient synagogue at Capernaum, the center of Jesus' Galilean ministry.
Feel the power and beauty of Mount Tabor, site of the Transfiguration
Visit Jewish holy sites, such as King David's Tomb and the Western (Wailing) Wall.
Walk down the Mount of Olives, stop to meditate in the Garden of Gethsemane, then proceed into Jerusalem—Jesus' route on Palm Sunday.
Meditate in the Church of the Holy Sepulchre, which houses the traditional sites of Jesus' crucifixion and tomb.
Visit dramatic Qumran, an ancient spiritual community where the Dead Sea Scrolls were discovered.
Swim in the Dead Sea, and hike amidst the profound stillness and serenity of the nearby canyons.
Experience a Sabbath dinner in the home of a Jewish family in Jerusalem.
Enjoy a Relaxed Pace
Unlike typical tourist fare, the pace of this pilgrimage will be relaxed. You'll have time not only to learn about the holy shrines, but also to meditate there and tune in to the joy-filled vibrations of Jesus and his disciples—and of many centuries of devoted pilgrims. And when you don't feel to meditate, you can enjoy the upliftment of a stroll through the grounds of these shrines. Whether meditating, strolling, or simply soaking it all in, your spiritual efforts will get a boost from your many fellow pilgrims who have dedicated their lives to the divine quest. We'll be one large spiritual family.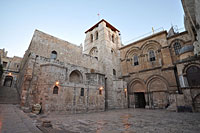 And yes, you'll have free time to roam the streets of Jerusalem or the hills of Galilee, enjoy the dramatic beauty and stillness of the Dead Sea area, relax in the comfort of your hotel—and of course, shop for souvenirs.
Top-Quality Accommodations & Meals
To help you relax deeply and be fully receptive during this experience, you'll stay in beautiful 4- and 5-star hotels, complete with pools, spas, and other amenities. Your Jerusalem hotel will be only a short walk from the Old City.
Your trip includes breakfast and dinner buffets each day (vegetarian or non-vegetarian). Some lunches will be included in the cost of the trip, while others will be on your own, sometimes at falafel stands, a classic—and delicious—highlight of any trip to Israel.

Enhance Your Pilgrimage Experience
On a personal pilgrimage in 1983, Swami Kriyananda felt deep inspiration from the living presence of Jesus Christ in the Holy Land. He was inspired to write an oratorio, "Christ Lives"— a musical encapsulation of the life of Jesus. It has inspired thousands of people. To help you get into the spirit of pilgrimage, you will receive a DVD of this musical masterpiece upon registering.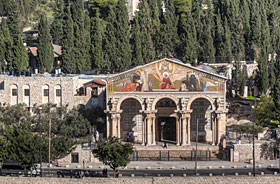 Pilgrimage Leaders
Nayaswamis Gyandev and Diksha are long-time teachers and ministers at Ananda Village, as well as experienced leaders of retreats at home and abroad—including a 2015 pilgrimage to Israel. Diksha is a native Israeli and a former Jerusalem resident; she directs Ananda's Meditation Teacher Training program. Gyandev directs Ananda Yoga® and Ananda Yoga Teacher Training. Both lead workshops on a wide range of topics in the spiritual life.
Israel Pilgrimage
Watch our video of this deeply inspiring pilgrimage to Israel