This perennial favorite is the perfect way to take stock of the past year and prepare inwardly to achieve your goals in the coming year, all in a relaxed, supportive environment of other spiritual seekers.

Your New Year's Retreat includes:
Guided introspection to get the most out of the hidden (and not-so-hidden) lessons of this past year
Guided goal-setting for next year, in which you'll experience a unique approach to setting goals and making New Year's resolutions that will really work for you.
Ananda's uplifting New Year's Ceremony, which includes purification practices, prayers for world peace, meditation, and a very special tradition: chanting a powerful ancient mantra 108 times to bring in the new year
Serene walks through the beautiful, peaceful hills of Ananda Village
Light-hearted entertainment in Ananda's very special way
Plenty of meditation and yoga postures sessions to help you start the New Year healthy, joyful and inspired.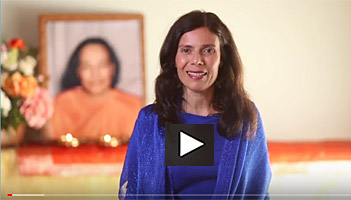 Watch this video on Harmonizing Your Relationships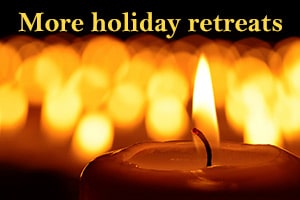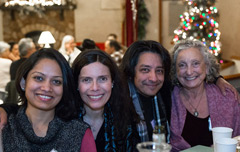 The New Year's Eve Purification Ceremony, using the ancient Vedic fire ceremony, will include the chanting of the Mahamrityunjaya mantra 108 times. After each repetition, rice, which is symbolic of our past karma, will be offered into the sacred flame to be burned up and purified. This holy ritual provides all guests with the opportunity to offer up to the Divine all attachments to last year and set their intention for the New Year to come. The evening will also include: chanting, extended affirmations, meditation and ringing of the gong to bring in the New Year. This evening is experiential with powerful spiritual practices to herald in the New Year.
Leave behind the ho-hum (or raucous!) atmosphere of New Year's at home, and let Nayaswamis Diksha and Gyandev lead you through a New Year's Retreat that's joyful and rejuvenating, giving you a powerful boost for your peace of mind.
This retreat is carefully designed as an integrated and powerfully transforming 4-day experience. It's ideal to come for the entire time, but if you are unable to do so, then please come when you are able.
What our guests have said: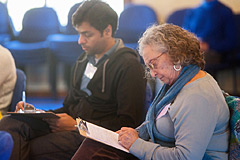 Diksha and Gyandev were brilliant. Very organized and focused when it came to the classes and the goal setting, yet they remained free from rigid course restratints when it came to answering questions, discussing views, and most importantly guiding seekers on their personal journeys. They have been instrumental in helping me achieve my goals for this retreat and open my heart. I will be back."
—J. I., Redlands, CA
This retreat allowed me to truly express what I felt was built up after years of struggle....Now that I have been introduced to Yogananda, The Expanding Light, and Ananda Village, I'm certain I can return to the energy when I make the effort. Thank you for helping me access the joyful spirit within me."
—K. B., Midland, MI
An outstanding way to start the New Year! To clear away the old clutter of life, to begin anew with clearly defined and magnetized goals.
—C.R. San Jose, CA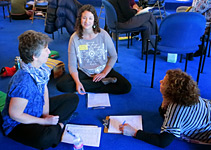 I came with the desire to be different in 2017. I leave with 3 really easy, self-generated goals to meet and fulfill this inner calling. The program in deceptively simple yet incredibly powerful. Thank you.
—S.K. Palo Alto, CA
I have read countless books and attended many seminars on goal setting and achieving those goals. This program was by far the best for me—I think largely because of the spiritual integration. I hope to return next year.
—J.B. Sacramento, CA
I came to The Expanding Light to physically, mentally, and spiritually reboot. I had no idea that I would actually change my life here. I am leaving with an abundance of joy, peace, and love. The guidance from Gyandev and Diksha was a highlight of this experience. They gave us the courage to really dig deep in the most loving and positive way. Another highlight was the Goal Workshop. The thoughtful approach to identify realistic goals for 2015 was a wonderful process. I came to The Expanding Light with intense sadness, and now I feel happier than ever. I look forward to practicing with all the tools I received.
— K. K., Redlands, CA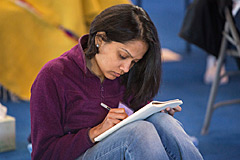 I believe this was the best Christmas and New Year I have ever had. I truly believe this retreat has prepared me for a magical 2015.
—T., India
"f Ananda calls, answer. Here you fill find friends you never knew you had, breathe as though it is the first time, and your heart will shine — stronger and more opening than ever.
—N.B., Coronado, CA
This was my second year doing this retreat, and it was well worth it to do the program a second time. It has helped me to define my goals and to focus on them throughout the year. Deepening my meditation practice is one of my goals for the coming year. All of the meditation practice and instruction has been very helpful. ... The food is fabulous.
—N., Alameda, CA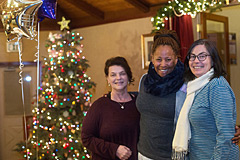 For someone who is new or in the discovery stages of any spiritual practice, I highly encourage making the investment in yourself and enrolling in an Expanding Light retreat. I promise you will leave a transformed person that you would have never know could exist. —V.H. Sacramento, CA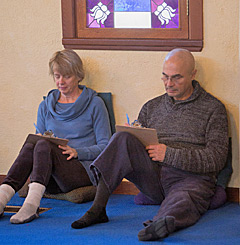 The New Year Renewal Program is a powerful, focused and refreshing way to begin in a New Year. Sharing dreams and goals with a community of spiritual friends gives out the very best in everyone and magnetizes hearts and mind to be the very best selves we are. —B.S. Hawaii
In this program, funneling down of goals and desires was very helpful. Especially for me, it is difficult to articulate what I even want. It usually is a "feeling" but I have some difficulty sometimes condensing that to thought.
—S.K. Palo Alto, CA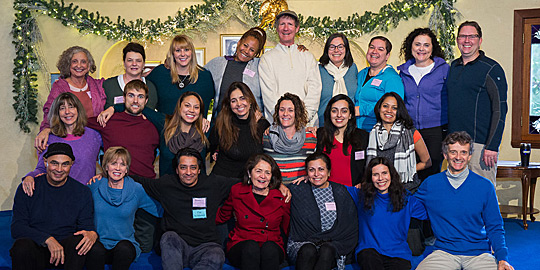 In a caring, loving community of like-minded people, The Expanding Light offers a welcomed place for self-introspection and reconnection with old and new spiritual goals. The gift of time and wisdom that Gyandev and Diksha generously offer has helped me open my heart and mind to new possibilities of happiness—opening me to the songs and dances I hold within!
—H.M., Crested Butte, CO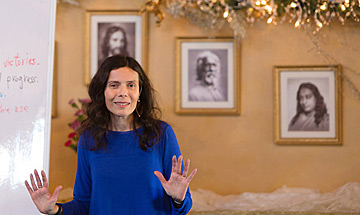 Coming to this program was one of the best moves I've made in my life. Diksha and Gyandev have so much love, wisdom, and tools for change—and they present them in a safe and supportive environment. I have changed on a very deep level and feel my heart healing."
— B., Lakeport, CA
"This New Year's Retreat was a benchmark in my life. It has given me a fresh new perspective on my relationship with the prior year, today, and the upcoming year."
—T., Torrance, CA
People ask, "Has the retreat been good?" Yes! Good for me, but more than that—life-affirming! Good people, great practices like meditation, and such spirit-filled yoga as I've never encountered before. Wise, great teachers. I can't thank you enough. I feel cracked open, ready to receive good things in my life with God's help.
—J.T., San Jose, CA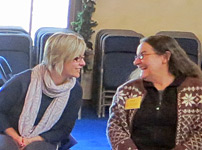 Arriving at The Expanding Light, I was immediately greeted with a sense of peace, harmony, and love. The teachers took time to connect with each of us to ensure we were getting what we wanted and needed from the program. I was MOVED by all of my experiences and I know I am leaving a better, well balanced person from my experiences here. I have a newfound confidence in my spirituality and my connection with God. I am grateful for The Expanding Light, and will most certainly return!
—A., San Bruno, CA
This program was exactly what I needed. It is amazing to me that one program can meet the individual needs of such a diverse group. The balance of "class" time, personal time, and spiritual practices was perfect. Last year was very challenging for me on many levels. I desperately needed a program that would help me close the year with peace and begin the new one with hope. This program provided that and so much more.
—E., Sacramento, CA

For more information, please send us a Question or Comment:

Receive monthly news and inspiration.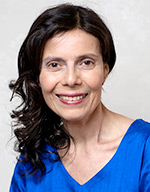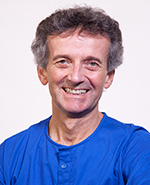 Co-Director of the Ananda Meditation® Teacher Training, Director of Ananda Yoga®, Level 2 Ananda Yoga teacher, E-RYT 500, Raja Yoga Teacher, Spiritual Travel Host, Writer and Lecturer, Ananda Minister
What is a nayaswami?
Combining a fun-loving spirit, keen insight into the spiritual life, and genuine warmth, Nayaswami Gyandev makes the inner quest seem both natural and doable. Since 1983 he has taught Ananda Yoga to thousands of students and trained hundreds of teachers around the world, often forging deep and lasting bonds of friendship and inspiration.
See all programs, articles, and full bio of Nayaswami Gyandev.
No dates scheduled for New Year Renewal: Relax, Recharge, Refocus at this time.
Prices are all-inclusive and cover accommodations, meals, classes or activities, and course materials.
New Year Renewal: Relax, Recharge, Refocus starts the afternoon of the first date listed and ends with lunch on the last date. It's ideal to arrive before 4 pm, if you are able to. That way, you can join in the afternoon session of guided yoga postures and meditation, which begins at 4:45. Dinner is at 6:30. The first real gathering of your group is after dinner. Please see:
You can add extra personal retreat days before and/or after your program. Check availability and costs for the days and accommodations that you require.
New Year Renewal: Relax, Recharge, Refocus starts the afternoon of the first date listed. It's ideal to arrive before 4 pm, if you are able to. That way, you can join in the afternoon session of yoga and meditation, which begins at 4:45 pm. Dinner is at 6:30. The first real gathering of your group is at 7:30 pm. If you need to arrive here after 5 pm, that's fine, but it helps us if you let us know at 800-346-5350. We can also put aside a dinner for you if you need to arrive after 7 pm. The program ends with lunch on the last date. Please see our Daily Schedule.
See Transportation and Directions whether you are coming by plane, car, bus or train. Our Frequent Questions page answers many of the questions you might have about How to Go on Retreat.