Ananda Yoga® Therapy Training

An Accredited Program of the International Association of Yoga Therapists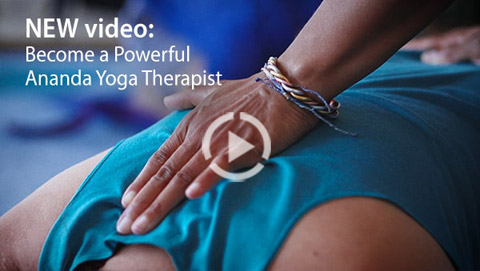 Accredited by IAYT (International Association of Yoga Therapists)
Imagine a career where...
you help people find a completely new relationship with their bodies and minds, and soar to new heights spiritually
your clients leave happier and more balanced than when they arrived
you choose if you'd like to work out of your home, or in a studio, or a medical setting
you can be your own boss, and set your own hours, part-time or full-time
Be a pioneer in an emerging field, working one-on-one with people helping them find real solutions to their physical, mental, and emotional issues. If this appeals to you, consider Ananda Yoga Therapy Training!

Mantrini, Melody, Barbara, Sam, Mangala, Maitri and Michele.
Why choose Ananda Yoga® Therapy Training?
International Accreditation
Highly skilled and educated Faculty with experience in clinical settings
Beautiful, retreat environment
Affordable, doable training – you set the pace
Perfect blend of ancient teachings with modern, current information
Opportunity for self-exploration and growth
Farm fresh, delicious vegetarian food

Location enhances learning
Classes are held at The Expanding Light Retreat which is part of a larger community called Ananda Village, where over 200 people live the teachings of yoga every day. Our retreat is the perfect getaway to detach and go deeper into the study of yoga, enhanced by our quiet, friendly environment. More...
Ananda Yoga® Therapy Approach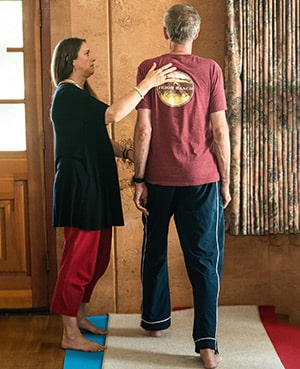 Our graduates are highly skilled yoga teachers who help individuals with specific health challenges through the application of yoga techniques and principles.
Our tools include:
Yoga Asana, Postural Alignment
Stretches and Strengtheners
Pranayama, Meditation, Relaxation, Visualization
Chanting, Mantra, Gratitude and Prayer
Ayurveda, Restorative Yoga, Energization Exercises and Chakra Awareness
Energy Healing and Control of Life Force
Positive Attitude and Thinking, and Affirmations
Diet, Toxin Elimination and Will Power
Self-Monitoring and Introspection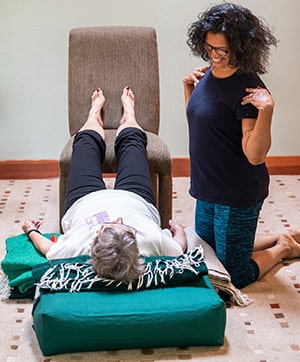 Ananda Yoga Therapists help people with prevention, easing of symptoms, and an improved sense of well-being. Even more important, we help people work at deeper levels of being, where health challenges originate. Ananda Yoga Therapy is individual and specific, applied in private sessions or with small groups sharing a particular challenge. Our students are spreading the light of yoga therapy around the world. We invite you to explore the possibility of joining us!
Read More...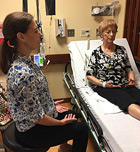 Around the world, yoga and yoga therapy are becoming more popular and accepted. The growth over past years has been almost exponential. Highly skilled yoga therapists are in demand, and are needed in a wide variety of fields—schools, clinics, and hospitals,
More...
Share the Light
Our goal is to train experienced yoga teachers to become competent yoga therapists within the tradition of Ananda Yoga and its focus on guiding people toward ever higher expressions of themselves in body, mind, and spirit. All faculty and staff have applied these techniques in their own life journey and are passionate about helping others take their next step forward. Our staff is accessible and dedicated to helping you achieve your goals.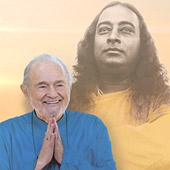 The Ananda Tradition
Ananda Yoga Therapy is based on the teachings of Raja Yoga as interpreted by Paramhansa Yogananda and his direct disciple, Swami Kriyananda. We view physical, psychological, and spiritual wellness as inseparable. We therefore train you to apply therapeutic tools that heal on all three levels. If you should chose to, you can enjoy the support of Ananda, a conscious, worldwide, spiritual community.
International Accreditation
Since 2014, Ananda YogaTM Therapy Training, a program of the Ananda School of Yoga & Meditation, has been accredited by the International Association of Yoga Therapists (IAYT). We were one of the first 12 schools to be accredited by IAYT. Read More...
This certification training is an 860 hour modular program beyond your initial 200-hour (or more) training as a yoga teacher. It takes place primarily at The Expanding Light Retreat, although approximately 124 of those hours are completed at home as Home Practicum Assignments. See Program Structure for more info.
Costs
The total cost for the Ananda Yoga Therapy Training tuition is about $9,850 (room and board are extra). This may seem like a lot until you break it down. For 860 hours of training, it comes out to only $11.45/hour. Considering that the average cost for a graduate degree in the U.S. is between $30,000 and $40,000, Ananda Yoga Therapy Training is an affordable way to become highly skilled in a rewarding career you will love. See Detailed Tuition Costs
"The program is all embracing -asana, ayurveda, chakras, special health issues touching on body, mind, and spirit. The faculty were wonderful, knowledgeable, supportive, and enthusiastic."
— T.C., CA..
UPCOMING YOGA THERAPY TRAINING PROGRAMS