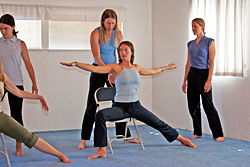 Ananda Yoga® Therapy Training
Certification Training to become a Yoga Therapist

The Ananda Yoga Therapy Training program has been Accredited by the IAYT (International Association of Yoga Therapists)! We are among the first ever programs to receive accreditation. 9 programs from the US, and 3 international programs were accredited. Read more...

The Dr. Dean Ornish Program for Reversing Heart Disease is currently looking for yoga teachers/stress management specialists trained by Ananda Yoga Teacher or Ananda Yoga Therapist Training. Read more...
What Is Yoga Therapy?
Yoga therapy is about helping individuals with specific health challenges through the application of yoga techniques and principles (including guidelines for a healthier lifestyle). Yoga therapy can be used for prevention, easing of symptoms, and an improved sense of well-being. Even more important, it works at deeper levels of being, where health challenges originate. It is individual and specific, applied in private sessions or with small groups who share a particular challenge.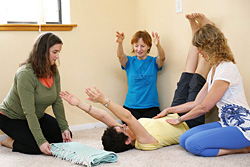 Our goal is to train experienced yoga teachers to become competent yoga therapists within the tradition of Ananda Yoga and its focus on guiding people toward ever higher expressions of themselves in body, mind, and spirit. The Ananda Yoga Therapy Training is dedicated to serving truth seekers who want to spread the light of divine consciousness and joy with others in a deeply meaningful and yet practical way.
Ananda Yoga Therapy is based on the teachings of Raja Yoga as interpreted by Paramhansa Yogananda and his close direct disciple, Swami Kriyananda. Our focus is on practical application of those teachings to everyday life. We view physical, psychological, and spiritual wellness as inseparable. We therefore train you to apply therapeutic tools that help people to heal on all three levels.

All instructors and staff are people who have applied these techniques in their own life journey for many years and are passionate about helping others take their next step forward toward radiant health, lasting happiness, and Self-realization.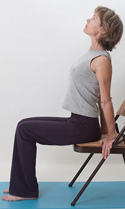 Ananda Yoga Therapy Training
Modular Format
This certification training prepares you to apply Yoga techniques, practices, and lifestyle interventions for persons with a variety of health challenges. It is approximately 830 hours beyond your initial 200-hour (or more) training as a yoga teacher. It takes place primarily at The Expanding Light Retreat at Ananda Village, although approximately 120 of those hours are completed at home as Home Practicum Assignments.
It is a modular program, requiring a minimum of two years for completion. The following courses comprise our curriculum, and the recommended schedule for taking the courses is outlined below. We work closely with our students to help them determine which courses would be best for them to take when, in accordance with their personal schedules of family and work-life, their experience as yoga teachers, and their finances.
Program Details, Costs, etc.
Further details about our program may be found in the Student Handbook with Costs, in the Course Syllabi, and in Frequent Questions. You'll find these and other links also in the right sidebar of this page. The Student Handbook, for example, has Course Costs, Course Syllabi, and much more information. If you have further questions, please contact Mangala Loper-Powers, the Director of Ananda Yoga Therapy Training.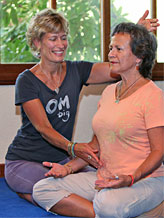 Prerequisite
You must be an Ananda Yoga Teacher Training graduate, or a Yoga Alliance RYT who has taken the Bridge to Ananda Yoga course
Bridge to Ananda Yoga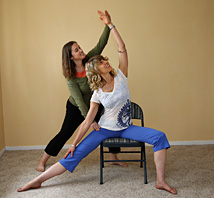 Many teachers of other styles want to transfer into Ananda's
Level 2 certification
track— once they experience the power of Ananda Yoga. If you are a Yoga Alliance RYT (Registered Yoga Teacher), you may do that.
more...
Program Structure
Course Syllabi and Flow Chart of Ananda Yoga Therapy Training and Ananda Teacher Training Courses are available for you to review. The training requires the following courses and activities:
Level 1 Yoga Therapy Training:
Yoga Therapy Training: Principles—If you are not an Ananda YTT graduate, you must complete Bridge to Ananda Yoga, Part 1 before taking this course. This course is a prerequisite to many of the other Yoga Therapy Training courses (see course descriptions).
At-home Practicum as assigned for most of above courses
100 hours of experience as a lead Ananda Yoga teacher (not an assistant) after having completed Level 1 Ananda YTT or Bridge to Ananda Yoga .
Home Practicum Video (for Level 2 YTT)
Level 2 Yoga Therapy Training:
(With the exception of the first course, all these Level 2 courses are to be taken after completion of all the Level 1 Yoga Therapy Training courses.)
At-home Practicums
Home Practicum Final Video
We offer Principles twice a year.
Seniors & Bone Strength, and Restorative YTT are offered twice a year.
Ananda Meditation® Teacher Training is offered 3 times a year.
The YTT Assistantship is usually offered twice a year.
The remaining courses are offered at least once a year.
Whenever possible, we schedule two or more of these courses back-to-back for the benefit of those who must travel from a distance.
Ananda Yoga Therapy Training
Upcoming Courses in date order
How to Choose a
Yoga Teacher Training Program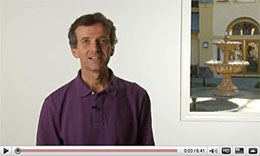 "My 4 weeks of Ananda Yoga Teacher Training was one of the most fulfilling and spiritually transforming periods in my life. All of the instructors, along with the entire Ananda community, were very supportive and nurturing." – R. F., Lake Bluff, IL.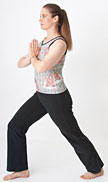 Testimonial for the Ananda Yoga Therapy Training Program
"The program is all embracing ˜ asana, ayurveda, chakras, special health issues touching on body, mind, and spirit. The instructors were wonderful, knowledgeable, supportive, and enthusiastic." – T.C., CA.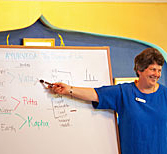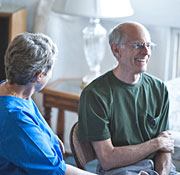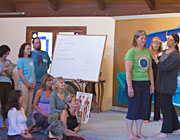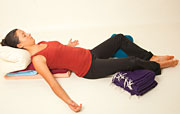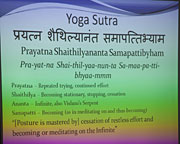 The yoga therapy components of these courses are based on our accreditation by IAYT, not derived from our status as an RYS with Yoga Alliance Registry.