Spiritual Renewal Week Online

The Road Ahead: Paramhansa Yogananda's Path to the Future

SPIRITUAL RENEWAL WEEK 2021 ONLINE
What does the future hold? And, more importantly, what do each of us hold within ourselves to meet the future with courage and confidence as children of God? Paramhansa Yogananda incarnated to bring the very tools we need to connect with the divine power within us. Here, we find the wisdom and strength to make the most of this lifetime. And to live in the joy that comes from our own souls.
Live Event Schedule
Monday Class: The Dawn of Superconsciousness
Superconsciousness is our connection with the presence of God within us. How did God create us "in His image"? How do we connect with Him? In Yogananda's teachings, science and religion come together – enhanced and expressed with love and devotion.
Themes and Teachers:
Evolution of Human Consciousness, Science & Religion, Forming a Personal Relationship with God
with Nayaswamis Jyotish and Devi, Spiritual Directors of Ananda Worldwide
Tuesday Class: What Does the Future Hold, and Why?
We instinctively long for peace in our society, yet we live in a time in history called Dwapara Yuga, the Age of Energy, according to the great master Sri Yukteswar. Dwapara Yuga always brings social upheaval. Yet it also brings tremendous opportunity for personal growth – more than any time in recorded history. While society faces confusion and uncertainty, we look to the wisdom of Sri Yukteswar and Paramhansa Yogananda to give us the clear vision and inner strength to move forward with calmness and purpose.
Themes and Teachers:
Yugas – Joseph Puru Selbie
Hope for a Better World – Nayaswami Hriman, Ananda Washington
What does the Future Hold: Yogananda's Predictions – Nayaswami Dharmadas of Ananda Sacramento
Wednesday Class: The Way of Dwapara Yuga – Working with Energy
The wisdom of the East and the creative spirit of the West come together in Yogananda's teachings to give us tools to use every day of our lives. Energy is the key! How do we channel it in these times?
Themes and Teachers:
World Brotherhood Communities – Atman of Ananda Village
Education for Life – Aryavan, Education for Life Teacher
Money Magnetism – Nayaswami Narayan of Ananda Los Angeles
Energy and Health – Dr. Aditya, India
Thursday Class: A New Dispensation- Yogananda's Path to God
Meditation, service, and discipleship are the foundation stones of the spiritual life throughout history. What does Yogananda teach us to bring these powerful tools into full expression in this Age of Energy? How can each of them provide the answer for living not only in joy, but in a powerful connection with God?
Themes and Teachers:
Meditation – Nayaswami Gyandev, Director of the Ananda School of Yoga + Meditation
Service – Nayaswami Maria,
Ananda Village Discipleship – Nayaswami Devarshi, India
Friday Class: Finding True Happiness: The Search for Self
Who are we in truth? For what end were we made? This is the question that propels each of us forward. How do we find the answers? And what does the answer to these questions bring? – God's perfect bliss and the longing to share God's love with all.
Themes and Teachers:
Finding God in Changing Times – Nayaswami Jaya,
Ananda Village Our Part in Shaping the Future – Nayaswami Asha,
Ananda Palo Alto Conclusion of the week – Nayaswamis Jyotish and Devi
Saturday Class: Sharing Yogananda's Light in Today's World
Each of this morning's speakers has been living Yogananda's path for decades and serving as a channel to bring his light to others. As they share how they keep their inspiration strong and share with others, we will gain insights for our own lives.
Theme and Teachers:
How I keep my inspiration strong and share it with others –
with Nayaswami Kirtani of Ananda Italy; Nayaswami Dhyana of Ananda India; Dr. Shanti Rubenstone of Ananda Palo Alto; Nayaswami Padma of Ananda Washington; Nayaswami Ananta of Ananda Village
Join friends around the world during Spiritual Renewal Week
Spiritual Renewal Week The Road Ahead: Paramhansa Yogananda's Path to the Future
Dates: June 28 to July 4, 2021
Cost: $150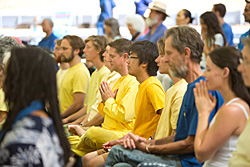 Morning classes every day with Ananda's key teachers from around the world.
This year some of our favorite international teachers will join us via video.
Evening activities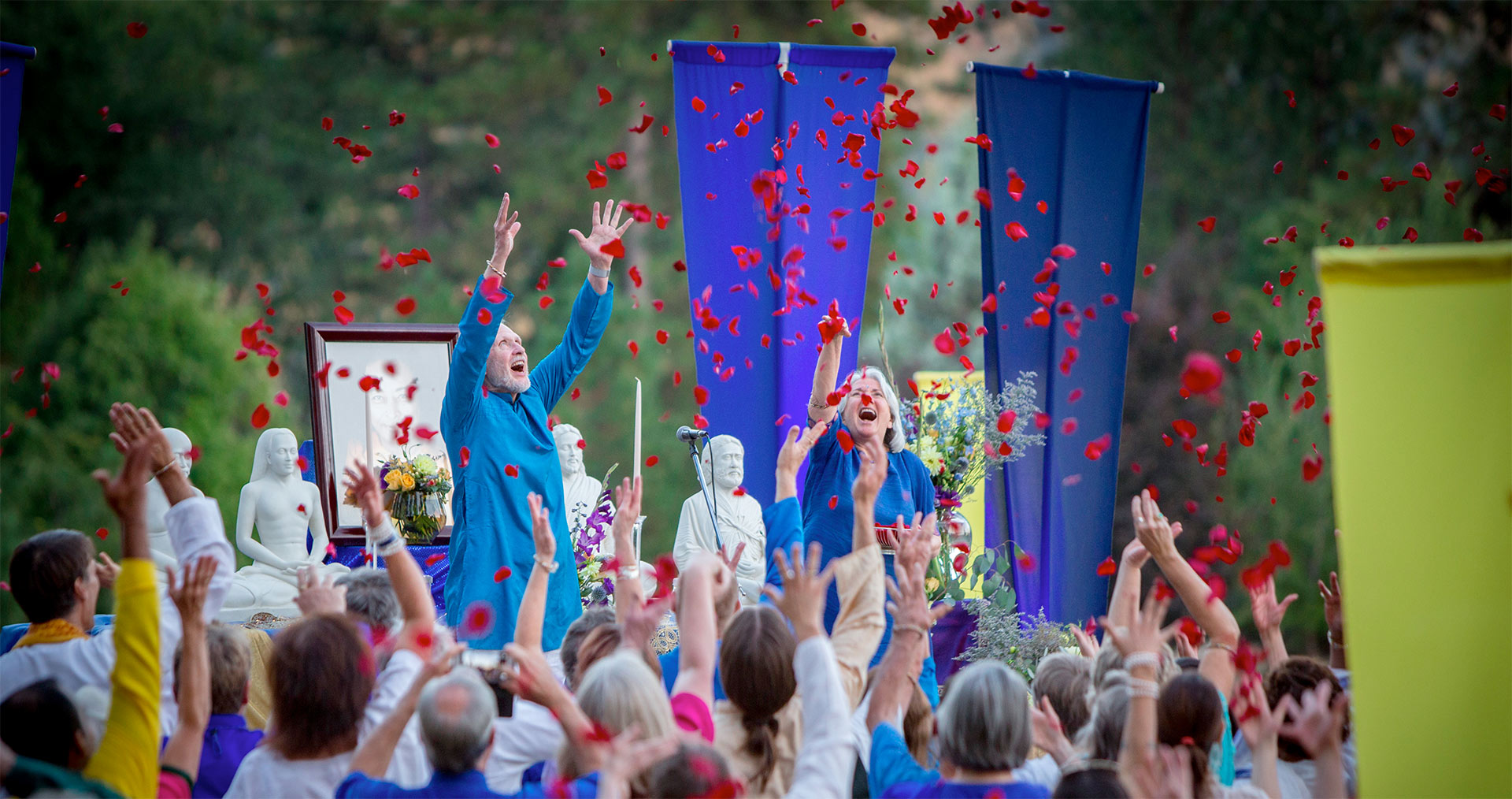 Mon: Kirtan – Nirmala and Dharmadas
Tue: Concert of Swami Kriyananda's Music
Wed: Questions and Answers with Jyotish and Devi (Live at 4 pm)
Thurs: Attunement Ceremony with Ananta and Maria (Live at 4 pm)
Fri: Kriya; Pranaba & Parvati (Live at 3 pm; Contact Devalila at the email below to reserve your place)
Sat: Story by Murali, "The Descent of the Ganga River"

Spiritual Renewal Week does exactly as the name says: You will feel spiritually renewed in body, mind, and spirit.
Spiritual Renewal Week 2021 will take place online from our newly completed Temple of Light, individual homes and Ananda Centers around the world. We look forward to connecting with you.
For information on Kriya events, please contact kriyayoga@ananda.org
At the end of Spiritual Renewal Week, guests made these comments:
"After 37 years of attending Spiritual Renewal Weeks, I am always uplifted by the fact that there is a true blessing in the whole event.... There are moments that are so pure and perfect that you instantly know that being there is right for the body, mind, and soul. The morning practices start the day with active self-connection....many different instructors with unique skills lead the way into the morning. The classes are more than educational - they offer a joyful challenge to the mind to act and think in a more wise and expansive way. The afternoon programs deepen the knowledge, and the evening concerts, plays, and chanting all serve as frosting on the cake, as days pass and calmness grows. At the end, I felt blessed and grateful for another week of renewal. I look forward to life and to my next Spiritual Renewal Week with you all. May God bless and keep you." Jeff K., Madison, WI
"Incredible. I received quite a lot of clarity on issues that have been on my mind for some time."
"The feeling of openness and the welcoming nature of the Ananda environment and people made my experience so beautiful! ALL the classes and talks were helpful and inspiring.I felt great love and support from all of the staff and community members."
"It proved to be more than I ever expected. The atmosphere, people, and power of the Divine were life transforming. Will definitely be back."
"Fantastic. Deeply inspiring. Life-changing."

For more information, please send us a Question or Comment:

Receive monthly news and inspiration.

or e-mail or call us at 1-800-346-5350
Costs (SRW)
Cost: $145 for access to all presenters, programs and events
With grateful thanks to the Ananda Janaka Foundation for their financial support.
This was the line-up of presenters and topics for 2020 to give you an idea of the level of inspiration you might expect in 2021.

This year's Spiritual Renewal Week will offer richer content than ever before. In addition to the speakers during the regular class periods, you will receive supplementary talks from Ananda's finest speakers from around the world.
Monday: "Control Your Life Force, Control Your Destiny"
Presenters:

Nayaswamis Jyotish and Devi Novak

Nayaswamis Jyotish and Devi are vibrant emissaries of Paramhansa Yogananda, and Global Peace Ambassadors. As Spiritual Directors of Ananda, and living examples of spiritual values in action, Jyotish and Devi travel the world, sharing Yogananda's teachings, and blessing people with the practical and heart-opening path of Kriya Yoga.
Swami Kriyananda, Ananda's founder, designated Jyotish as his spiritual successor.
Jyotish and Devi were instrumental in the creation of Ananda Village, as well as our spiritual works in Italy and India. They each have authored several books, and speak widely throughout the U.S., Europe, and India.
Tuesday: "Moving Toward Soul Freedom: Working Out Your Karma"
Presenters:

Nayaswamis Asha, Maria, and Ananta
Nayaswami Asha is a worldwide ambassador on the subject of hope and happiness. She brings Yogananda's teachings to people around the globe, helping them make their spiritual lives work for them. She is also a co-founder and co-director of Ananda's community in Palo Alto. In 2019 she completed and published, Lightbearer, an absorbing and highly acclaimed biography of Swami Kriyananda.
Nayaswami Ananta is known for the love and high regard with which he interacts with all. A founding member of Ananda, he and his wife, Maria, directed our Ananda community in Sacramento for over twenty years. They currently live in Ananda Village, overseeing Ananda's gardens and minister training
Nayaswami Maria currently overseas the training and service of Ananda's ministers. She and her husband, Ananta, directed Ananda's Sacramento community for over 20 years
Wednesday: "Success Through Yogic Principles"
Presenters:

Atman, Sagar, and Nayaswamis Shivani and Padma
Sagar Shenvi was born in India where he earned an engineering degree. He grew up immersed in the teachings of Yogananda and now shares them in online classes through Ananda.org, as well as in public talks around the country.
Atman Goering is the Ananda Village Manager, with an enormous range of responsibilities, including all of our interface with County regulations. He has shared Yogananda's teachings during his travels in the U.S., Asia, Europe, and South America.
Nayaswami Shivani is a dynamo of inspiration, sharing Yogananda's teachings throughout Europe, India, and Russia. She is a founding member of Ananda, and currently helps to lead Ananda's community in Assisi, Italy.
Nayaswami Padma worked closely with Swami Kriyananda for 25 years as the director of his publishing house, Crystal Clarity. She and her husband created and direct the Ananda Washington community, church, and businesses.
Thursday: "Techniques for Healing on All Levels"
Presenters:

Brahmachari Aditya, Dr. Shanti Rubenstone, Nayaswami Gyandev
Nayaswami Gyandev is an excellent representative of the healing power of pranayama. He is the director of Ananda Yoga worldwide, as well as Ananda's Meditation Teacher Training, along with his wife, Diksha.
Brahmachari Aditya – Dr. Aditya currently directs the Ananda Pune center in India and offers classes and health workshops for colleges and large institutions. He is a medical practitioner.
Dr. Shanti Rubenstone, a medical doctor for over 40 years, brings to her practice—and her life— a profound wisdom and ability to communicate with people. She co-directs Ananda's Palo Alto community.
Friday: "Tools of Raising Consciousness: Meditation, Attunement, and Kriya Yoga"
Presenters:

Devalila and Nayaswamis Hriman, Dharmadas, and Anandi
Devalila Veenhof is the head of Ananda's Kriya ministry at Ananda Village. She helped create and teach on the initial Online with Ananda. Now she directs and shares Yogananda's teachings with Kriya initiates worldwide.
Nayaswami Dharmadas helped found Ananda's work in India, where he traveled throughout the country teaching and offering Kriya initiations. He currently co-directs Ananda's Sacramento community.
Nayaswami Anandi, the editor of the 8 Wisdom of Yogananda books, is known for her deep understanding of Yogananda's teachings and her ability to apply them to all aspects of life.
Nayaswami Hriman, is the co-founder and co-director of Ananda's lively community in Ananda Washington, with church, residential housing, yoga teacher trainings and several businesses.
Saturday: "Carrying Master's Mission into the Future"
Presenters are from

the

Next Wave

of teachers in the Ananda communities along the West Coast. All of them are accomplished and popular speakers, as well as gifted in their fields of service

:
Lakshmi LaPine, Saiganesh, Jitendra, Badri, and Erin Vinacco
Lakshmi LaPine - Part of the leadership and teaching team in Ananda Palo Alto for about 8 years, she is also an English teacher and conflict mediator at a local high school, where she merges the teachings of yoga and academia.
Saiganesh Sairaman serves as one of the main teachers and leaders of the Ananda Church in Palo Alto.
Jitendra Guindon directs the online teaching and video-creation arm of Ananda.org at Ananda Village.
Badri Matlock helps direct Ananda Village and our Intern program for young aspirants eager to explore living at Ananda.
Erin Vinacco, gifted at teaching both children and adults, is a teacher in the Ananda Living Wisdom School at Ananda Village.
SUPPLEMENTARY SPEAKERS BY DAY
Monday
Nayaswami Dhyana is co-spiritual director of Ananda India. She has shared the teachings of Yogananda in the U.S., Europe, Africa, Australia, and India and helped in the founding of several of Ananda communities and centers worldwide.
Narayani Anaya and Shurjo Jha direct Ananda's work in Mumbai, India. Both of them were trained personally by Swami Kriyananda in the last years of his life. Narayani, especially, had a unique and precious relationship with Swamiji, as his personal assistant for 3 ½ years.
Tuesday
Nayaswami Dharmarajan ad his wife, Dharmini, helped Swami Kriyananda in the foundation of our work in India, and currently direct the Ananda center in Chennai, India. For some years, Dharmarajan offered classes in Indian businesses on "How to Achieve Material Success Through Yogic Principles."
Narya Tosetto is a long-time community leader and minister in Ananda Europa. He was a close friend of Swami Kriyananda and has been invaluable in connecting our Assisi community with local counties and other spiritual groups
Wednesday
Nayaswami Narayan and his wife, Dharmadevi are creating a thriving Ananda community throughout Los Angeles, where they have been the spiritual directors since 2010. They are also building Crystal Clarity Publishers, now relocated to Los Angeles.
Thursday
Dr. Michelle Dossett currently does research at U.C. Davis Medical Center in Sacramento, California, with a specialty in internal medicine. Her special interest is in integrative and mind-body medicine.
Nayaswami Nirmala co-directs Ananda's Sacramento community and church. She and her husband, Dharmadas, helped Swami Kriyananda create and direct Ananda's work in India.
Friday
Nayaswami Kirtani – is a founding member of Ananda who has worked closely with Swami Kriyananda in her role of directing Ananda's work in Europe, based in Assisi, Italy.
Nayaswami Devarshi, now living in and teaching throughout India, is also the Ananda minister for Kriya Yoga worldwide. He is currently creating written materials to clarify the Kriya techniques for our worldwide work.
Friday night Kriya initiation
Nayaswamis Pranaba and Parvati were instrumental in creating Ananda communities in San Francisco, Palo Alto, Portland, Seattle, Dallas, and Assisi, Italy! Pranaba currently coordinates all of the outreach ministry from Ananda Village. Parvati generated and directs the Janaka Foundation, dedicated to planned giving.

Saturday

Brahmachari Tandava – serves in the Ananda Palo Alto Sangha and Living Wisdom School, and he is a joyful and versatile musician. He has been a monk (brahmachari) for eight years.
Sundara Traymar – has traveled extensively in Europe, Asia, and North America as the trainer and director of Sharing Nature Worldwide - offering Yogananda's approach to nature awareness, the methods created by Joseph Bharat Cornell.
David Eby is a gifted cellist who performs professionally and trains other musicians to experience music and performance on a deeper, more inspirational level.
Kshama Kellog currently directs the Ananda High School in Palo Alto, California. She grew up attending the Ananda Education for Life School, and also has used these principles to teach young children.