Spiritual Renewal Week Online

The Road Ahead: Paramhansa Yogananda's Path to the Future
Not scheduled at this time.
SPIRITUAL RENEWAL WEEK 2021 ONLINE
What does the future hold? And, more importantly, what do each of us hold within ourselves to meet the future with courage and confidence as children of God? Paramhansa Yogananda incarnated to bring the very tools we need to connect with the divine power within us. Here, we find the wisdom and strength to make the most of this lifetime. And to live in the joy that comes from our own souls.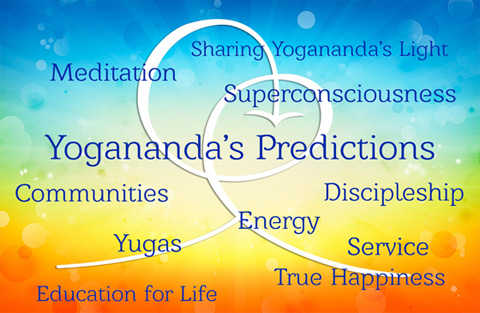 Live Event Schedule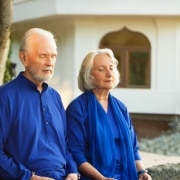 Monday Class: The Dawn of Superconsciousness
Superconsciousness is our connection with the presence of God within us. How did God create us "in His image"? How do we connect with Him? In Yogananda's teachings, science and religion come together – enhanced and expressed with love and devotion.
Themes and Teachers:
with Nayaswamis Jyotish and Devi, Spiritual Directors of Ananda Worldwide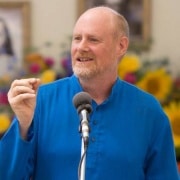 Tuesday Class: What Does the Future Hold, and Why?
We instinctively long for peace in our society, yet we live in a time in history called Dwapara Yuga, the Age of Energy, according to the great master Sri Yukteswar. Dwapara Yuga always brings social upheaval. Yet it also brings tremendous opportunity for personal growth – more than any time in recorded history. While society faces confusion and uncertainty, we look to the wisdom of Sri Yukteswar and Paramhansa Yogananda to give us the clear vision and inner strength to move forward with calmness and purpose.
Themes and Teachers:
Yugas – Joseph Puru Selbie of Ananda Village
Hope for a Better World – Nayaswami Hriman, Ananda Washington
What does the Future Hold: Yogananda's Predictions – Nayaswami Dharmadas, Ananda Sacramento
Wednesday Class: The Way of Dwapara Yuga – Working with Energy
The wisdom of the East and the creative spirit of the West come together in Yogananda's teachings to give us tools to use every day of our lives. Energy is the key! How do we channel it in these times?
Themes and Teachers:
World Brotherhood Communities – Atman of Ananda Village
Education for Life – Aryavan, Education for Life Teacher
Money Magnetism – Nayaswami Narayan, Ananda Los Angeles
Energy and Health – Dr. Aditya, Ananda India
Thursday Class: A New Dispensation- Yogananda's Path to God
Meditation, service, and discipleship are the foundation stones of the spiritual life throughout history. What does Yogananda teach us to bring these powerful tools into full expression in this Age of Energy? How can each of them provide the answer for living not only in joy, but in a powerful connection with God?
Themes and Teachers:
Meditation – Nayaswami Gyandev, Director of the Ananda School of Yoga & Meditation
Service – Nayaswami Maria, Ananda Village
Ananda Village Discipleship – Nayaswami Devarshi, Ananda India
Friday Class: Finding True Happiness: The Search for Self
Who are we in truth? For what end were we made? This is the question that propels each of us forward. How do we find the answers? And what does the answer to these questions bring? – God's perfect bliss and the longing to share God's love with all.
Themes and Teachers:
Finding God in Changing Times – Nayaswami Jaya, Ananda Village
Our Part in Shaping the Future – Nayaswami Asha, Ananda Palo Alto
Conclusion of the week – Nayaswamis Jyotish and Devi
Saturday Class: Sharing Yogananda's Light in Today's World
Each of this morning's speakers has been living Yogananda's path for decades and serving as a channel to bring his light to others. As they share how they keep their inspiration strong and share with others, we will gain insights for our own lives.
Theme and Teachers:
How I keep my inspiration strong and share it with others –
with Nayaswami Kirtani of Ananda Italy; Nayaswami Dhyana of Ananda India; Dr. Shanti Rubenstone of Ananda Palo Alto; Nayaswami Padma of Ananda Washington; Nayaswami Ananta of Ananda Village
Join friends around the world during Spiritual Renewal Week
Spiritual Renewal Week The Road Ahead: Paramhansa Yogananda's Path to the Future
Dates: June 28 to July 4, 2021
Cost: $150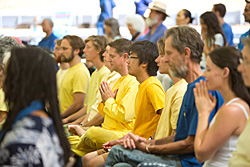 Morning classes every day with Ananda's key teachers from around the world.
This year some of our favorite international teachers will join us via video.
Evening activities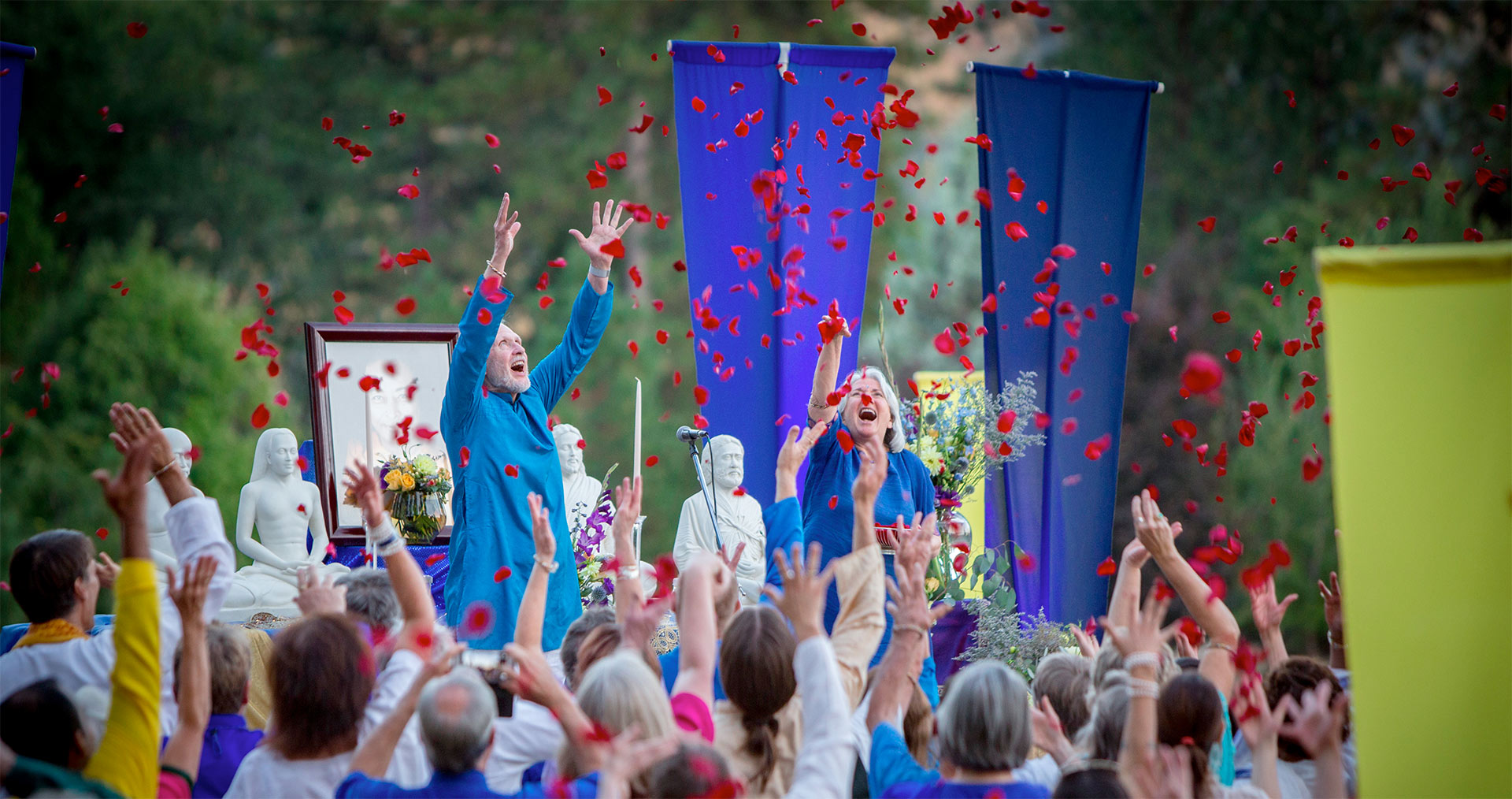 Mon: Kirtan – Chanters from Ananda Worldwide
Tue: Questions and Answers with Jyotish and Devi (Live at 4 pm)
Wed: Concert of Swami Kriyananda's Music
Thurs: Open
Fri: Kriya; Nayaswamis Anandi and Parvati (Live at 3 pm; Contact Devalila at the email below to reserve your place)
Sat: Featured Story by Murali, "Adi Shankara's greatest debate: Is a life of virtue and faith enough to end pain and suffering?"
Great Masters across the ages have said that in addition to a life of virtue and faith, something else is necessary.
Over a thousand years ago, along the banks of the holy Narmada river in India, a lowly housewife named Sharada Devi and her famous husband Mandana Mishra, challenged the great Adi Shankaracharya to answer this question. What ensues is a scintillating debate of epic proportions; the pious housewife, with the unfailing logic of a sinless life lived in humility and faith, brings Shankaracharya to the brink of defeat. Finding himself unqualified to answer her questions, Shankaracharya uses his formidable yogic powers to enter the body of a dead king to gain new experiences. Come join us to find out what happens next…and to find out the missing ingredient
Morning Guided Spiritual Practices 6:30 - 8:30am
Mon Meditation
Tue Energization Exercises, Yoga Postures, Meditation
Wed Meditation
Thur Meditation
Fri Meditation
Sat Energization Exercises, Yoga Postures, Meditation
Afternoon Activities
Mon "Deepen your Meditation with Hong Sau".
Tues Open
Wed Chat
Thur 5- 6:30 Energization Exercises, Yoga, Meditation
Fri Open
Sat Open
Spiritual Renewal Week does exactly as the name says: You will feel spiritually renewed in body, mind, and spirit.
Spiritual Renewal Week 2021 will take place online from our newly completed Temple of Light, individual homes and Ananda Centers around the world. We look forward to connecting with you.
For information on Kriya events, please contact kriyayoga@ananda.org
At the end of Spiritual Renewal Week, guests made these comments:
"After 37 years of attending Spiritual Renewal Weeks, I am always uplifted by the fact that there is a true blessing in the whole event.... There are moments that are so pure and perfect that you instantly know that being there is right for the body, mind, and soul. The morning practices start the day with active self-connection....many different instructors with unique skills lead the way into the morning. The classes are more than educational - they offer a joyful challenge to the mind to act and think in a more wise and expansive way. The afternoon programs deepen the knowledge, and the evening concerts, plays, and chanting all serve as frosting on the cake, as days pass and calmness grows. At the end, I felt blessed and grateful for another week of renewal. I look forward to life and to my next Spiritual Renewal Week with you all. May God bless and keep you." Jeff K., Madison, WI
"Incredible. I received quite a lot of clarity on issues that have been on my mind for some time."
"The feeling of openness and the welcoming nature of the Ananda environment and people made my experience so beautiful! ALL the classes and talks were helpful and inspiring.I felt great love and support from all of the staff and community members."
"It proved to be more than I ever expected. The atmosphere, people, and power of the Divine were life transforming. Will definitely be back."
"Fantastic. Deeply inspiring. Life-changing."

For more information, please send us a Question or Comment:

Receive monthly news and inspiration.
No dates scheduled for Spiritual Renewal Week Online at this time.