June 2016 Newsletter
Get monthly news, tips for yoga and meditation, and stay up-to-date on our upcoming programs. Click here to subscribe.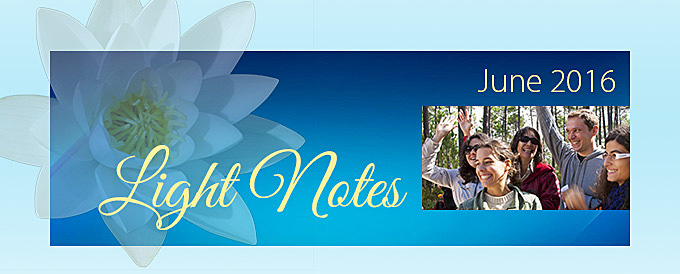 Dear friend,
It is interesting to consider how we must do our own work on the spiritual path, but not be attached to the results. The idea of not being attached to results can be a difficult one to assimilate - perhaps especially for Americans. This story from The Essence of Self-Realization nicely illustrates how we can think about it.

"A disciple was digging a cesspool at the Master's desert retreat. He kept on digging all day long, without stopping to see how far he had come. That evening, to his amazement, he found that he had dug a deep hole."

"When Paramhansa Yogananda saw what he had accomplished, he said approvingly, "That is how the devotee must seek God - continually digging, digging, without looking to see how far he has come. Then one day, suddenly, he will find himself there!"

We come to discover that we are not actually in charge. I like being responsible. I like to work and serve. I have no problem doing my part. But the joy and freedom of knowing that I am not in charge means that I can do my part, and let God do His. I will do my part as well as I am able, with the right intentions. I do not have to worry about the results of my actions. That is not my part, it is His.
Joy to you,
Nityananda
Ananda Meditation Teacher Training


May 19 -22, 2016

You'll love the extremely deep experience of studying, practicing, and deepening your own meditation while you learn to teach others. Here at The Expanding Light Retreat, the energy developed over decades of people meditating has created an aura that will lift and support you as you go deep.

Please take a look at this new introduction video below.
"Do not expect a spiritual blossom every day in the garden of your life. Have faith that the Lord, if you surrender yourself to Him completely, will bring you divine fulfillment in His time, which is the right time.

"Having sown the seed of God-aspiration, water it daily with prayer and right action. Remove from your mind the weeds of lethargy, doubt, and indecision. When the sprouts of divine perception appear, tend them with devotional care.

"One morning you will behold, fully grown, the fairest flower of Self-realization."

From

The Essence of Self-Realization
Ananda Yoga Teacher Training


July 10 - August 7 , October 23 - November 20, 2016
March 26 - April 23, 2017 (two week options for all dates)

You get more at The Expanding Light: More support, more love, more confidence, more spirit...
"The Divine Mother is so beautiful! But remember, in Her higher manifestation even that beauty is formless. She is in everything. Her divine, compassionate love is expressed in the raindrops. Her beauty is reflected in the colors of the rainbow. She offers fresh hope to mankind with the rose-tinted clouds at dawn"

From

The Essence of Self-Realization
Blog:



Beth Cohen completed the Ananda Meditation Teacher training in October 2002. Since then, she has taught meditation to approximately 10,000 individuals. As the director of the UC Davis' Faculty and Staff Counseling Center for 9 years, Beth taught...



From a blog post "Ananda Meditation Teacher Success Story".



Saturday September 24 - Thurs. September 29


Pilgrimage to the Shrines of Paramhansa Yogananda

in Southern California
Join us on this amazing spiritual adventure- visiting sacred places in Encinitas and Los Angeles blessed by Yogananda. To allow the vibrations to penetrate our hearts and souls, the pace of the pilgrimage is leisurely. Led by

Nayaswami Krishnadas



Copyright © *|CURRENT_YEAR|* *|LIST:COMPANY|*, All rights reserved.
*|IFNOT:ARCHIVE_PAGE|* *|LIST:DESCRIPTION|*

Our mailing address is:
*|HTML:LIST_ADDRESS_HTML|* *|END:IF|*

Want to change how you receive these emails?
You can update your preferences or unsubscribe from this list

*|IF:REWARDS|* *|HTML:REWARDS|* *|END:IF|*