Learn How to Meditate

Techniques for Peace of Mind and Balanced Living
2-day weekend
*Pick up & drop off at Sacramento Airport. Click on link next to date to get full details.
Learn how to meditate for the first time, or learn how to meditate with more concentration and upliftment if you already meditate.
You will learn:
An effective technique to help you concentrate
How to sit comfortably so your body is not an obstacle to inner peace
How to begin a daily practice of meditation
Ways to experience the benefits of meditation throughout your day
How to keep your meditation practice fulfilling so that you want to continue
You'll leave with the techniques and understanding you need to sustain a meditative practice.
Your weekend will include physical exercises to aid relaxation, and written lessons to help you get the best possible start on your meditation practice.
During this weekend retreat, you have the best setting for learning how to meditate. At The Expanding Light you'll feel the uplifting peace of more than 40 years of people's devoted meditation practice. The welcoming and relaxed atmosphere here, the daily practice of meditation after yoga postures, the humor and joy of the staff, and the wonderful fellow students – all will help you relax and experience inner peace.
Do join us! If you have any questions, feel free to call us at 800-346-5350.
This course will be taught by Nayaswami Krishnadas, Nayaswami Mukti, Nayaswami Sahaja, or Ganesha and Saraswati.
Prices are all-inclusive and cover accommodations, meals, classes or activities, and course materials.
Learn How to Meditate starts the afternoon of the first date listed. It's ideal to arrive before 4 pm, if you are able to. That way, you can join in the afternoon session of yoga and meditation, which begins at 4:45 pm. Dinner is at 6:30. The first real gathering of your group is at 7:30 pm. If you need to arrive here after 5 pm, that's fine, but it helps us if you let us know at 800-346-5350. We can also put aside a dinner for you if you need to arrive after 7 pm. The program ends with lunch on the last date. Please see our Daily Schedule.
See Transportation and Directions whether you are coming by plane, car, bus or train. Our Frequent Questions page answers many of the questions you might have about How to Go on Retreat.

or e-mail or call us at 1-800-346-5350
Costs (MED1)
Jun 21 – 23, 2013
Jul 12 – 14, 2013
Aug 16 – 18, 2013
Sep 20 – 22, 2013
Tent /
RV
Standard
Shared
Standard
Private
Deluxe
Shared
Deluxe
Private
$228
$288
$408
$368
$528

Receive monthly news, inspiration, radiant health tips and recipes, and stay up-to-date.
Come a Day Early
Relax, Take a Walk,
Get a Massage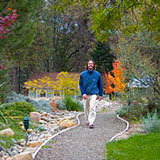 Stay an Extra Day, Relax,
Absorb Your Experience