Diksha McCord
Minister, Counselor, Level 2 Ananda Yoga teacher, E-RYT-500, Raja Yoga Teacher, Director of Ananda Meditation Teacher Training What is a nayaswami?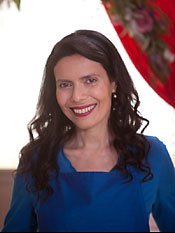 One of our most popular teachers for over 10 years, Diksha McCord is a minister, counselor, Level 2 Hatha Yoga teacher, Raja Yoga teacher, and Director of the Meditation Teacher Training program. Diksha, a native Israeli who came to the U.S. in 1990, is a powerful and dynamic woman who has shared yoga postures and yogic teachings across the United States, in Canada and Europe.
Diksha teaches many different courses at The Expanding Light. She is also an outstanding chef and very knowledgeable about the yogic diet and Ayurveda, an Indian system of natural health and healing.
Diksha has created and hosts Online Vegetarian Cooking for Health and Vitality, a 4-season video series. She is the author of Global Kitchen and Vegetarian Cooking for Starters. This coming February, Diksha and her husband Gyandev will be leading a yogic healing vacation to a five-star Ayurvedic resort in India.
A multi-talented woman, of great warmth and humor, gifted in both intelligence and intuition, Diksha brings a broad and eclectic background to her teaching. She has a B.S. in Biology from Hebrew University and worked in the Neurobiology Department at the Medical School of Jerusalem for four years conducting research on the effects of alcohol on the brain. Also an accomplished artist who received numerous awards for her work, Diksha spent three years in a Master's program in Fine Arts at Kyoto Art University in Japan. Diksha imbues her teaching with a keen mind, heart, spirit, and humor. Above all, she awakens in her students their own inner wisdom and the will to make positive changes in their lives.
Diksha says:
"Sharing Yoga's universal teachings with others is my true joy. I have found eternal truths and practical guidance on how to live in this world, and I want to help others find the same so they can experience joy and peace in this chaotic world. As I teach, I share with my students in a spirit of love and respect. I feel that I learn as much from them as they learn from me. It is beautiful, mutual experience of giving and receiving."
From a student:
"I knew an Ananda program would be moving and fulfilling. Diksha's program was just that. Her knowledge and conviction are inspirational. She is a master teacher and human being. Diksha provided a consistently high level of knowledge from which we could take what we wanted to apply in our lives. It was focused and uplifting. I feel that I have a clearer path ahead of me. I can only thank her for who she is and all that she gave me."
– Jennifer G., Templeton, CA
Read her articles:
Programs scheduled for Diksha McCord: