July 2016 Newsletter
Get monthly news, tips for yoga and meditation, and stay up-to-date on our upcoming programs. Click here to subscribe.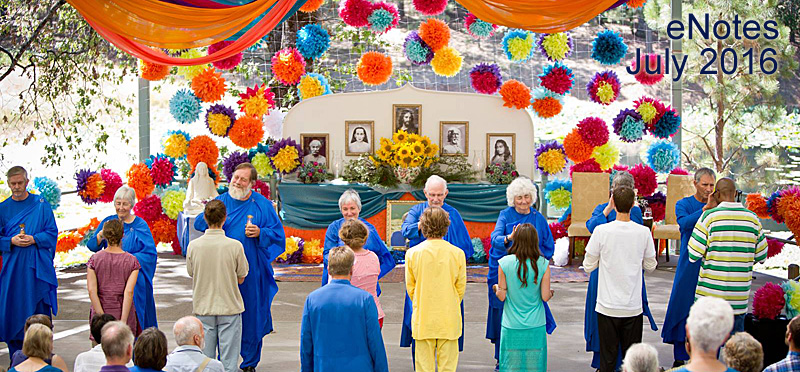 Want Ad
People in world-wide spiritual community looking for like-minded people to spend a week together loving God.
Sincere spiritually-oriented people interested in knowing God -- seek like-minded single, married, gay, straight, tall, short, black, brown, yellow and white, young and old people.
Enjoy "Autobiography of a Yogi," great talks from spiritual leaders, uplifting conversation, spiritualized music and plays, chanting, meditation, initiations and joyful times together. And walks on the beach.
To apply, register for Spiritual Renewal Week at
www.expandinglight.org Spiritual Renewal Week page
ENJOY THIS iNTRO TO SPIRITUAL RENEWAL WEEK 2016
AUGUST 7TH -14TH @ ANANDA VILLAGE

"Music is so much more than entertainment. It doesn't merely reflect a state of consciousness: It also generates it." - Swami Kriyananda


The Radio Ananda App is the essence of simplicity, offering a beautiful stream of music for healing, energization, and relaxation. Especially at this critical time, it is important that we harmonize the currents within ourselves and channel calm energy outward to the world. Radio Ananda can help us do that.


Radio Ananda is produced by members of Ananda, a worldwide community of souls seeking joy and inner freedom.

Get it at

The App Store

or

Google Play

Blog: Teaching Meditation



By Anandi Gray, Ananda Meditation Teacher Training Graduate:

Recently, my friend Diksha asked me a question, "How many people have you taught to meditate?" As I considered my 30 years of teaching, I was surprised to realize the answer is: Thousands. I feel such joy sharing the ancient, infallible meditation techniques of Paramhansa Yogananda and seeing students discover for themselves the amazing...

Copyright © *|CURRENT_YEAR|* *|LIST:COMPANY|*, All rights reserved.
*|IFNOT:ARCHIVE_PAGE|* *|LIST:DESCRIPTION|*

Our mailing address is:
*|HTML:LIST_ADDRESS_HTML|* *|END:IF|*

Want to change how you receive these emails?
You can update your preferences or unsubscribe from this list

*|IF:REWARDS|* *|HTML:REWARDS|* *|END:IF|*