Spiritual Renewal Week

7 days
Get special reduced rates when you sign up for the full 7 days
There are no dates currently scheduled.
This year's subject: "Finding Happiness: The Art of Living"
Spiritual Renewal Week is much more than classes: it is 7 days of spiritual transformation, through daily yoga and meditation, devotional chanting, inspirational music and theater, and fellowship with like-minded seekers - in an atmosphere of high inspiration. You'll find wisdom, humor, down-to-earth practicality, and clear solutions for your own life.
Last year a full-length feature film about Ananda was made by a professional company, starring well-known actress Elisabeth Rohm, Swami Kriyananda, and the members of Ananda. The film, aptly entitled "Finding Happiness" —which captures the essence of life in Ananda—was released this year. The subject of Happiness seemed an ideal focus for our week of Spiritual Renewal.
If you are looking for spiritual answers in your own life, join us for this magical week of renewal, an Ananda tradition for over 40 years.
During the week, there will be special classes for those preparing for Kriya initiation. For information on these classes, please contact kriyayoga2@ananda.org.
At this point, only Standard Shared, Deluxe Shared, and Tent/RV available. For availability of Private spaces, phone after July 15.
At the end of our recent Spiritual Renewal Week, guests made these comments:
"Incredible. I received quite a lot of clarity on issues that have been on my mind for some time."
"The feeling of openness and the welcoming nature of the Ananda environment and people made my experience so beautiful! ALL the classes and talks were helpful and inspiring.I felt great love and support from all of the staff and community members."
"It proved to be more than I ever expected. The atmosphere, people, and power of the Divine were life transforming. Will definitely be back."
"Fantastic. Deeply inspiring. Life-changing."
2014 Schedule:
"Finding Happiness: The Art of Living"
Monday: "How to Be Happy All the Time " with Nayaswamis Jyotish and Devi
Tuesday: "Meditation: Finding the Source of Inner Happiness" with Dharmadas, Hriman, Maria McSweeney, and Shanti Rubenstone
Wednesday: "Happiness through Right Attitude " with Gyandev, Melody Hansen, Kamran, Atman, and Padma
Thursday: "Discipleship: The Path of Inner Joy" with Anandi, Narayan, Ananta, and Asha
Friday: "Kriya: Awakening True Happiness " with Devarshi, Parvati, and Dr. Peter
Saturday: "My Journey to Finding Happiness" with Pranaba, Nirmala, Diksha, and Daiva
Sunday Service: with Nayaswamis Jyotish and Devi
Afternoons:
Monday: Meditation classes and time at Crystal Hermitage
Tuesday: Inspirational Nature Activities: "The Sky and Earth Touched Me"
Wednesday: Afternoon at the Meditation Retreat
Thursday: Small group brainstorming sessions on "How to Take Happiness Home"
Friday: Free, with time available in Swami Kriyananda's apartment
Saturday: The Pilgrim's Vow of Intention
Evenings:
Monday: Kirtan
Tuesday: Q and A with Nayaswamis Jyotish and Devi
Wednesday: A concert of music by Swami Kriyananda
Thursday: "The Singer and the Nightingale," a play by Swami Kriyananda
Friday: Kriya Initiations for those eligible, or an evening in an Ananda home
Saturday: An Evening in India, banquet followed by storytelling
Prices are all-inclusive and cover accommodations, meals, classes or activities, and course materials. You can add extra personal retreat days before and/or after your program. Check availability and costs for the days and accommodations that you require.
Spiritual Renewal Week starts the afternoon of the first date listed. It's ideal to arrive before 4 pm, if you are able to. That way, you can join in the afternoon session of yoga and meditation, which begins at 4:45 pm. Dinner is at 6:30. The first real gathering of your group is at 7:30 pm. If you need to arrive here after 5 pm, that's fine, but it helps us if you let us know at 800-346-5350. We can also put aside a dinner for you if you need to arrive after 7 pm. The program ends with lunch on the last date. Please see our Daily Schedule.
See Transportation and Directions whether you are coming by plane, car, bus or train. Our Frequent Questions page answers many of the questions you might have about How to Go on Retreat.
This price covers 7 days of classes, activities, meals, and accommodations.
Daily rate for attending part of the week. There is a minimum 5-nights' stay during Spiritual Renewal Week. Only shared rooms and tent spaces available. Book by calling 1-800-346-5350
Tent /
RV
Standard
Shared
Deluxe
Shared
$106
$136
$171
Anyone not staying at the Expanding Light retreat can purchase passes for events in advance. Passes allow us to know the number of visitors we will be hosting. It really helps us gauge meal counts, seating and usage of the facilities and staff. Advance purchase will make for easy check-in for all. You can call the front desk in advance to purchase your passes 800-346-5350.
Prices for Day-guests
Full Day Pass
(meals not included)
Half Day Pass
(meals not included)
Week-long Pass
(lunch included)
$45
$25
$325
Prices for Gaia House
shared only
per night for 7 nights:
Bird Room:
$155
Mountain, River, Trees or
Star Rooms:
$160
Flower Room:
$170
per night, 5 or 6 nights:
Bird Room:
$181
Mountain, River, Trees or
Star Rooms:
$181
Flower Room:
$191

Receive monthly news, inspiration, Radiant Health tips & recipes, and stay up-to-date.
Come a Day Early
Relax, Take a Walk,
Get a Massage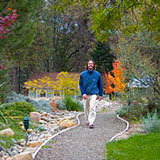 Stay an Extra Day, Relax,
Absorb Your Experience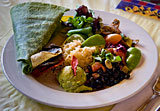 Three delicious and satisfying
vegetarian buffet meals are included
with the cost of your stay