March 2016 Newsletter
Get monthly news, tips for yoga and meditation, and stay up-to-date on our upcoming programs. Click here to subscribe.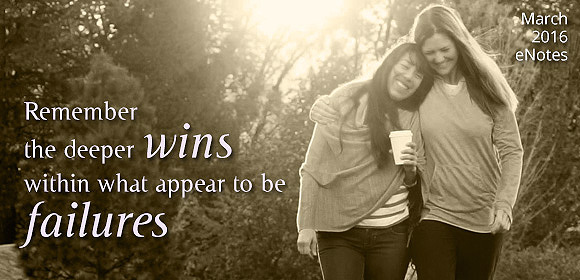 Dear friend

Successes are fun. They feel rewarding. Since they pretty much never arrive unless we've worked very hard toward them, we feel a sense of satisfaction in the rewards for our efforts. I think we need some to stay balanced. It's great when you've won the race, launched the product, got the girl, met the goal.

Those events and situations that didn't turn out as we had hoped are often the most valuable to us, however. In hindsight, we often can see that those difficult, and apparently unsuccessful times, were those that led more to our own growth and happiness in the long run. True success in this lifetime means moving closer to home - closer to God. It is by facing our karma and keeping our energy high through the challenges that we do this.

I just read an older article by Jyotish & Devi in Clarity Magazine

.

In it they mentioned a study that reported paraplegic people were as happy as lottery winners. Contrary to our indoctrination, happiness doesn't come from having it easy.

It was probably in those "unsuccessful" efforts that we learned more about the world around us; and more importantly - about ourselves. In practicing and learning how to deal with failure and challenges, our own spiritual level rises.

Be kind to yourself. Remember the deeper wins within what appear to be failures.






Peace and Harmony,
Nityananda
Healing Retreat: Ayurveda and Yoga
March 11 - 13, 2016



Both Ananda Yoga and Ayurveda are designed to re-establish healthy integration on all levels of body, mind, and spirit. With 2 such powerful healing systems, you will have a truly transformative retreat. Learn More
A Recipe from Diksha's new book.


Coconut Rice with Sesame Seeds
Simple, satisfying with magnesium and calcium. Spice up your rice!
For Recipe
Inspiration from Yogananda
'Heavenly Father, teach me how to dive in Thy Ocean of Plenty again and again if I do not find the pearls of Thy Perception by one or two divings. I will not say that Thy Ocean of Everything is empty, for Thou wilt show me that the fault is with my diving. I will put on the diving apparel of faith, power, and fortitude, and Thou wilt direct my mind to dive in the right place, where Thy bounty is hidden.'
Our 2016 online Calendar is filled with new and treasured programs...
click here
Serve, learn and grow through our wonderful
Karma Yoga Program
Ananda is a worldwide movement to help you realize the joy of your own higher Self. It is based on the teachings of Paramhansa Yogananda and was founded by his direct disciple Swami Kriyananda in 1968.
Learn More...

CONNECT
14618 Tyler Foote Rd
Nevada City, California 95959
Toll free 800-346-5350
Outside US 530-478-7518
SUBSCRIBE
Receive uplifting emails with inspirational content and news about our retreat programs, travels, and trainings.