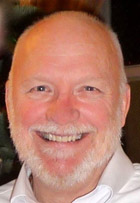 Nayaswami Hanuman
Ananda minister and teacher
What is a nayaswami?
Nayaswami Hanuman began his nursing career in 1976. He worked in critical care units for over ten years when he decided that there had to be an alternative to all the tubes and machines at end of life. Since that time he has worked as an Ananda minister and teacher, as well as a hospice nurse for nearly 15 years. He is a certified End of Life Practitioner through the Metta Institute and Founder of Ananda's first Elder Care home, based on Swami Kriyananda's "Evening Hospice" precepts. He loves to engage people where they are and find the commonality of spirit that transcends us all.