Dana Lynne Andersen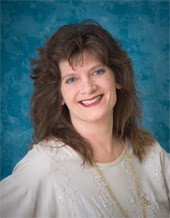 Dana Lynne Andersen, M.A., is an accomplished and published artist in a variety of fields. The following is just a sampling of her many accomplishments, which also include art for four books, and countless exhibited paintings. She is, as you can see from the partial list below, a person of tremendous creativity. But most importantly for a teacher, she is also an excellent communicator, and a person of great kindness, with a wonderful sense of fun and great artistic insight.
She has founded three "Transformative Art Studios," where she's offered workshops and community events. She was an Expressive Arts Therapist at the Adolescent and Family Center of Colorado (one of the nation's leading private adolescent treatment centers), and has been in private practice since 1990.
Dana developed original programs for teaching art: "Wake up the Artist," "Unleash Your Creativity," "Women's Sacred Circle" and "JumpstART," designed to awaken creativity and dormant capacities of consciousness. She taught these programs through Colorado Free University, The Ayurveda Center for the Arts and Humanities, Illiff School of Theology, The Institute for Alternative Living, and at the Transformative Arts Studios she founded.
She also developed and offered numerous courses such as "Creating Sculpture from the Body" and "Creating Performance Art" for the Arvada Center for the Arts and Humanities in Colorado.
She was artist in residence at The Northern California Center for the Arts for 18 months and most recently at The Institute of Noetic Sciences.
She has combined art exhibitions with workshop presentations on creativity in a variety of venues such as the CIIS and MasterPeace conferences, East West Bookstores in Palo Alto and Seattle, and at various galleries.
Dana has her Master's Degree in the Study of Consciousness from John F. Kennedy University, and has studied art in Florence, Italy, and theater in London, England. She is the founder of the Awakening Arts Spiritual Art Studio.