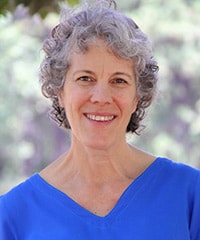 Maria McSweeney
---
Nayaswami Maria McSweeney was born in Pacific Palisades, California. She attended Lewis and Clark College in Portland, Oregon, attaining a Bachelor's Degree in Biology. During college, she was an exchange student in Ecuador for 6 months.
She came to Ananda in 1976 and worked on the Ananda Farm in organic agriculture from 1976 through 1986. In 1979, she was married to Ananta in a ceremony performed by Swami Kriyananda.
In 1986, Swami Kriyananda asked Maria and Ananta to direct the Ananda community in Sacramento, where they served for 23 years as ministers and community managers.
In 2009, Maria and Ananta were asked to return to Ananda Farm at Ananda Village to restore it to organic production and to direct the Living with Spirit Ashram and summer programs for people between the ages of 18 and 30.
Maria plays acoustic guitar and harmonium, and is an avid bird watcher.
Programs scheduled for Maria McSweeney: