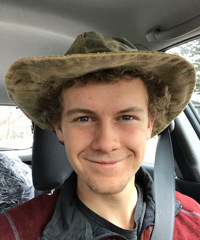 David Kletter
---
Raised in Bozeman, Montana, David is an outdoor enthusiast and nature lover. He grew up skiing, rock climbing, mountaineering, and backpacking. He has a special fondness for being in the garden, the forest, and wild nature.
David first came to Ananda through the Ananda Camano Island Farm and Ashram, a living-breathing embodiment of Yogananda's principle of simple living and high thinking. A desire to deepen into living the teachings more dynamically brought David to Ananda Village in the summer of 2022. He relates naturally with young people and finds deep joy in attuning to the magic of "the now" and sharing the beauty of Divine Presence with others.
David's childlike joy, creativity, and natural affinity for children make him a natural teacher. He feels that learning comes through the "doing" of direct experience and children respond to his way of teaching with absorbed interest.
Programs scheduled for David Kletter: