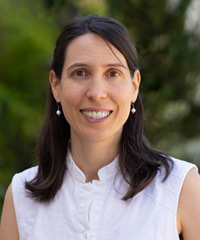 Shyama Garcia Davis
---
Shyama is an Ananda Minister and Lightbearer, lives in Ananda Village, California and serves in Ananda Sangha Worldwide making Yogananda teachings known around the world.
Since 2005, she's studied and practiced the teachings of Paramhansa Yogananda, integrating them into every aspect of her life. Originally from Spain, she has served in the Ananda communities of Italy, Spain and Ananda Village with enthusiasm, energy and dynamism.
With her husband, Dhyan, she leads the Spiritualize your Marriage weekend at the Expanding Light Retreat, and they both head up the Experience Ananda residency program at Ananda Village. They are dedicated to living and sharing these liberating teachings with truth seekers, proving that life is much more beautiful when you live with dedication, devotion and service to others.
Programs scheduled for Shyama Garcia Davis: