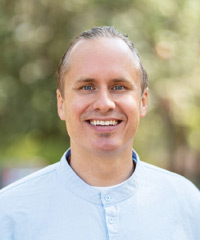 Jitendra Guindon
Ananda Yoga® Instructor. Ananda Meditation Instructor.
---
Jitendra Guidon, Director of Online with Ananda's Online Outreach ministry, is a disciple of Paramhansa Yogananda living at Ananda Village in Northern California. While serving with Ananda, he enjoys spreading the ancient teachings of Yoga to all truth seekers around the world and look forward to connecting with new friends from different backgrounds and affiliations.

After reading Autobiography of a Yogi by Paramhansa Yogananda, Jitendra began his journey with the teachings and meditation in 2006. He continues to feel the inner transformation that comes with the power of the techniques. He is a certified Ananda Meditation instructor and Ananda Yoga Teacher registered with Yoga Alliance (RYT 200).

Jitendra is originally from Rhode Island, where he helped lead the Ananda Yoga and Meditation Center and aided in spreading the path of Self-realization in Boston and New York City. He has taught meditation in diverse settings including yoga studios, government agencies, colleges, high schools, rehabilitation centers and more.
Programs scheduled for Jitendra Guindon: