Badri Matlock
Ananda Meditation Teacher, Ananda Yoga Instructor, E-RYT 500'
---
Badri Matlock is a dynamic teacher and Ananda Yoga retreat program leader. His dedicated practice of yoga and meditation began at age 17, and he has lived and taught at Ananda since 2009. He holds a Bachelor's of Science degree in Kinesiology from California State Long Beach.
Badri is a Ananda Yoga Instructor, E-RYT 500 and an Ananda Meditation teacher.
Badri teaches, travels,and facilitates for various other programs. While dedication to the spiritual life is his greatest passion, he loves family, community, music, surfing, and sports. He is known for his energetic presence and his love of service and having fun. He lives at Ananda Village with his wife, Gita, and children, Tulsi and Jay.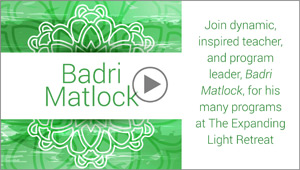 From the article: Finding Calmness in Action:

Breathing deeply or simply observing the breath can be a very simple, but powerful practice.
When I remember, I respond to stress by turning to the appropriate techniques of yoga at hand. If possible, I try to take a few minutes to center myself (including breathing or stretching) and focus deeply at the point between the eyebrows with devotion.
I will also use prayer inwardly, to ask God for guidance and blessing for myself, or for others during difficult times. This never fails to uplift my consciousness in some way, to bring me peace or joy and relieve stress or suffering of some kind.
Articles by Badri Matlock :