Mantradevi LoCicero
Personal Transformation Retreat Teacher, Spiritual Pilgrimage Leader, Ananda Minister and Counselor, Raja and Ananda Yoga® Teacher.
---
Nayaswami Mantradevi teaches with insight, clarity and joy, gained from over 35 years of meditating and sharing yoga philosophy. Her concern for others is one of her key qualities, and she has the innate ability to communicate and apply spiritual principles to real life situations. Her classes are creative and experiential, with humor and discussions keeping them lively and interactive.
Mantradevi has served as a teacher and minister in Ananda colonies of Palo Alto, Portland, and Ananda Village. Along with her husband, she has co-directed Ananda San Francisco, Dallas, and Los Angeles. She and her husband, Krishna Das, lead pilgrimages to holy spots throughout the world and retreats around America.
A successful artist, Mantradevi paints from her home studio. Combining yoga philosophy and her inherent creativity makes for dynamic and interesting classes. See Mantradevi's art online.
Mantradevi teaches courses in Relationships, Emotional Healing, Chakras, Recreate Yourself, In Transition, and others. She authored the study book, "Achieving Inner Peace and Tranquility."
"Mantradevi has a profound understanding of the information she presents. The lessons flow through her with grace, and she easily keeps everyone interested and engaged. This is the first time I feel as though I'm understanding how my energy moves through my body. I know that all I've learned will encourage my growth, as well as strengthen my relationships with my family, friends, and everyone I meet along the way." – Cynthia, Santa Monica, CA
"Mantradevi is one of the most amazing, loving, beautiful souls I have ever been lucky enough to know. She is a light of humanity: humble, gentle, strong, wise, supportive and inspirational. I truly feel that she has helped me start on a path of living from a higher self." —VP, California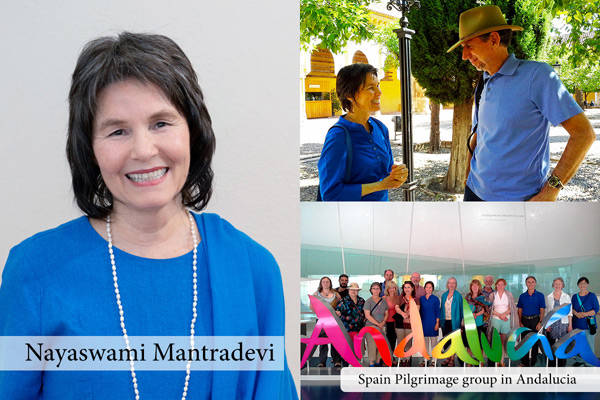 From the article: Stay Youthful with Yogic Principles

I very much believe our thoughts shape who we are. They can even shape what we look like. Consciously doing something for someone every day keeps any doldrums away.
What do I do to make aging a graceful art? My number one thought is devotion to God. The only way I can stay in touch with this is with regular meditation and service to others. I think the biggest aging factors are continual stress and mental resistance. I combat this by finding something creative that brings joy and takes my mind off of myself and life's responsibilities.
Consciously taking quiet time out of each day has also contributed to my overall wellbeing. It's in times of quiet and solitude that God's joy can be felt bubbling up inside. That joy then spills over to be shared with all those around. Lastly, regularly feeling and giving gratitude for the blessings God has given. Nothing else can exist where gratitude lives.
I don't feel old or young. I am glad for my past experiences and looking forward to the adventures to come."
For about twenty years of her teaching career she taught and practiced yoga postures, which she believes has been a contributor to her good health."
Programs scheduled for Mantradevi LoCicero: