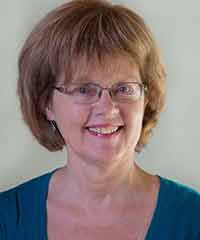 Barbara Bingham
Level 2 Ananda Yoga® Teacher, E-RYT 500, Ananda Yoga® Therapist
---
Barbara is a Hatha Yoga teacher, a Registered Physical Therapist and a former gymnast. She brings all of her training together in her yoga teaching and helps people enjoy using their bodies in the healthiest way possible.
Barbara teaches the anatomy and physiology classes of the Ananda Yoga Teacher Training and can show clients and students how to adjust yoga movements to their particular limitations, whatever those might be.
Known for her playful, approachable style, Barbara also brings compassion and sensitive awareness to her yoga teaching. She finds the greatest joy in making yoga accessible to everyone.
Barbara created a video, Yoga for Menopause. A woman of many talents, Barbara also serves as a photographer for The Expanding Light. She enjoys capturing the natural beauty of Ananda and the people who live and visit here.
Barbara says:
"Ananda Yoga® has been a gift to me with its gentle but effective approach to movement, its potential for strengthening and stretching the body and mind, and its beautiful and powerful affirmations. I have been transformed by the teachings of Yogananda and by my associations with the people here at Ananda. I try and share the gift of peace that I have received by capturing the beauty of Ananda through photography and through teaching Ananda Yoga."
From a student:
"Barbara made the program. Her background in Western medicine made what she taught logical and believable. Her knowledge of each movement will allow me to take home a newfound confidence in knowing the limits of my body and its potential. Barbara's spiritual process has given me a new confidence in my own path."
– Carolann Stoney, Pomona, CA
The yoga therapy components of Barbara's teaching are based on her status as a Physical Therapist and Ananda Yoga Therapist, not derived from my status as an E-RYT with Yoga Alliance Registry.
Programs scheduled for Barbara Bingham: