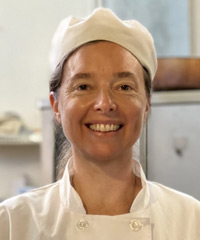 Julie Roberts
---
Warm hearted, engagingly humorous, and highly creative, Julie is a long-time Ananda member, wife to Craig Roberts and mother of three beautiful girls. Julie has been cooking in and around Ananda's kitchens since 1997. She has created several food businesses using nutritiously healthy and locally grown organic ingredients. Her businesses are all thriving and feeding many discerning folks.

Amongst Julie's many credits:


Certified Chef by the Natural Gourmet School for Chef and Healing
Vegetarian Cooking Internship at The Expanding Light School of Yoga with Diksha McCord, teacher and author of three cookbooks: The Healing Kitchen; Global Kitchen and The Expanding Light Cookbook
Julie created, owned and ran her own Catering Company
She founded and managed Durga Divine's: a regional food production and distribution company of gourmet deli foods
She established and owned Durga's Divine Café in Grass Valley, CA
Currently, Julie is head Chef and cooking teacher at The Expanding Light Yoga Retreat


Come and stay at The Expanding Light and experience Julie's divinely delicious creations!