Mukti Deranja
Inspirational teacher and retreat leader, Ananda Meditation Teacher, Ananda Minister and Spiritual Counselor
---
Nayaswami Mukti has been creating and leading a variety of inspirational retreats at The Expanding Light Retreat for the past many years. The themes and facets of her retreat programs reflect her own long-term and deep exploration to let every aspect of her life flow from a deep Kriya Yoga meditation practice. Her life has been one of uplifting service ranging from her full-time career as a speech therapist, to being a key member of the Ananda Music Ministry and to her out-reach to Ananda Meditation groups.
Her warm and caring nature, her lively sense of humor, and her clear-minded and practical approach to applying the spiritual teachings in one's own life win her retreat weekends rave reviews.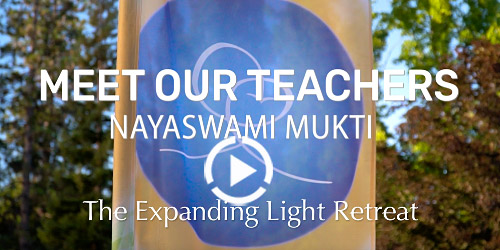 Mukti moved to Ananda Village in 1992 and has been a key member of the Ananda Music Ministry since then: singing in the choir, performing Swami Kriyananda's piano solos and ensemble music, and accompanying Swami Kriyananda or other soloists on the piano. She has used chanting as an integral part of her spiritual practice, as a powerful tool for personal transformation.
Mukti retired from a profession as a speech therapist, where she used her in-depth scientific understanding of the body and her gentle approach in working with students to great success. Both gifts continue to serve her as an instructor at The Expanding Light Retreat.
"With sensitivity and kindness Mukti related how we may all rise above our karma and be born anew in each moment. Mukti's meditation instruction gave us the opportunity to go deeply into stillness and connect with the insights and reflections that surfaced during the course. The Expanding Light Retreat Center at Ananda Village provided a beautiful and supportive environment where our personal relationship with God was renewed and strengthened. This is a life-changing experience that brings peace to the soul." — J.N., Prescott, AZ
"I wanted to thank you again for a wonderful and insightful week at The Expanding Light Retreat. I really enjoyed being in your presence, and I am grateful for the tools you have shared with me. I feel like I've finally caught a glimpse of the light inside of me—a light I've been chasing all of my life. As long as I can remember, I have sensed there was something very special and powerful inside of me, but I did not know how to reach it. You have all truly blessed me with a deep and spiritual awakening. Ananda is a very special place, and I hope I can hold onto as much of it as possible." —Shauna, Oakland, CA — 5-day First Timers Week program
Articles by Mukti Deranja: