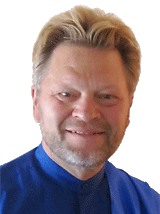 Nayaswami Premdas
---
Nayaswami Premdas is dedicated to serving the highest in others. He trained as a teacher and minister in Ananda centers, is certified as an Ananda Yoga Teacher and Meditation Teacher, and enjoys introducing new seekers to the meditation techniques of Paramhansa Yogananda.
He currently is Support Director of The Ananda Course in Self-Realization, serves on Ananda's Healing Prayer Ministry, and is part of Ananda's outreach ministry.. Many recognize him from his years of cooking delicious, joy-filled meals in The Expanding Light kitchen and at Ananda Assisi.
He lives at Ananda Village with his wife, Jivani, and their two cats, Karma and Dharma.