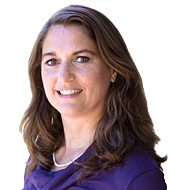 Nicole DeAvilla
Registered Yoga Teacher, E-RYT 500, C-IAYT, Certified Ananda Yoga Therapist

---
Instructor Nicole DeAvilla has taught yoga teachers for 18 years, and has taught regular Ananda Yoga classes for 27 years. She has a background in sports medicine and chiropractic physiotherapy. Currently she teaches private classes as well as a Master Yoga Class for Yoga Teachers. Nicole is a member of the International Association of Yoga Therapists (IAYT) and is a contributor to their journal and several other publications. She has taught Master Classes for the International Yoga Therapy Conferences, and she currently serves on the IAYT Accreditation Committee.
Always practical, Nicole DeAvilla looks to science and research, and asks the question, "So what does it mean to us, in our everyday lives?" Her knack for taking the complex and making it simple is evident in her writing, teaching, and public speaking.
Registered at the highest level through Yoga Alliance, as an E-RYT 500 (Experienced Registered Yoga Teacher), Nicole is an active member of the International Association of Yoga Therapists and the Ananda Yoga Teachers Association. She has served as a panel member for the Yoga NEXT Conference.
Nicole has taught yoga and wellness at Kaiser Permanente. She is currently teaching and training instructors for Being ADEPT's (a drug and alcohol prevention program for tweens and teens) Yoga, Science and Stress Reduction curriculum.
Nicole is the Executive Director of the PEG (Parent Education Group) of Marin, California 16th District Parent Education Chair and parent representative for the Stanford University's Challenge Success program at Saint Ignatius College Prep. She speaks on a variety of parenting and stress reduction topics for parents and students.
Nicole has taken real life experiences as a yoga teacher, yoga educator and yoga researcher with her involvement in the fields of science and education, on topics such as learning, success, health and well-being, to create innovative yoga teacher training programs, drug and alcohol prevention programs for middle school children, parent education programs, private client protocols, and mentoring programs. In this capacity, she has also taken on advisory and collaborative roles with K-12, higher education, government and other institutions.
Nicole's research has been published in the American Journal of Sports Medicine and the International Journal of Yoga Therapy. She is a regular contributor to Clarity Magazine, Ananda Yoga Teachers Association, Yoga Therapy Today, and the online Yoga Teacher Support Center at the Expanding Light in addition to her other published articles and interviews.
"2 Minute Yoga Fast and Easy Stress and Back Pain Relief for Anyone at Anytime", Nicole's book is the foundation for the 2 Minute Yoga Club online support and community, retreats and yoga teacher training's.
An entertaining and well-informed speaker, Nicole presents to companies, school groups, clubs and professional organizations..
Nicole says:
"One of the things that I love about yoga is that there is something for everyone, regardless of ones physical, emotional or mental state. I enjoy working with people to find the yoga that works for them."
Articles by Nicole DeAvilla: