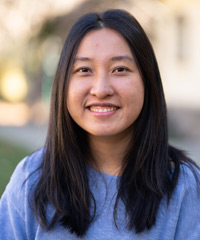 Arya Cheng
---
Arya Cheng is a gifted yoga and meditation teacher, and wonderful kirtan (spiritual chanting) leader. Her talents are varied, as she serves in several areas at Ananda Village.
From Arya:
Hi, my name is Arya! I live at Ananda Village and serve at The Expanding Light Retreat, Ananda Farms, and Ananda Communications departments. As a certified Ananda Meditation and Ananda Yoga™ teacher, it's been my joy to share the powerful teachings of yoga and meditation, that have profoundly transformed my life. I've immensely enjoyed leading our summer youth program, Ananda Village Internship Program and teaching sadhana at The Expanding Light Retreat.
I enjoy spending time in nature, learning new languages and connecting with people from all walks of life. My life goal has always been to live up to my highest potential, and help other do the same. Through living in a spiritual cooperative community I have learned, and am still learning, how to 'be the change' on the highest level, through joyful, selfless service, daily meditation, divine friendship, and attunement to God & Guru.
I'm really looking forward this year to supporting the new and improved form of our summer program, Living with Spirit, an experiential, spiritually based, community program for young adults. Let's dive deep in spirit together!
Programs scheduled for Arya Cheng: