Ananda Yoga® Teacher Training
A transformative experience to expand and share your inner light
Ananda Yoga® is a classical approach to Hatha Yoga. Using yoga postures to uplift consciousness, increase awareness and then ultimately unite our energies with the unlimited divine source of power. Ananda Yoga®, a spiritual approach to yoga.
Become an Inspiring, Profound and Professional Ananda Yoga® Teacher
Explore ancient philosophies of India through the study of classical Raja Yoga (Royal Yoga)
Learn to teach yoga postures to students of all walks of life
Find ways to address your students' needs on all levels – physical, mental & spiritual
Discover more about yourself through philosophy, daily yoga practice and meditation
Our Immersive Training is at a retreat located in a 50 year old Intentional Spiritual Community
Learn from expert teachers who practice and live what is taught
Become a skilled yoga instructor with Ananda Yoga® Teacher Training, a Registered Yoga School (RYS) of the Yoga Alliance for more than 24 years. The founder of Ananda School of Yoga & Meditation was also a co-founder of Yoga Alliance

Mar 28 – Apr 25, 2021
Jul 4 – Aug 1, 2021
Oct 24 – Nov 21, 2021
You can split the 28-day course into two 2-week segments.
Learn about yoga's spiritual dimension, as well as its physical dimension, with this life-changing immersion in the science of yoga. more...
Level 2 explores the deeper aspects of Ananda Yoga®, with a focus on meditation, yoga philosophy, pranayama, asana, refinement of teaching skills, and personal spiritual growth. more...
Become a Certified
Yoga Teacher
Many teachers of other styles want to transfer into Ananda's Level 2 certification track— once they experience the power of Ananda Yoga. If you are a Yoga Alliance RYT (Registered Yoga Teacher), you may do that. more...
How to Choose a Yoga Teacher Training Program

Classes are held at The Expanding Light Retreat which is part of a larger community called Ananda Village, where over 200 people live the teachings of yoga every day. Our retreat is the perfect getaway to detach and go deeper into the study of yoga, enhanced by our quiet, friendly environment. More...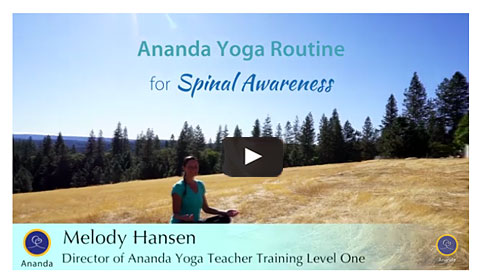 TAKE YOUR TEACHING TO ANOTHER LEVEL

Ananda Yoga®
Teacher Training

---

Ananda YTT

The Ananda School of Yoga & Meditation is recognized by Yoga Alliance as a RYS.

Ananda Yoga®
Therapy Training

---

Ananda YTxT (860 hours)

Level 2 Ananda Yoga Teacher

Eligible for RYT 500

* Starred courses may be taken before you officially enroll in the Ananda Yoga Therapy Training program if you meet their separate prerequisites.

Prerequisite for Ananda Yoga Therapy Training (YTxT): one year of experience teaching Ananda Yoga after graduating from Level 1 AYTT. One year of personal practice of yoga. We also recommend that you complete as much of Level 2 YTT as possible before beginning Ananda YTxT.

The yoga therapy components of these courses are based on our accreditation by IAYT, not derived from our status as an RYS with Yoga Alliance Registry.

Ananda Yoga Therapist

Eligible for IAYT Yoga Therapist
This service helps yoga teachers reach their students on all levels — and it's free. more...
What is the most helpful advice an Ananda Yoga Teacher has offered you?

The most fundamental piece of advice I received from an Ananda Yoga teacher is this: The energy that moves through our bodies, our prana, directly affects our consciousness and how we choose to use this energy can change who we are. More...
UPCOMING YOGA TEACHER AND THERAPY TRAINING PROGRAMS

Ananda is a worldwide movement to help you realize the joy of your own higher Self. It is based on the teachings of Paramhansa Yogananda and was founded by his direct disciple Swami Kriyananda in 1968.
Learn More...

CONNECT
14618 Tyler Foote Rd
Nevada City, California 95959
Toll free 800-346-5350
Outside US 530-478-7518
SUBSCRIBE
Receive uplifting emails with inspirational content and news about our retreat programs, travels, and trainings.