We are not currently accepting new students in the
Ananda Yoga Therapy Training
Pre-Course opens August 25, 2021

Prerequisite:
Learn Ayurveda principles to adapt yoga techniques to individual client's needs. This course is part of Ananda Yoga Therapy Training.
In this course you will:
Explore basic principles of Ayurveda—doshas, elements, gunas, agni and ama, constitution (Prakruti), and state of imbalance (Vikruti)
Discover how lifestyle influences a state of "balance and harmony"
Learn to assess a very basic level of ayurvedic constitution, with an emphasis on body type and mental constitution
Recognize constitutional imbalances
Learn the relationship between ayurvedic states of balance and imbalance, and how they relate to health conditions that may be helped by yoga therapy
Explore how asanas and pranayamas influence the doshas, gunas, and agni
Learn how to select and customize asanas and pranayamas to help balance different doshas
Learn ayurvedic fundamentals of healthy eating
Explore how ayurvedic diet principles can be applied to health challenges and digestive disorders
For more information, see Course Syllabus.
Ananda Yoga Therapy Training
For more information, please send us a Question or Comment:

Receive monthly news and inspiration.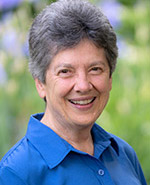 Director, Ananda Yoga®Therapy Training. Certified Yoga Therapist, Clinical Ayurvedic Specialist, Level 2 Ananda Yoga®Teacher, E-RYT-500
Director, Ananda Yoga Therapist Training
Nayaswami Mangala has an impressive background in yoga teacher training, Ayurvedic training and practice, and in-depth medical training and practice.
See all programs, articles, and full bio of Nayaswami Mangala.

or e-mail or call us at 1-800-346-5350
Costs (TXA)
Costs are on a per person basis.
Tent
RV
Standard
Shared
Standard
Private
Deluxe
Shared
Deluxe
Private
$2509
$3718
$5609
$5113
$7686
Prices are all-inclusive and cover accommodations, meals, classes or activities, and course materials.
Ananda Yoga® Therapy Training Online: Ayurveda starts the afternoon of the first date listed and ends with lunch on the last date. It's ideal to arrive before 4 pm, if you are able to. That way, you can join in the afternoon session of guided yoga postures and meditation, which begins at 4:45. Dinner is at 6:30. The first real gathering of your group is after dinner. Please see:
The yoga therapy components of these courses are based on our accreditation by IAYT, not derived from our status as an RYS with Yoga Alliance Registry.