Graduates' Testimonials for Level 1

Ananda Yoga® Teacher Training
Don't just take our word for it – you can watch or read about the experiences of our graduates or ask a yoga teacher near you what the course was like.
Life After Yoga Teacher Training

"When problems come up, the answers come. I pray to those who have brought us yoga. I dig within myself, and often the class just forms out of who is there, and what the needs are that day." Read more

"After further research, I realized that what I'd been given at Ananda was, indeed, one of the most thoroughly designed YTT programs in the country." Read more
Self-Transformation
"My experience at Ananda has given me back my life. I remember now the dynamic person I was born to be.
"I leave here full of faith in myself and God; with God in myself and with the tools to create a life of harmony and joy. Yoga is a way of life – not just an exercise class. If done the Ananda way, everyday, it will change who you thought you were."
– Ginger, Houston, TX
"I knew that my time in the Ananda Yoga Teacher Training (AYTT) course would be life-changing, I just had no idea how it would all manifest. I could not be happier with how it unfolded. The people in the course were amazing, and all of The Expanding Light facilitators were incredible.
"I truly experienced the 'Expanding Light,' and my testimonial to this is that I am going to pass it on. I am so inspired to give back, because what I have received here is too much for me to keep locked inside of me. I leave here with open eyes and an open heart, and with overflowing joy."
– Jesse, Tucson, Arizon
"AYTT was a course in how to live. It not only taught us how to teach but how to deepen our own practice so that we become what we are teaching."
– Trina, North Augusta, SC
"The AYTT was life transforming! I had no idea how detailed, organized, and professional this program would be. Every teacher was enlightening! I have so much to take home with me. I'm going home ready to teach and confident that I will be a very fine teacher. I will keep people safe thanks to all my teachers here. I will share my love of going inward and being the best that I can be. Thank you from the deepest center of my heart!"
– Karen, Edison, NJ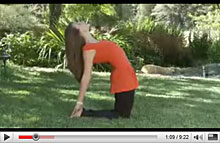 – Süheyla, Istanbul, Turkey
"I was most impressed by the spiritual integrity that was the basis for every aspect of the course. Limitations on my own capacity for growth, and any boundaries I had conceived of regarding yoga are now eliminated."
– Emily
"In the four short weeks that I have experienced Ananda Yoga, I have felt a shift in my inner being. I feel that I have moved my spiritual practice to a deeper level, and I'm finding the words 'trust' and 'receiving' are starting to integrate into my way of thinking. Peacefulness has overcome anxiety, and I feel in a much better place to give more of myself, and also to allow myself to receive."
– Bliss, Nashville, TN
"Having thoroughly researched Ananda Yoga Teacher Training beforehand and met some of the staff, I stepped in wholeheartedly and without fear. I reminded myself that I would not be afraid of their God, or any other Gods for any reason; after all are not all Gods on the same team working at the top for the betterment of all creation? I also reaffirmed that this was, after all, just a one-month yoga certification program to allow me to have the honor of teaching yoga to the masses. No big deal, right? Wrong. This was a big deal. This was a life-changing experience that not only opened my spine, but also, in a good way, rocked my being to its core.
I think partially that the energy of Ananda attracts some really amazing people from a wide variety of backgrounds. The 12 students that I attended with turned out to be some of the most diverse, well read, astute, creative, joyful, funny, open, discerning, beautiful, and hard-working people that you would find in any well-run, dynamic Fortune 500 company. These were not slacker yoga teachers that you might find just anywhere. These were individuals who would actually go out and make the world a better place. And isn't that what we all really want?"
– Ivy, Nevada City, CA
The Course
"YTT is more than learning to teach yoga – it is about learning to live your yoga. The breadth and depth of the program astounded me. I can't imagine a more complete program. Your program is really the holistic approach for those who want to spend 28 days to transform their lives."
– Michelle, Ashland, OR
"I've had university courses that were not as comprehensive and well done as this. AYTT was a life changing experience for me. I learned more than merely the correct way of doing yoga postures; I learned the very essence of yoga itself, from every perspective. This 4 weeks was the most enjoyable and magical 4 weeks I have spent in my life."
– Dennis, Minden, NV
"I feel like I've learned much more than I ever thought I would. The teachers were great, the lessons wonderful, the work not too demanding, the free time fun filled and the food fantastic – what more can you ask for? It definitely deepened my understanding of the asanas – both practically and theoretically. Because of AYTT I feel much more confident in going out to teach."
– John, Denton, TX
The Teaching Staff
"I was deeply impressed with how the teachers really help each student overcome their obstacles (spiritual, mental, physical) to achieve certification."
– Katherine C
"The instructors are incredible – they live their 'yoga'."
– Susan, Saco, Maine
"Through the love and acceptance and dedication of the teachers and staff I have gained a renewed self image, a conscious relationship to God and to a 'whole gang' of saints and gurus. I was faced with and have conquered many hurdles here – lots of old 'stuff' that has been blocking my way forever."
– Ginger, Houston, TX
"All the teachers are fine and gifted people, who live their lives with great integrity and with a spirit of dynamism and generosity I've rarely witnessed within a training environment."
– Anaya, Stratford, Ontario
"The teachers are passionate, dedicated, supportive, caring, focused, very knowledgeable, and wise. Nearing Heaven on earth."
– Barbara, El Granada, CA
Retreat Grounds
"It is always a blessing to come to The Expanding Light. No matter what the program is, I always feel so enriched and spiritually uplifted. The kindness and loving support of the instructors and staff is why The Expanding Light is a retreat for the soul."
– Tricia, Palo Alto, CA
"This experience exceeded my expectations. I really appreciate Ananda's holistic approach. It has helped me become more balanced in my own practice (the spiritual and physical emphases). I feel being immersed in the community was the best way to learn – it is a lovely community! I'm grateful for the tools and encouragement provided to us – they were thoroughly and thoughtfully presented. And perhaps most important, there was a great feeling of sincerity among people at Ananda."
– A.F., Alturas, CA
Overall
"I absolutely loved my Ananda YTT experience. The place is beautiful. Immaculate grounds, nature. Beautiful people and great food! I learned so much and feel very ready to get up in front of students."
– Lisa G
"I just completed the Ananda Yoga Teacher Training program. In a nutshell – WOW! It definitely was an intensive program, but I feel great about the accomplishment. It is life training. Yes, you learn asanas, variations of asanas, anatomy and physiology – all the stuff that you need to give great classes. But there is so much more."
"Words cannot describe my time out there. What I can say is I look forward to going back and encourage everyone to go and experience Ananda."
– Susan, Saco, Maine
"The course was thorough and I really feel well prepared to begin teaching as soon as possible."
– Stevi, Oxford, MS
"I got much more than I ever could have dreamed. The course was very well rounded. The staff has been nothing short of totally supportive. A very empowering experience."
– Aaron, Aspen, CO
"I feel thoroughly prepared to begin teaching yoga – I want to share yoga with everyone."
– Anna, Rossland, BC, Canada
Other
"Four wonderful weeks of learning not only how to teach yoga but how to live yoga. What a joy to be in the company of peace and acceptance. AYTT has enriched my practice by helping me to see what I always knew hatha yoga should be. A practice of meditation in motion. No more pushing and over–stretching! Thank you!! I can hardly wait to share it."
– Butchi, Cedar Rapids, IA
"One word: wonderful! I immediately felt the love and joy of the people at Ananda. The setting is beautiful and peaceful, the food delicious. The teachers are outstanding and the material is very well organized.
"The experience of Ananda Yoga builds both our personal practice and our teaching skills to the point that when we leave with our certificate we have much more than a piece of paper. We have wisdom, experience, confidence and a sense of inner calmness in knowing that we have the tools to teach – material and esoteric tools. Overall, an excellent experience."
– Nancy, Iowa City, IA
"The support of the staff and classmates created a safe and nurturing journey throughout this month. A very well rounded and balanced program. I gained expansive knowledge of yoga – body, mind and soul."
– Mary Ann, New Port Beach, CA
"The course has been a wonderful immersion in yoga on all levels. It was very complete, helpful for both beginning teachers and those with teaching experience. The staff shared not only the techniques of yoga, but it's essence. I am leaving with new confidence, lots of practical knowledge and experiences, inspiring new ideas and much to share with students! Thanks."
– S.M., Lynwood, WA
"The most incredible awakening of my spirit, my heart and my understanding of yoga. I have gained confidence in my abilities and in who I am. I have deepened both my practice of yoga and my spiritual practice as a whole. I can now see the picture of the puzzle I have been trying to put together! This is so inspiring!"
– K.M., Forest Grove, OR
"I have experienced in the last month a transformation on every level of my human experience – body, mind and soul. I have gotten much stronger, much more in tune with my body, deeper in my relationship with God and made lasting friendships. I have waited years to do this and now I know exactly what I am going to do in my life: share yoga and the ancient teachings with everyone who is willing. Following my dharma is giving me great joy!"
– Daryl, Port Townsend, WA
"So many changes in one month: spiritually, physically and mentally. We started as individuals and are now one with the same goal – sharing the true essence of yoga union. We have grown like the lotus – up through the mud to blossom each one in his or her own way."
– Laurie, Reno, NV
"A personal transformative experience of upliftment and opening to my divine self, on top of an excellent, well-rounded, thorough, and dignified program."
– Barbara, El Granada, CA
"It's been a couple of months now since I finished the Level One Ananda Teacher Training, and I know that The Expanding Light at Ananda Village will be my first choice for all future training. I would say that the experience, expertise, and professionalism of the teaching team would be very difficult to match anywhere in the world.
Our class was taught by the "senior" teachers (Maitri, Gyandev, Diksha, Barbara, and Savitri) and the "new" teachers (Melody, Badri, and Avital). They all have so much to share, and the decades of experience behind the design and delivery of the program are very evident. Gyandev, of course, is one of the founders of Yoga Alliance, and Ananda's commitment to professional standards means the course manual, all materials, the training, and the instruction set a very high bar. The manual was written with great attention to detail, personality, and a sense of humor. I refer to it regularly.
We began teaching each other the first day. As the program continued, we had the opportunity to watch ourselves teach on video and to teach community members and guests. All this was invaluable experience for a brand new teacher.
I find it hard to describe the training because it's so much more than "just" teacher training, or "just" yoga. Being part of the Ananda community, even for a month, brings a whole new level of meaning to yoga. So, five stars out of a possible five.
(On another note, Ananda is gorgeous; the rooms in Serenity House were comfortable; and the food was fantastic.)"
— F. B., Regina, Saskatchewan
Previous: Instructors
Next: Costs