How to Choose a Yoga Teacher Training Program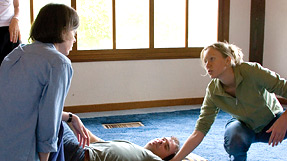 If you're thinking of becoming a yoga teacher, here are some important questions you should ask about any teacher training school you're considering.
1. What style of yoga is taught?
Don't choose a yoga teacher training just because the dates fit your schedule, or it's cheap. Rather, train in the style that you want to teach. And if a school appeals to you, but you haven't experienced its style, attend a class first, or at least watch a video in that style.
Also, does the program focus on just one style, or is it a mix of styles? Each style has its own strengths and emphases, and if you truly want to understand what you're teaching, it's best to focus on one style.
2. What training format do you want?
You can travel to a residential training, or you might find a local training that enables you to live at home the entire time. Each has its advantages. A local training lets you continue your work or family obligations while you train. A residential training lifts you out of that routine into a deeper, more transforming immersion in yoga as a way of life.
3. Which aspects of yoga does the training emphasize?
Some schools focus only on the physical asanas (yoga postures), viewing yoga as a fitness regime. Others see yoga as a tool for successful living on all levels, so they include meditation, healthy lifestyle, and spiritual growth. Be sure you get what you're looking for.
4. What is an average class size?
The smaller the class, the more personal attention you're likely to receive.
5. Is the school well established and respected?
Ask how long the school has been in operation, and how many graduates they have had. If authenticity is important to you, look for a school that's part of a time-honored yoga tradition.
6. Do you feel comfortable with the faculty?
If you don't already know the director of the program, ask to talk with him or her so you can ask questions. Don't be shy; you're considering a big commitment, and it's a perfectly valid request.
7. What do past graduates say about the program?
Ask the school to put you in touch with past graduates. They can ease your mind about this big decision — or help you avoid a big mistake.
Additional Questions
If you want a residential yoga teacher training, but cannot do it all at once, will the school allow you to split the training into pieces?
What is required for you to graduate? What are the assessment criteria? Feel free to ask for a list of these criteria.
Is the school registered with Yoga Alliance? Potential future employers might insist on that.
Are the faculty members well-trained and experienced teachers? Look into their backgrounds.
Does the school have a code of ethics for its teachers? Feel free to ask for a copy.
What is the school's refund policy if you do not complete the program?
If you want a residential training, you may wish to inquire about the diet: Is it vegetarian? Vegan? If you require a special diet, can suitable arrangements be made?
Do you have any questions? Ask us!