Location Enhances Learning!

Classes are held at The Expanding Light Retreat outside of Nevada City, California. The Retreat is part of a larger community of truth-seeking souls called Ananda Village, where over 200 people live the teachings of yoga every day. Our retreat is the perfect getaway to detach and go deeper into the study of yoga. Your learning will be enhanced by our quiet, friendly environment.
Ananda Village
Home to The Expanding Light Yoga and Meditation Retreat, Ananda Village is a successful spiritual community and is part of the worldwide organization of Ananda. Ananda Village was founded in 1969 by Swami Kriyananda, one of Paramhansa Yogananda's foremost disciples, to fulfill Yogananda's vision of "World Brotherhood Colonies" – spiritual communities based on the twin principles of "plain living and high thinking." Adults and children of all ages reside here.
The Ananda community is situated on 700 acres of meadows and forests amidst the foothills of the Sierra Nevada Mountains in northern California just outside Nevada City.
Map to The Expanding Light
WARNING! Be careful when using online mapping programs – they can give you a much longer journey on unpaved back roads.
Use our directions and print out this page.
Note: This is not to scale, so distances are not accurate.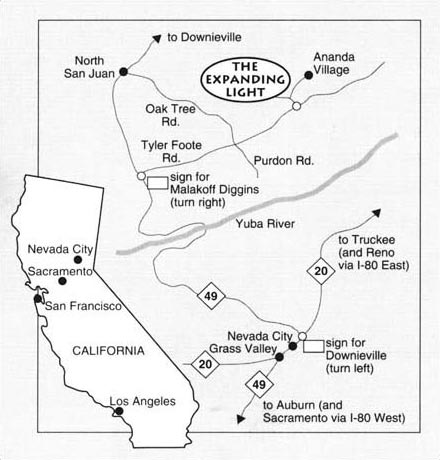 Weather
Check Weather Report from Accuweather
We're located at a 2500-foot elevation in the foothills, not the mountains. We sometimes get a little snow, but winters are generally mild. In January it's common to have high temperatures in the 60s. We can't promise particular weather when you visit, but it is very rare for snow to cause travel problems.
About Us