Faculty Ananda Yoga Therapy Teacher Training

Ananda Yoga Therapy® Teacher Training
We are not currently accepting new students in the
Ananda Yoga Therapy Training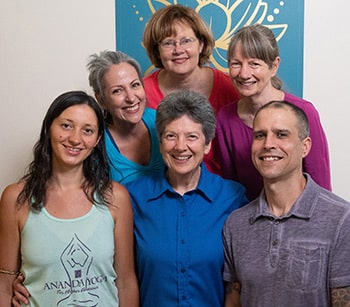 Melody, Michele, Barbara, Mangala and Maitri
Faculty
Mangala Loper-Powers, Maitri Jones, Barbara Bingham, Nicole De Avila, Melody Hansen, Michele Tsihlas, Mantradevi Lo Cicero and Therese Smith.

Founding Director, Certified Yoga Therapist, Clinical Ayurvedic Specialist, Level 2 Ananda Yoga Teacher, E-RYT-500, C-IAYT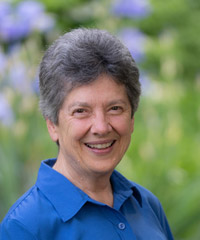 Nayaswami Mangala, the Founding Director of Ananda's Yoga Therapy Training, has an impressive background in yoga teacher training, Ayurvedic training and practice, and in-depth medical training and practice. Her extensive preparation, natural compassion, and excellent teaching skills create an ideal foundation for her to head our program.
Mangala has a Master's in Nursing and has won awards, such as Nurse Practitioner of the Year. She has also trained as a Biofeedback Therapist, was a Clinical Specialist in Stress Management, and is a certified Massage Therapist and Polarity Therapist. For many years she was a Women's Health Nurse Practitioner in Nevada City.
Mangala was certified as an Ayurvedic practitioner by the California College of Ayurveda in 1997. She was also certified as a Yoga Teacher at The Expanding Light, and has taught yoga and Ayurveda in Europe, India, Canada, and the U.S.
In addition to her impressive list of training and qualifications, Mangala is, quite simply, an inspiring instructor, who listens sensitively and shares with her students compassion and wisdom. You can visit her bio page for more about Mangala and the articles she has written.
From students:

"Mangala, the founding director of Ananda Yoga Therapy Training, has taught me the value of letting the love of what I do guide me to be a kind, responsible, and trustworthy professional, and to stay in the moment, to listen, and to use the same healing techniques for myself that I have learned for helping others. She remains a lifelong mentor and friend.

"Ananda Yoga Therapy Training offered me the setting and faculty I needed to gain knowledge, confidence, and practice skills. Everything in the training allows for expansion of a student's whole being, and the cultivation of intuition and inner direction. All of the faculty are amazing examples of exactly what they teach."—Julie B., Bismarck, N.D.

"Skillfully tuned in to her students needs and extremely knowledgeable, Mangala teaches the Yoga Therapy curriculum with grace. She is an inspiration as she carefully plants seeds of education and then nurtures them to continue to flourish in each of her students. She is honest, passionate, and insightful; and I feel privileged and blessed to have experienced her classes." – Michele T., Sacramento, CA

"I feel very fortunate to have Mangala not only as the director of the Yoga Therapy program at Ananda but also as a teacher. Her compassion for the students as well as her passion for the subject is first class. Her background in nursing and Ayurveda give her a wealth of knowledge to draw from. Mangala has a way of keeping information understandable and straightforward. She has a keen instinct on what it takes to both teach and also run the program." Susan K., Laguna Niguel
Read her Update on Ananda Yoga Therapist Training

Certified Yoga Therapist, Director of Ananda Yoga® Assistantship, Level 2 Ananda Yoga Teacher, E-RYT 500, Ananda Meditation® Teacher, C-IAYT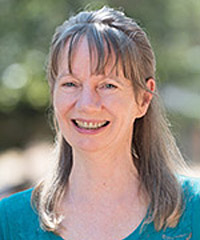 Maitri Jones is one of the main faculty in the Ananda Yoga Therapy training programs. She also helps AYTT graduates in our Assistantship Training refine their skills in adjusting students in the asanas.
Maitri has an enduring love for Ananda Yoga, which she has practiced for over 40 years, and taught since 2003. As a yoga and meditation teacher and a nurse, she has a special interest in using yoga as therapy for body, mind, and spirit. She has shared yoga postures and philosophy through many classes at The Expanding Light, the local community college, private yoga sessions, and on Ananda's Internet Radio. Maitri enjoys supporting others as they discover the physical, mental, and energetic benefits, as well as the spiritual essence of yoga and meditation.
You can read more about Maitri, as well as the many articles she has written on her bio page. Her article on Yoga after a Hip Replacement is a must-read for all Yoga Teachers.
From students:

"What I appreciate most about Maitri's teaching style, is her ability to take complex subject matter and deliver it in a concise, easily understandable, and logical manner. Additionally, her training as a Registered Nurse is very helpful in bringing textbook knowledge to life in the classroom through her firsthand experience with patient care. Maitri's deep calmness, patience, and nurturing temperament create a supportive learning environment in which every student feels successful. The Ananda Yoga Therapy Training program has been a life-changing experience for me, and I am deeply grateful to Maitri for her wisdom and guidance throughout the years." --Kyle M., RI

"I have had Maitri as an instructor at Ananda for my yoga teacher training as well as some of my Yoga Therapy courses. She is very knowledgeable and thorough in her teaching style, and her nursing background gives her an excellent foundation. She was compassionate in helping me to adapt my practice to my spinal needs. Maitri is good at feedback but also very responsive to questions. She is a strong asset to the Ananda teaching team." --Susan K., Laguna Niguel
Licensed Physical Therapist, Ananda Yoga Teacher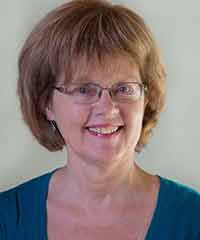 Barbara became certified to teach Ananda Yoga in 2003. She brings all of her training as a physical therapist and a yoga teacher together in her yoga therapy training, and helps people enjoy using their bodies in the healthiest way possible.
She primarily teaches the anatomy and physiology portions of various programs. Because of her playful and approachable style, she brings anatomy and physiology to life - making it easy to understand and to apply in real-life situations.
Barbara is the producer of the video, Yoga for Menopause. She has also produced two other videos: Sadhana and The Energization Exercises.
"Barbara's classes were perfect for me. Her background in Western medicine made what she taught logical and believable. Her knowledge of each movement will allow me to take home a newfound confidence in knowing the limits of my body and its potential."

– C.S., Pomona, CA

Registered Yoga Teacher, E-RYT 500, C-IAYT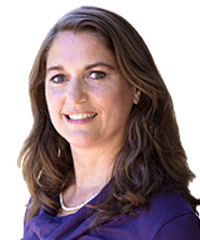 Always practical, Nicole DeAvilla looks to science and research, and asks the question, "So what does it mean to us, in our everyday lives?" Her knack for taking the complex and making it simple is evident in her writing, teaching, and public speaking.
Registered at the highest level through Yoga Alliance, as an E-RYT 500 (Experienced Registered Yoga Teacher), Nicole is an active member of the International Association of Yoga Therapists and the Ananda Yoga Teachers Association. She has served as a panel member for the Yoga NEXT Conference.
Nicole has taught yoga and wellness at Kaiser Permanente.
Nicole has taken real life experiences as a yoga teacher, yoga educator, and yoga researcher and her involvement in the fields of science and education to create innovative yoga teacher training programs, drug and alcohol prevention programs for middle school children, parent education programs, private client protocols, and mentoring programs. In this capacity, she has also taken on advisory and collaborative roles with K-12, higher education, government, and other institutions.
Nicole's research has been published in the American Journal of Sports Medicine and the International Journal of Yoga Therapy.
An entertaining and well-informed speaker, Nicole presents to companies, school groups, clubs and professional organizations.
Nicole says:
"One of the things that I love about yoga is that there is something for everyone, regardless of ones physical, emotional or mental state. I enjoy working with people to find the yoga that works for them."
See Nicole's bio page for more on her background, as well as about 20 fascinating articles by her on yoga, yoga anatomy, and yoga therapy.

Director of Level 1 Ananda Yoga® Teacher Training, Director of Restorative Yoga Teacher Training, Level 2 Ananda Yoga Teacher, E-RYT 500, Ananda Meditation® Teacher, C-IAYT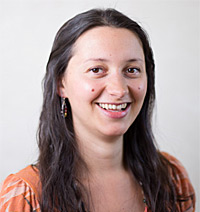 Melody is an extraordinary yoga teacher, who conveys her great knowledge of yoga asanas—from physical mechanics to spiritual upliftment—with a blend of graciousness, authority, and fun. One of Melody's greatest strengths is the purity of her transmission of Yoga. She has very little egotism to block the clear flow of inspiration she shares. Her inner life is committed and deep, and she's able to help students experience that depth in their yoga practice
She has been practicing the teachings of yoga since the age of 14, and began teaching at age 17. She is a Therapeutic Ananda Yoga Teacher who offers therapeutic yoga for private sessions and groups. Melody loves leading Ananda's Restorative Yoga Teacher Training Program. She is also trained in prenatal yoga and leads prenatal weekends, as well as helping to teach the Prenatal Yoga Teacher Training Program. Melody's loving nature shines through her ability to take care of all of her students.
From her students:
"Melody is a wonderful and inspiring teacher, and I am so grateful for her excellent and caring training - including all her personal teaching stories and 'insider tips'! I also really valued and appreciated her ongoing support and encouragement, as I pursued teaching positions after graduating from the AYTT program, and now that I am teaching my own yoga classes. Melody is truly 'awesome' and everything a great teacher should be!" —Andrew M., Napa, CA
"Melody has a vast level of yoga knowledge and experience. She is one of the most congenial teachers I have ever known, and I always felt very comfortable and relaxed in her classes." —Pete J., Portland, OR
Adjunct Staff and Team Members
Full-time yoga philosophy teacher at the Expanding Light Retreat, Pilgrimage leader, Ananda Minister and Counselor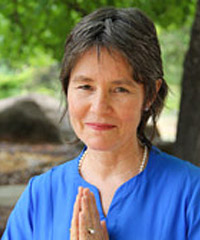 Nayaswami Mantradevi, is part of the team for Yoga Therapy Training: Psychology and Mental Health, where she shares the insight, clarity, and joy gained from almost 40 years of meditating and sharing yoga philosophy. Her concern for others is one of her key qualities, and she has a gift for communicating and applying spiritual principles to real life situations. Her classes are creative and experiential, with humor and discussions keeping them lively and interactive.
For about twenty years of her teaching career she taught and practiced yoga postures, which she believes has been a contributor to her good health.
Mantradevi authored the workbook, "Achieving Inner Peace and Tranquility."
"Mantradevi has a profound understanding of the information she presents. The lessons flow through her with grace, and she easily keeps everyone interested and engaged. This is the first time I feel as though I'm understanding how my energy moves through my body. I know that all I've learned will encourage my growth, as well as strengthen my relationships with my family, friends, and everyone I meet along the way." – Cynthia, Santa Monica, CA
"Mantradevi is one of the most amazing, loving, beautiful souls I have ever been lucky enough to know. She is a light of humanity: humble, gentle, strong, wise, supportive, and inspirational. I truly feel that she has helped me start on a path of living from a higher self." —VP, California

Certified Yoga Therapist, E-RYT 500, Ananda Yoga® Teacher, C-IAYT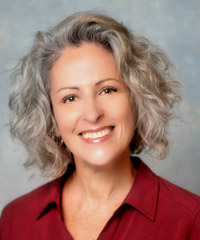 Michele is passionate about, and dedicated to, sharing the joyful pursuit of wellness, health and fitness from the inside out. She is a certified Ananda Yoga Therapist C-IAYT, a 500 E-RYT Yoga Teacher, Restorative Yoga Teacher Trainer, a Personal Trainer, Group Fitness Instructor and Author. As a wellness professional and yoga therapist her mission is to help people find their way to live healthy, fulfilled, authentic lives that reflect their passions and values, and feel good doing it, regardless of circumstances. Additionally as a wellness coach and yoga therapist Michele facilitates creating new, positive beliefs which empower people to craft fun and effective habits, inspiring them to find their unique gifts and talents to bring the greatest level of fulfillment and wellness into their lives.
Yoga Therapist, Ananda Yoga Teacher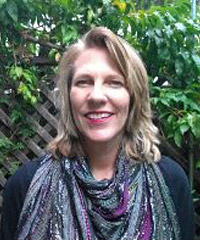 Therese is part of the team for Yoga Therapy Training: Psychology and Mental Health. She was trained as a Yoga Therapist about 20 years ago, earned her Master's degree in Psychology and Counseling in 2004, and became a Marriage and Family Therapist in 2007. In these roles, Therese works with individuals, couples, families, and children in clinical settings. "The ground of yoga," she says, "continues to allow me to be with the most challenging clients with equanimity."
Theresa has been a Yoga and Meditation practitioner for over 32 years, and a passionate yoga teacher for 25 years. Director and Founder of Living Tree Yoga Studio in Sonoma County, CA, Theresa currently teaches four to five classes per week, and makes it a priority to lead retreats internationally or locally, to deepen students experience yearly.
She has had the privilege to study with a variety of inspirational teachers, and offer introductory to advanced yoga classes to diverse groups of students.
Theresa is fervent about her work and sees therapy as an active and collaborative process. "I have the pleasure of helping people feel better by healing and integrating their life experiences. I love to share this knowledge with aspiring teachers and students."
UPCOMING YOGA THERAPY TRAINING PROGRAMS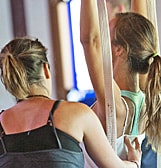 Jul 5–19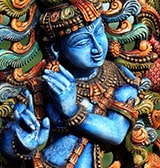 Aug 22–25