How to Take a Spiritual Retreat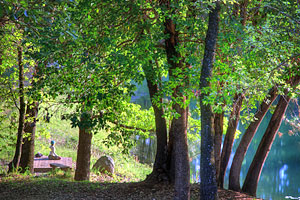 Everyone occasionally needs some inner rejuvenation. Whether you want to break new ground, spiritually speaking, or you simply want to reclaim your peace in the midst of a hectic life, going on retreat can be a perfect solution.
A true retreat is much more than a vacation—it can be a time of conscious, spiritual opening, of making an enjoyable effort to rise to an entirely new state of awareness. Here are a few tips for a retreat experience that is both relaxing and spiritually rewarding:
Find a supportive environment:
The right environment can give you a tremendous boost. If possible, choose a place with an established spiritual tradition, one that is harmonious with your own spiritual inclinations. For example, if you are a heart-oriented person, you may not feel nurtured in a strongly intellectual environment, and vice versa.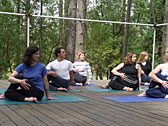 If you're new to being on retreat, go to a retreat center that offers individual guidance. Optional, guided group activities—such as yoga postures, meditations, nature walks, etc.—are also a plus. Occasionally tapping into focused group energy can help even experienced retreatants keep their energy high and inspired.
Look for a place with beautiful natural surroundings. Being quiet amidst nature's beauty can be tremendously restorative. Choose a retreat that will give you time and space to be alone when you wish.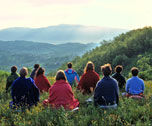 At The Expanding Light we have used these suggestions to create an environment ideal for personal rejuvenation. Insightful and useful spiritual instruction is here for guests who are interested, as well as space for guests to enjoy quality "alone time."
The path of yoga we follow, based on Paramhansa Yogananda's tradition, is devotionally oriented, yet based in wisdom and stillness. At The Expanding Light you can feel safe to explore opening your heart to God in your own way, in an environment that is dedicated to the Divine. We are also respectful of the fact that not everyone is even comfortable with the word "God." We make doors of spiritual awakening available for you, but never to try to push you through them!
One of our favorite sayings is "The Guest is God." We honor each person's unique spiritual journey and do our best to serve your particular needs.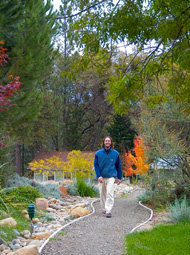 As for a beautiful, natural setting—that's one of our specialties! Our 700 acres are crossed with roads and trails for beautiful walks in nature. Sitting by Lotus Lake watching a blue heron could be a highlight for you. Wandering amidst the tulips in April at the Crystal Hermitage can fill you with joy.
The Expanding Light is just a 20-minute drive from the magnificently beautiful Yuba River. Hikes at the Yuba River in spring and autumn (often even in winter), and swimming in summer, can enhance your relaxation. Sunset Ridge is about a 5-minute walk from The Expanding Light —you can sit at this heavenly spot observing the setting sun and the onset of night. During the full moon, you can watch the sun set as you face west, and then turn east to watch the full moon rise!
Prepare for your retreat: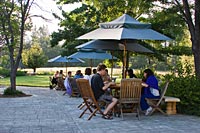 You don't need to know anything about yoga or meditation before coming to The Expanding Light. You don't have to feel shy about asking questions, since we greet and support many people every week who are totally new to Eastern teachings.

It will help you to get more from your retreat if you're able to get rested before you come. But if this is not possible, this is a great place to catch up on that rest. In particular, during your first day or two, you can "speed the process" by scheduling a massage or two at the nearby Center for Radiant Health, run by qualified Ananda practitioners. You can ask about the variety of bodywork styles available when you make your reservation.
If possible, give some thought before you leave home to what you'd like to focus on during your retreat time. Is this a time just to get rest and see what happens? Would you like to focus on healing a relationship or something from the past? Would you like to work on goals for the coming year? Having an intention for your retreat often helps give it momentum.
Go on a "worry fast":
As soon as you leave home, determine to put all problems out of your mind. Tell yourself that the more you allow your mind to focus on the joy of the present moment, the more inspiration you will feel for dealing with those problems creatively and effectively after your retreat is over. When you can put problems aside and focus on lifting your awareness, you might find the answers you need coming from inspiration.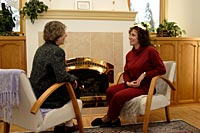 If you have some issue that is too bothersome to put aside, you might benefit from speaking with one the ministers on our staff. When you call to make your reservation, ask about setting up a personal counseling session. Sometimes a session like this at the very beginning of your stay can give you the clarity you need to "re-frame" your approach to the situation and help you have a more inspiring retreat.
What you do during your retreat is not as important as whether your inspiration and "joy level" are high. You don't have to pray and meditate all day long—few people can do that constructively, anyway. You don't even have to stay in silence or solitude, though many people find these beneficial. Focus on enjoyment, rather than "should's."
Schedule variety into your retreat:
For example, you might use the mornings for inward work: prayer, meditation, journal writing, or spiritual reading. Then be more expansive in the afternoons: walk in nature, do something creative, or listen to uplifting music or lecture tapes. In the evening try lighter fare: a spiritual video, a humorous book, or simply relaxed, quality time with like-minded people. And always allow for the inspiration of the moment; don't be locked into anyone's agenda—even your own.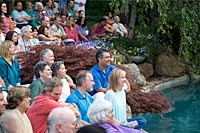 We do attract many wonderful people at The Expanding Light—interesting, kindred spirits, from all walks of life, from all parts of the world. Mealtimes are great fun—not only because of the wonderfully tasty fare—but it's a chance for meaningful and entertaining sharing with new friends.
Relax and enjoy your retreat:
When you go on retreat, you're planting a spiritual seed. If you water it by your continuing spiritual efforts, in time it will sprout into the flower of peace and joy that you seek.
Come for a Personal Retreat or join us for How to Achieve Glowing Health and Vitality, our most in-depth health program with a personal lifestyle coach.
Check our Calendar to find a program for you to experience inner peace and joy
Weather
Check Weather Report from Accuweather
We're located at a 2500-foot elevation in the foothills, not the mountains. We sometimes get a little snow, but winters are generally mild. In January it's common to have high temperatures in the 60s. We can't promise particular weather when you visit, but it is very rare for snow to cause travel problems.
About Us

What is the most important quality guests have gained from their stay at The Expanding Light?
Find Out...

Receive monthly news and inspiration.