SYLLABUS


The Essence of the Bhagavad Gita
We are not currently accepting new students in the
Ananda Yoga Therapy Training
Course Hours: Total: 41 (Residential)
Prerequisite
Graduate of Ananda Yoga Teacher Training (200-hour), or
Graduate of a Yoga Alliance approved 200-hour Yoga Teacher Training
Teaching Format
This is a 7-day residential course which includes a combination of lecture, discussion, and experiential advanced asana workshops.
Course Description
Students will learn how to unlock the secrets of this powerful scripture. Swami Kriyananda has called the Gita "the world's greatest scripture" -- not that its teachings are "better" than other scriptures, but that those teachings are given in a way that is so direct, accessible, and doable. This full-immersion program will take participants into those teachings in a way that allows understanding not only intellectually, but intuitively and practically.
There are also several workshops in which participants explore the practice and teaching of a number of advanced asanas, and there is a class for those in the Yoga Therapy Training to explore the application of these teachings to the practice of yoga therapy.
Faculty: Ananda Ministers
Nayaswami Gyandev McCord, PhD, E-RYT 500, Director of Ananda Yoga
Nayaswami Diksha McCord, BSc, BFA, Level 2 Ananda Yoga Teacher, Director of Ananda Meditation Teacher Training
Nayaswami Mangala Loper-Powers, RN, MN, NP, E-RYT 500, Ananda Yoga Therapist, C-IAYT, Clinical Ayurvedic Specialist, Ananda Minister
Required Texts/Reading Materials
The Essence of the Bhagavad Gita. Swami Kriyananda and Paramhansa Yogananda, Crystal Clarity Publishers, 2006
A Concise Bhagavad Gita, Nayaswami Gyandev McCord, Ways to Freedom, 2013

Learning Objectives
At the completion of the course, students will know:
How to recognize the inner battle of life and make the effort that will win it
The interplay of Prakriti and Purusha, and how that affects a person's life
How the law of karma works, including the effects of vasanas and samskaras
How to use the workings of karma to one's advantage
How to recognize and avoid a variety of psychological traps
The nature of right action
How to overcome desire, anger, and attachment
A deeper understanding of the paths of Karma, Gyana, Bhakti, and Raja Yoga
The three gunas: how they manifest in life and in people, and how they relate to improving one's experience of life
Recognizing caste tendencies in oneself, and what to do to move to the next higher caste
How to get past attachment to experiencing pleasure and avoiding pain
What one can do when he bogs down, spiritually
How to deepen your relationship with God
How a yoga therapist applies the above knowledge to serving clients best interest
Subject Matter/IAYT Competencies Covered
Section 1: Yoga Foundations
Category 1.1. Yoga Teachings & Philosophy
1.1.1 b. purusha/prakrti (consciousness/material world);
d. guna (fundamental forces of nature); and
e. duhkha (suffering/discomfort).
Category 1.2. Yoga and the Mind
1.2.1.4 artha (cognition), bhava (mood), svabhava (inborn nature), vasana
(residue of experience), samskara (conditioned pattern of thinking
and behavior);
1.2.2.2 lobha, krodha, and moha (greed, anger, attachment)
1.2.2.3 duhkha and daurmanasya (suffering/discomfort and negative attitude/thinking),
sarupyam (identification with the contents of the mind or seer taking the same
form as the mind)
1.2.2.4 antaraya (obstacles to progress in yoga).
Category 2.5. Body and Mind Integration
2.5.1 Knowledge of the interaction of the body, breath, mind, intellect, and emotions in health and well-being.
Course Completion Requirements
Students have demonstrated understanding of course learning objectives by attendance at all lectures, participation in all discussions and asana workshops. Completion of required reading assignments.
Nursing CEU Eligible: details coming

How to Choose a
Yoga Teacher Training Program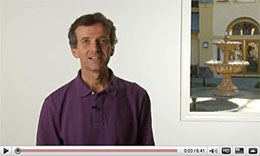 "My 4 weeks of Ananda Yoga Teacher Training was one of the most fulfilling and spiritually transforming periods in my life. All of the faculty, along with the entire Ananda community, were very supportive and nurturing." – R. F., Lake Bluff, IL.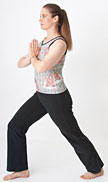 Testimonial for the Ananda Yoga Therapy Training Program
"The program is all embracing ˜ asana, ayurveda, chakras, special health issues touching on body, mind, and spirit. The instructors were wonderful, knowledgeable, supportive, and enthusiastic." – T.C., CA.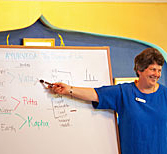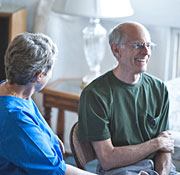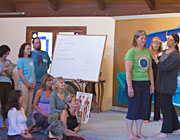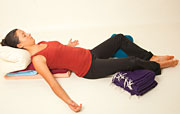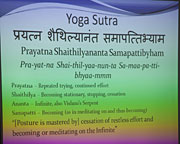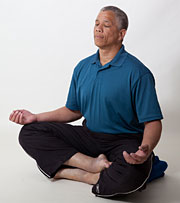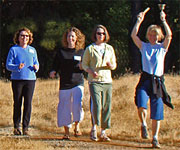 The yoga therapy components of these courses are based on our accreditation by IAYT, not derived from our status as an RYS with Yoga Alliance Registry.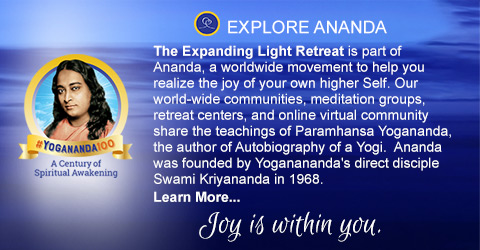 CONNECT
14618 Tyler Foote Rd
Nevada City, California 95959
Toll free 800-346-5350
Outside US 530-478-7518
SUBSCRIBE
Receive uplifting emails with inspirational content and news about our retreat programs, travels, and trainings.