Sample Schedule for Level 1

Ananda Yoga® Teacher Training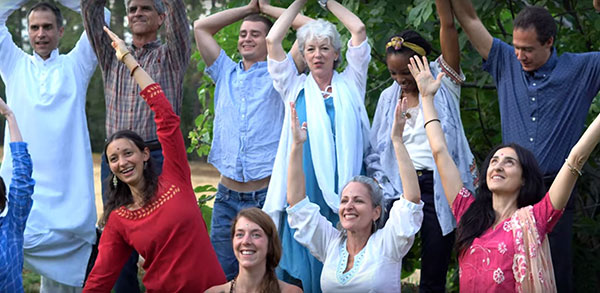 "The AYTT course is easily the best course I have taken in any subject.

"Comprehensive, articulate, compassionate, engaging, uplifting, and fun! The teaching staff is top-notch, and the entire community supports every student's success. I am honored and grateful to have the experience."

– P.S., Beaverton, OR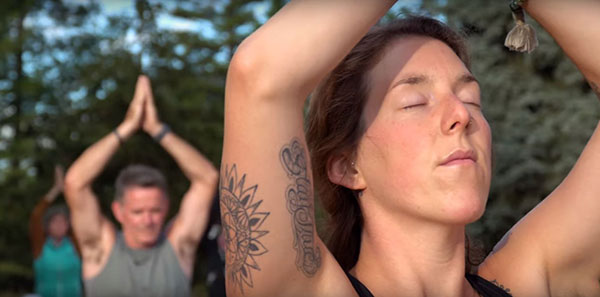 About Free Time
This schedule is only a sample; some "open" times might not be open during your program. For example, on the third weekend, you'll also need substantial time to prepare for your final student teaching.
There is free time on some evenings and Sundays, but you'll have reading assignments on most nights and written assignments on the first three weekends.
So don't be deceived by all the blank spaces on the sample schedule. You'll be busy!
The program begins with an orientation at 7:30 pm Sunday, the first date of the course.
W

ee

k 1
9:30 am – 12:30 pm
2:30 – 4:30 pm
7:30 – 9:00 pm
Mon

day

Introduction to Ananda Yoga and Neutral Poses
Yoga Lifestyle
(1:30 pm)

Energization Workshop
(4:00 pm – 6:30 pm)
Tue

sday

Standing Poses 1
Meditation: The Central Technique of Yoga
Perspectives on the Yoga Tradition
Wed

nesday

Forward Bends
Anatomy & Physiology 1

Practice Teaching 1 (5:15 pm – 6:30 pm)
Thu

rsday

Standing Poses 2
The Source Teachings of Yoga
The Yogic Science of Affirmation
Fri

day

Backward Bends 1

Sharing Circle (12:00-12:30)
Anatomy & Physiology 2
Sat

urday

Inversions 1
Practice Teaching 2
Kirtan
Sun

day

Sunday Service
Yoga Sutras of Patanjali 1
W

ee

k 2
9:30 am – 12:30 pm
2:30 – 4:30 pm
7:30 – 9:00 pm
Mon

day

Surya Namaskar Plus
Anatomy & Physiology 3
Oral Mini-Presentations 1
Tue

sday

Twisting Poses
Yoga & the Astral Body

Teaching Deep Relaxation
Wed

nesday

Backward Bends 2
Introduction to the Chakras
Practice Teaching 3 (5:15 pm – 6:30 pm)
Thu

rsday

Inversions 2
Bhagavad Gita 1
Questions and Answers
Fri

day

Asanas &
the Chakras

Sharing Circle (12:00-12:30)
Yoga Sutras of Patanjali 2
An Experience of Restorative Yoga
Sat

urday

Video Practice
Video Review
Bhagavad Gita 2
Sun

day

Sunday Service
How to Teach Ananda Yoga 1
4:45-6:30 The Practice of Gyana Yoga
W

ee

k 3
9:30 am – 12:30 pm
2:30 – 4:30 pm
7:30 – 9:00 pm
Mon

day

Choosing Warm-Ups for Your Classes
Practice Teaching 4
4:45-6:30 The Practice of Karma Yoga
Tue

sday

Video Workshop 1
Video Workshop 2
Voice Projection
Wed

nesday

Assisting & Adjusting
How to Teach Ananda Yoga 2
Increase Your Energy & Magnetism
Thu

rsday

Anatomy & Physiology 4
Planning Your Classes
4:45-6:30 The Practice of Bhakti Yoga
Prenatal Yoga
Fri

day

Practice
Teaching 5

Sharing Circle (12:00-12:30)
Modifying
Asanas
Oral Mini-
Presentations 2
Sat

urday

Practice Teaching 6
Anatomy & Physiology 5
Intro to Ayurveda
Sun

day

Sunday Service
Practice Teaching
W

ee

k 4
8:45 am – 10:25 am 10:45 am – 12:00 pm
2:30 – 4:30 pm
7:30 – 9:00 pm
Mon

day

Student Teaching

How to Set Up Your Classes
Teaching Review
Anatomy and Physiology 6

Teaching Yoga to Children
Tue

sday

Student Teaching

How to Set Up Your Classes 2
Teaching Review
Practice Teaching 8
Principles of a Yogic Diet
Wed

nesday

Learning to Teach Other Asanas
Practice Teaching 9
Thu

rsday

Student Teaching

How to Market Your Classes
Teaching Review
Ethics & the Student / Teacher Relationship
Trauma-Sensitive Yoga
Fri

day

Student Teaching

Misc. Topics in How to Teach
Living Your Yoga
Sat

urday

Special Topics & Q and A
In-Class Quiz
Celebration & Ceremony
Sun

day

Graduation Ceremony (9:30 am – 10:45 am)
Become a Certified Yoga Teacher

200-hour certification in one month
Yes, you can split the course into 2 two-week segments
Next Training: